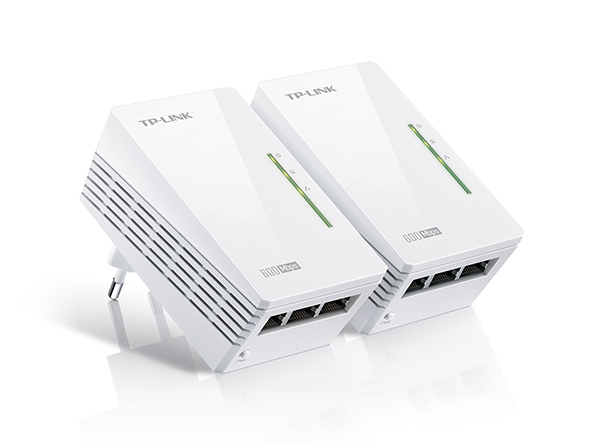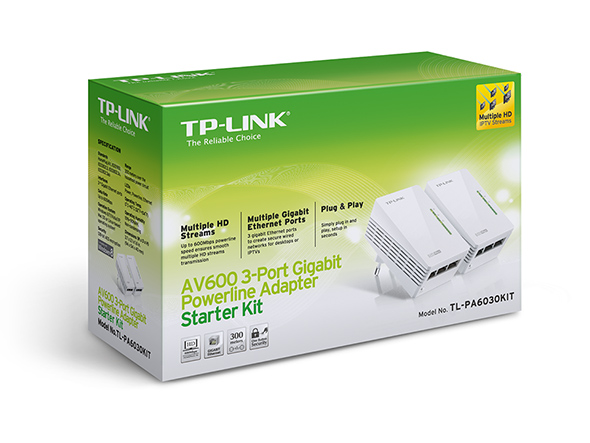 Kit de Inicio de 3 puertos con Adaptadores Powerline TL-PA6030KIT
Conforme con el estándar HomePlug AV, tasas de transferencia de datos a alta velocidad de hasta 600Mbps
Sin necesidad de nuevos cables, no requiere configuración
3 puertos Gigabit para crear redes cableadas seguras para equipos de sobremesa o IPTVs
Diseño Twin Pack que le ayudan a establecer una red de línea eléctrica básica

Invierta su Conocimiento Powerline
Qué salta a tu mente cuando se trata de electricidad? Los Adaptadores powerline de TP-LINK son algo más que un medio para proporcionar energía a los dispositivos de una casa, sino también medios para transferir datos, lo que significa que es capaz de tener acceso a Internet dondequiera que haya una toma de corriente eléctrica, sin la necesidad de renovaciones o cableado adicional.
Gran Experiencia de Entretenimiento Multimedia
Con velocidades de línea eléctrica de hasta 600 Mbps y transmisión de datos de alto rendimiento, el TL-PA6030KIT puede transmitir múltiples flujos de video de alta definición y películas, incluso en 3D para todas las habitaciones, por lo que es una gran opción para una red de entretenimiento multimedia fácil de construir.
Múltiples Aplicaciones de Red al Mismo Tiempo
Con tres puertos Gigabit Ethernet, El TL-PA6030KIT permite conectar varios dispositivos, tales como consolas de juegos, IPTVs o receptores de los medios de comunicación, al mismo tiempo con sólo conectar los cables de red, evitando la molestia de añadir otros dispositivos de red para obtener más acceso a Internet.
Sin Configuración. Sólo Conecta y Usa
Conecta un adaptador de Internet en un contacto eléctrico cercano.
Conecta adaptadores adicionales a Pcs/laptops/TVs con Internet o algunos otros dispositivos cableados a través de un cable Ethernet- y listo!
*Nota: Los adaptadores Powerline deben ser colocados en bloques de 2 ó más.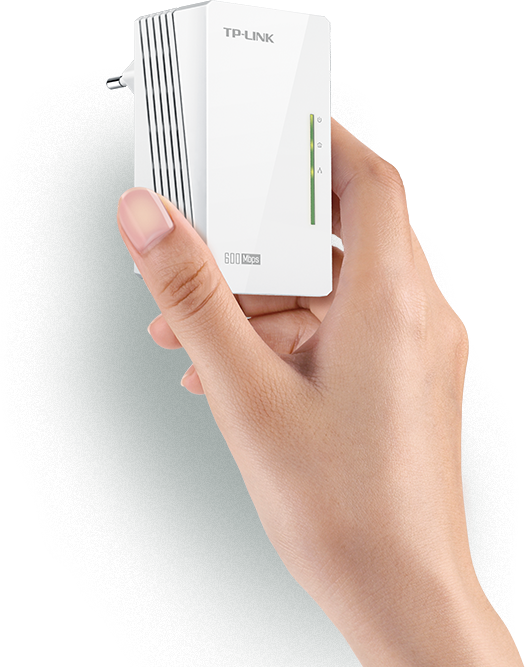 The theoretical maximum channel data transfer rate is derived from HomePlug AV specifications. Actual data transfer rate will vary from network environment including: distance, network traffic, noise on electrical wires, building material and construction, quality of electrical installation and other adverse conditions.
CARACTERÍSTICAS DE HARDWARE
Tipo de Enchufe
EU, UK
Estándares y Protocolos
HomePlug AV, IEEE802.3, IEEE802.3u, IEEE802.3ab
Interface
3 Puertos Gigabit Ethernet
Botón
Botón de emparejamiento
Consumo de Energía
Máximo: 10.16W (220V/50Hz)
Modo Standard: 8.50W (220V/50Hz)
Modo en espera: 1.64W(220V/50Hz)
Indicador LED
PWR, PLC, ETH
Dimensiones (W X D X H)
94 × 54 × 40 mm
Rango
300 metros sobre el circuito eléctrico
OTHERS
Certification
CE, FCC, RoHS
Package Contents
Adaptador Powerline Ethernet
2 metros de Cable Ethernet (RJ45)
CD de Recursos
Guía de instalación rápida
System Requirements
Windows 8/7/Vista/XP, Mac OS y sistemas operativos basados en Linux
Environment
Temperatura de funcionamiento: 0℃~40℃ (32℉~104℉)
Temperatura de almacenamiento: -40℃~70℃ (-40℉~158℉)
Humedad de funcionamiento: 10%~90% sin condensación
Humedad de almacenamiento: 5%~90% sin condensación