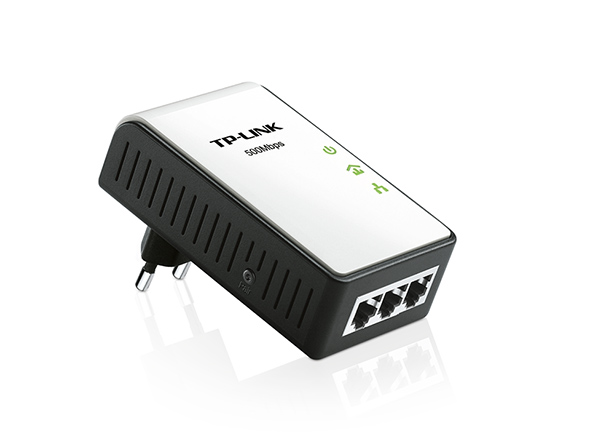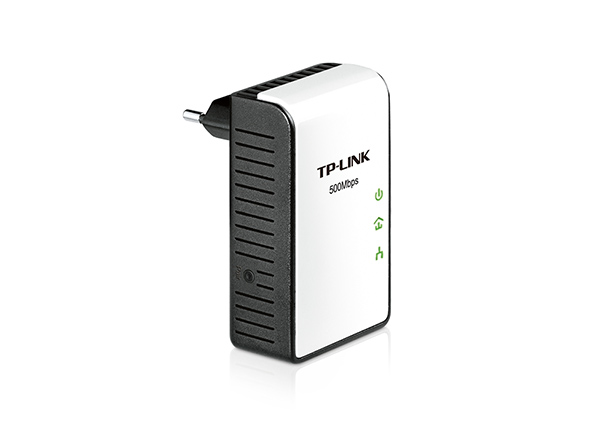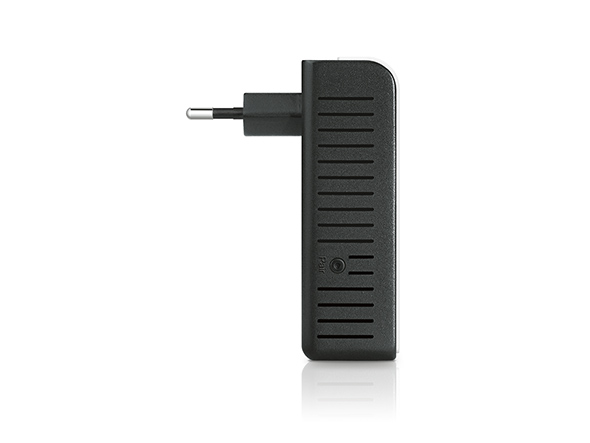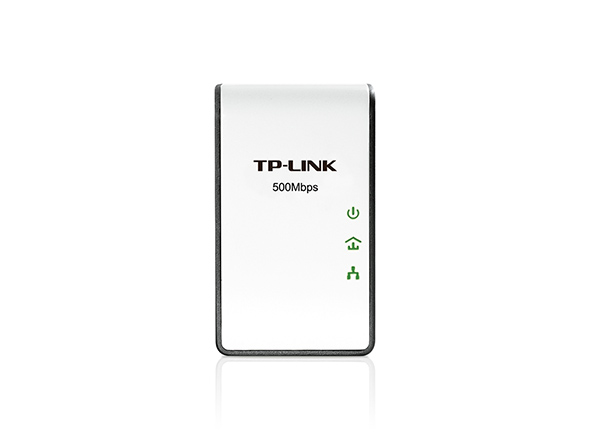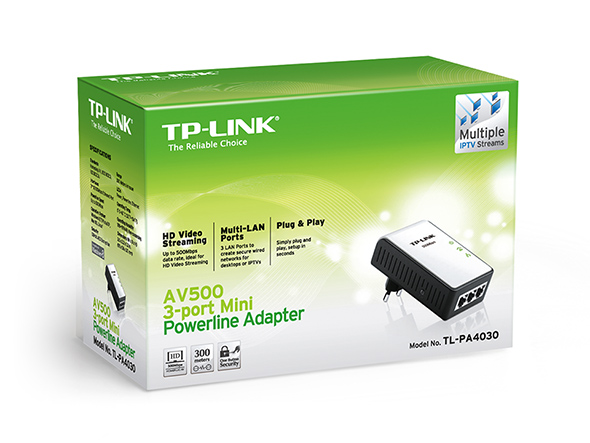 Mini Adaptador Powerline de 3 Puertos AV500 TL-PA4030
La norma de HomePlug AV proporciona una transmisión de datos de alta velocidad de hasta 500Mbps a través del cableado eléctrico con el que ya cuenta en su hogar, ideal para el streaming de video en 3D o HD o juegos en línea sin retrasos

3 Puertos Ethernet (RJ45) de 10/100Mbps
No se requieren cables nuevos, ni configuración
La encriptación AES de 128-bit garantiza que la red es segura simplemente presionando el botón en ambos dispositivos
Lo Que Hace Este Producto
El Mini Adaptador Powerline de 3 Puertos AV500, el TL-PA4030 de TP-LINK toma ventaja de los cables eléctricos con los que ya cuenta en su hogar para transferir datos mientras transfiere de manera simultánea corriente eléctrica de forma tradicional. Esto significa, que no requiere de ninguna clase de cableado adicional, los usuarios simplemente deben conectar el TL-PA4030 a las tomas de corriente existentes y podrá establecer una infraestructura de red en instantes. Con su diseño en miniatura, ¡disfrutará la flexibilidad de poder conectarlo en cualquier toma de corriente de su hogar!
Hasta 500Mbps, 300 Metros
Con la tecnología avanzada de Homeplug AV, el TL-PA4030 puede proporcionar a los usuarios una tasa de transferencia estable y de alta velocidad de hasta 500Mbps en una longitud de hasta 300 metros. Junto con su poderosa encriptación AES integrada, el TL-PA4030 es una gran elección al momento de conectar todos los dispositivos compatibles con la red de un hogar completo desde computadoras y consolas de videojuegos hasta codificadores de IPTV para impresoras y discos duros NAS.
Múltiples Puertos Ethernet
Equipado con 3 puertos Ethernet, el TL-PA4030 permite que los usuarios conecten simultáneamente tres dispositivos en un cuarto a redes seguras conectadas por cable.
Conecta y Usa
Puedes configurar una red Powerline sin complicaciones en minutos con los adaptadores Powerline de TP-LINK, sólo conecta y usa (plug in and play). Lo que es más, los botones "Pair" de los adaptadores pueden ser utilizados para asegurar o manejar múltiples adaptadores Powerline en las redes Powerline de tu hogar.
*Nota: Los adaptadores Powerline deben ser usados en juegos de dos o más.
The theoretical maximum channel data transfer rate is derived from HomePlug AV specifications. Actual data transfer rate will vary from network environment including: distance, network traffic, noise on electrical wires, building material and construction, quality of electrical installation and other adverse conditions.
CARACTERÍSTICAS DE HARDWARE
Tipo de Enchufe
EU, UK
Estándares y Protocolos
HomePlug AV, IEEE802.3, IEEE802.3u
Interface
3 Puertos Ethernet 10/100Mbps
Botón
Botón pair
Consumo de Energía
Máximo: 3.800W (220V/50Hz)
Típico: 3.778W (220V/50Hz)
Indicador LED
PWR, PLC, ETH

Dimensiones (W X D X H)
3.6 x 2.2 x 1.2 pulg (93×56×30 mm)
Rango
300M en casa
OTHERS
Certification
CE, FCC, RoHS
Package Contents
Adaptador Powerline Ethernet,
cable Ethernet (RJ45),
CD de Instalación,
Guía de Instalación Rápida
System Requirements
Windows 2000/XP/2003/Vista, Windows 7,8, Mac, Linux
Environment
Temperatura de Funcionamiento: 0℃~40℃ (32℉~104℉)
Temperatura de Almacenamiento: -40℃~70℃ (-40℉~158℉)
Humedad de Funcionamiento: 10%~90% sin condensación
Humedad de Almacenamiento: 5%~90% sin condensación