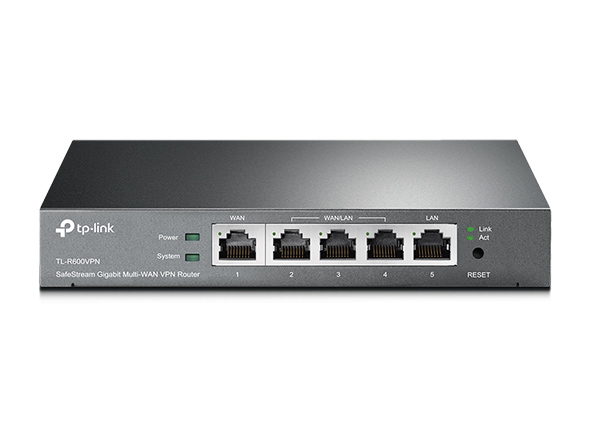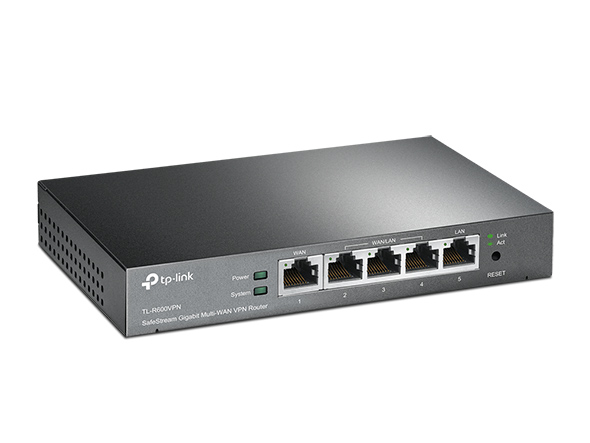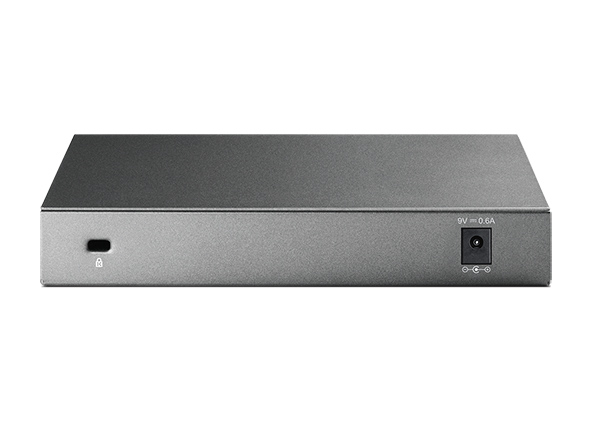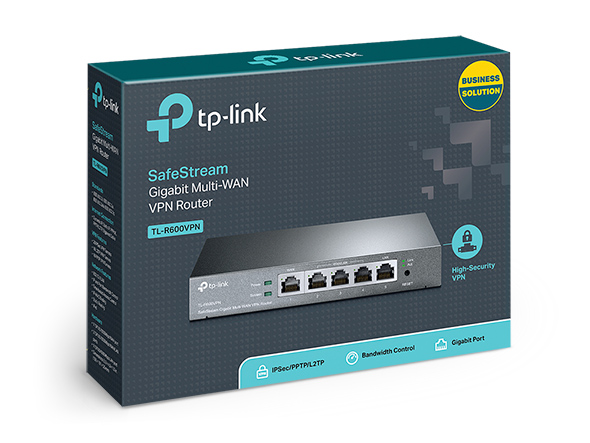 TL-R600VPN
Router VPN de Banda Ancha Gigabit SafeStream™
1 puerto WAN Gigabit y 4 puertos de red local Gigabit: conectividad por cable de alta velocidad
Soporta los protocolos VPN IPsec/PPTP, hasta 20 túneles VPN IPsec y 16 túneles VPN PPTP soportados simultáneamente
Cortafuegos SPI y protección contra ataques DoS para proteger la red de las amenazas de Internet más comunes
Incluye protección profesional contra rayos de hasta 4000 V para mantener a salvo su inversión
Qué hace este producto
El router VPN de banda ancha Gigabit SafeStream™ TL-R600VPN de TP-LINK soporta conexiones Gigabit Ethernet tanto en el puerto WAN como en los de red local, lo que garantiza una conectividad por cable de alta velocidad. Además, soporta múltiples protocolos VPN que ofrecen una capacidad VPN de altas prestaciones y elevada seguridad. Así, los usuarios pueden acceder remotamente a la oficina de un modo tan seguro como si lo estuvieran haciendo desde ella. Así mismo, las numerosas funciones de seguridad del TL-R600VPN tal como su cortafuegos SPI, de defensa contra ataques DoS y vinculación de direcciones IP y MAC protegen su red de los ataques más comunes. El TL-R600VPN es el socio ideal para oficinas pequeñas donde se necesita una solución VPN rentable y fiable.
Funciones VPN de alta seguridad
El TL-R600VPN soporta los protocolos VPN IPsec y PPTP VPN y puede gestionar también tráfico IPsec/PPTP/L2TP. Además, integra un motor VPN basado en hardware que permite al router soportar y gestionar hasta 20 conexiones VPN IPsec red a red y 16 conexiones VPN PPTP. Sus avanzadas funcionalidades VPN incluyen: encriptación DES/3DES/AES128/AES192/AES256, autenticación MD5/SHA1, gestión de claves manual e IKE y modos de negociación tipo Main/Agressive.
Numerosas funciones de seguridad
El TL-R600VPN incorpora un cortafuegos SPI para proteger a la red de amenazas externas. Además, dispone de medidas de protección automática para detectar y bloquear ataques por denegación de servicio (DoS) del tipo inundación TCP/UDP/ICMP, ping de la muerte y otras amenazas relacionadas. Así mismo, ofrece funciones de filtrado de IP, MAC y nombres de dominio que previenen ataques procedentes de intrusos y virus. Para aplicaciones tales como FTP, TFTP, H.323 y RTSP que no son muy compatibles con el protocolo NAT, el TL-R600VPN ofrece a los administradores la posibilidad de habilitar opciones ALG relacionadas con las cuatro aplicaciones anteriores con tan solo hacer un clic.
Protección pensada para salvaguardar la inversión de la empresa
La tecnología profesional de protección contra rayos que incorpora está diseñada para evitar que las sobretensiones eléctricas penetren en el interior del dispositivo y que éste pueda descargarse a tierra sin sufrir ningún daño. Este router está diseñado para evitar daños originados por rayos de hasta 4000 V si se encuentra conectado a tierra correctamente. Esta característica contribuye a mantener a salvo la inversión en equipos de red frente a posibles daños originados por los elementos de la naturaleza.
Branch Location

TP-Link Omada offers enterprise-level VPN, real-time network monitoring, and quick network troubleshooting to meet the requirements of headquarters and branches.

VPN
Easy management
Network monitoring and troubleshooting
High security
CARACTERÍSTICAS DE HARDWARE
Estándares y Protocolos
IEEE 802.3, 802.3u, 802.3ab
TCP/IP, DHCP, ICMP, NAT, PPPoE, SNTP, HTTP, DNS, IPsec, PPTP
Interface
1 puerto Gigabit WAN fijo
1 puerto GIgabit LAN fijo
3 puertos Gigabit WAN/LAN
Medios de Red
10BASE-T: cable UTP categorías 3, 4, 5 (máximo 100 metros)
EIA/TIA-568 100Ω STP (máximo 100 metros)
100BASE-TX: cable UTP categorías 5, 5e (máximo 100 metros)
EIA/TIA-568 100Ω STP (máximo 100 metros)
1000Base-T: cable UTP categorías 5, 5e, 6 (máximo 100 metros)
Botón
Botón de reset
Fuente de Alimentación
Adaptador externo 9V/0.6A DC
Flash
SPI de 16 MB
DRAM
DDR II 128 MB
LED
PWR, SYS, WAN, LAN
Dimensiones (W X D X H)
158 × 101 × 25mm. (6.2 × 4.0 × 1.0 in. )
RENDIMIENTO
Sesiones Concurrentes
20000
Rendimiento NAT
120 Mbps
Rendimiento VPN IPsec (3DES)
13 Mbps
FUNCIONES BÁSICAS
WAN Connection Type
IP estática/dinámica, PPPoE/Russian PPPoE, PPTP/Russian PPTP, L2TP/Russian L2TP, Bigpond Cable
MAC Clone
Modificación de la dirección MAC WAN
DHCP
Servidor/cliente DHCP
Reserva de direcciones DHCP
FUNCIONES AVANZADAS
ACL
Filtrado de IP/MAC/nombre de dominio
Advanced Routing
Enrutamiento estático
ARP Inspection
Vinculación de direcciones IP y MAC
Bandwidth Control
Control del ancho de banda según la IP y el puerto
Ancho de banda garantizado y limitado
Forwarding
Servidor virtual
Activación de puertos
DMZ
UPnP
Seguridad
Cortafuego SPI
VPN Passthrough
FTP/TFTP/H.323/RTSP ALG
Protección contra ataques DoS y ping de la muerte
Gestión local
VPN
IPsec VPN
20 Túneles VPN IPsec
LAN to LAN
Modos de negociación Main y Aggressive
Algoritmos de encriptación DES, 3DES, AES128, AES192, AES256
Algoritmos de autenticación MD5, SHA1
Modo de gestión de claves manual e IKE
Función Dead Peer Detection (DPD)
Función Perfect Forward Secrecy (PFS)
PPTP VPN
16 túneles VPN PPTP
Servidor VPN PPTP
PPTP con encriptación MPPE
L2TP VPN
16 Túneles L2TP VPN
ADMINISTRACIÓN
Servicio
DNS dinámico (Dyndns, No-IP, Peanuthull, Comexe)
Mantenimiento
Configuración de la hora
Diagnóstico
Actualización de firmware
Configuración de fábrica/reinicio
Copia de seguridad y restauración
Registro del sistema
Administración remota
Estadística
Otros
Certificacion
CE, FCC, RoHS
Contenidos del Paquete
TL-R600VPN
Cable de alimentación
Cable Ethernet RJ-45
Guía rápida de instalación
Requisitos del Sistema
Microsoft® Windows® 8, 7,Vista™, XP o MAC® OS, NetWare®, UNIX® o Linux.
Ambiente
Temperatura de funcionamiento: 0℃~40℃ (32℉~104℉);
Temperatura de almacenamiento: -40℃~70℃ (-40℉~158℉)
Humedad de funcionamiento: 10%~90% sin condensación
Humedad de almacenamiento: 5%~90% sin condensación
Premios

Eco-Award

R600VPN received the "Ecology Award" from Smarthelpers

2014, Germany
From United States?
Get products, events and services for your region.