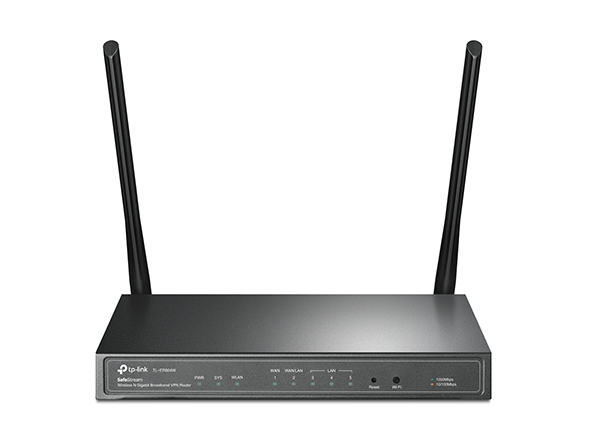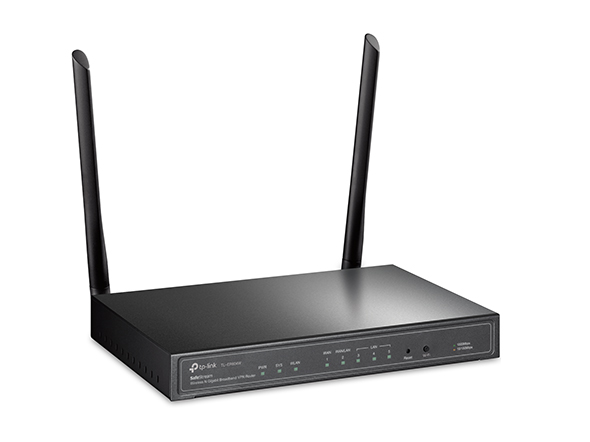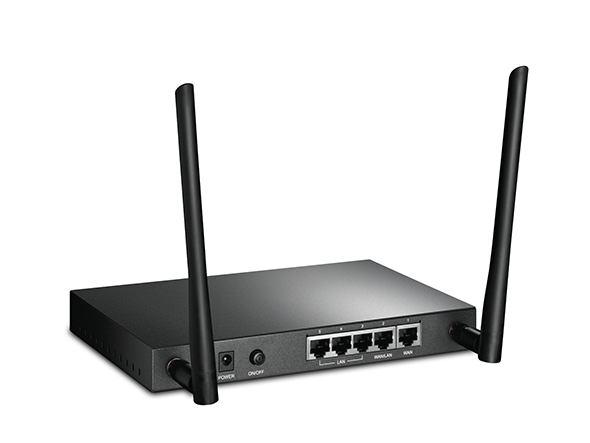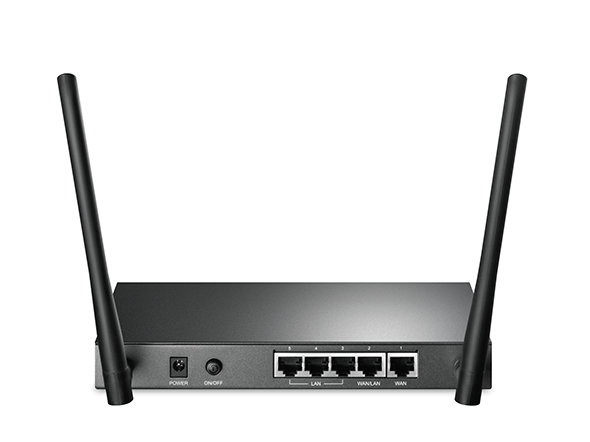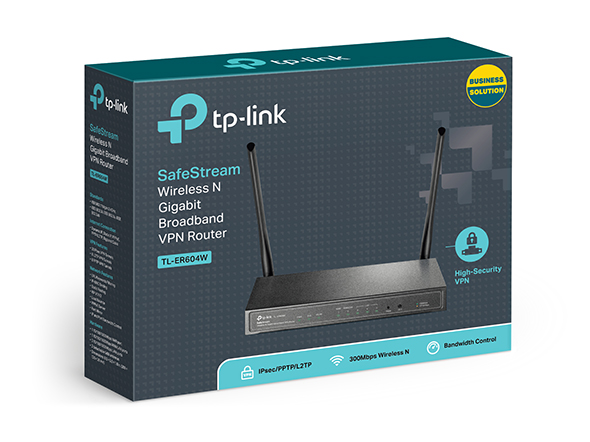 Router VPN de Banda Ancha Gigabit Inalámbrico N SafeStream TL-ER604W
1 puerto WAN Gigabit, 3 puertos LAN Gigabit y 1 puerto WAN/LAN Gigabit
Soporta los protocolos VPN IPsec/PPTP/L2TP con hasta 8 túneles VPN L2TP, 30 IPsec, y 8 PPTP simultáneamente
Implementa la restricción de las aplicaciones IM / P2P con un solo clic para administrar el comportamiento del equipo en línea
La velocidad inalámbrica N de 300Mbps proporciona una increíble experiencia de conexión a redes de alta velocidad
La red de invitados y Multi-SSID aseguran una compartición inalámbrica fácil y segura
Protección contra descargas de 4kV profesional que mantiene su inversión tan segura como sea posible
Lo que hace este producto
El router VPN de Banda Ancha Gigabit Inalámbrico SafeStream, TL-ER604W de TP-LINK soporta la velocidad inalámbrica N y velocidades cableadas gigabit en todos los puertos. Integra múltiples protocolos VPN, capacidades VPN de alto desempeño y alta seguridad, haciéndolo la opción ideal para sucursales que necesitan conexiones remotas seguras económicas para oficinas centrales y oficinas remotas. Además, junto con sus diferentes características útiles incluyendo las funciones del botón de encendido / apagado (On/Off) de Wi-Fi basado en el hardware, Conexión a la Red de Invitado, Control de App, y del servidor PPPoE, el TL-ER604W es la solución ideal de redes para usuarios de oficinas pequeñas o de casa.
Alto desempeño de VPN
El TL-ER604W cuenta con soporte para múltiples protocolos VPN entre los cuales se encuentran IPsec, PPTP y L2TP en modo de cliente/servidor mientras que también es capaz de manejar el tráfico de transferencias. También cuenta con un motor basado en VPN integrado en el hardware, que permite al router dar soporte y administrar hasta 30 conexiones LAN-a-LAN / Client-a-LAN IPsec VPN. Las características VPN avanzadas incluyen: encriptación, DES / 3DES / AES128 / AES192 / AES256, autentificación MD5/SHA1, administración Manual/ con llave IKE, y modos de negociación principal/agresiva.
Conectividad Inteligente de Alta Velocidad
Con la conexión inalámbrica de 300Mbps 802.11n y 5 puertos Gigabit, el TL-ER604W es la opción ideal para usuarios que consumen demasiada banda ancha que dependen de conexiones rápidas, confiables para trabajo o entretenimiento que requieren banda ancha intensa o entretenimiento como llamadas de conferencia sin problemas, streaming de video en HD o juegos en línea.
Gran variedad de características de seguridad
Para defensa contra amenazas externas, el TL-ER604W cuenta con defensa automática para detectar y bloquear los ataques de negación de servicio DoS (Denial of Service por sus siglas en inglés) tales como flooding de TCP/UDP/ICMP, Escaneo de TCP, Ping of Death y otras amenazas relacionadas. Para un mejor manejo de la red interna, el TL-ER604W permite a los administradores establecer reglas para bloquear sitios web específicos así como aplicaciones IM/P2P con un solo clic, y restringir al equipo al utilizar servicios específicos como FTP, HTTP y SMTP.
Conexión a Red Inalámbrica Segmentada para Conveniencia y Seguridad
El TL-ER604W soporta las características de la red de invitado y multi-SSID. Con hasta 8 SSIDs, el TL-ER604W puede proporcionar varias conexiones a red inalámbricas distintas para diferentes departamentos o grupos de usuarios. La Red de Invitados ofrece redes inalámbricas separadas seguras para sus clientes y socios para el acceso a Internet, sin dar acceso a la red interna e información potencialmente delicada de la compañía.
Inversiones de Empresa Enfocadas a la Seguridad
La tecnología de protección contra descargas profesional fue diseñada para prevenir que altos voltajes penetren al interior del dispositivo, para descargarlos de manera inofensiva en la tierra. Este router está diseñado para prevenir daños por descargas de hasta 4KV en condiciones de conexión puestas a tierra de manera adecuada. Esta característica asegura que las inversiones a la infraestructura de la gestión de redes permanece lo más segura posible en situaciones más violentas de la madre naturaleza.
CARACTERÍSTICAS DE HARDWARE
Estándares y Protocolos
IEEE 802.11b/g/n, 802.3, 802.3u, 802.3ab
TCP/IP, DHCP, ICMP, NAT, PPPoE, SNTP, HTTP, DNS, IPsec, PPTP, L2TP, SSL, HTTPS
Interface
1 Gigabit WAN port
3 Gigabit LAN ports
1 Gigabit WAN/LAN port
Medios de Red
10BASE-T: UTP category 3, 4, 5 cable (Max 100m)
100BASE-TX: UTP category 5, 5e cable (Max 100m)
1000BASE-T: UTP category 5, 5e cable (Max 100m)
Cantidad de Ventiladores
Fanless
Botón
Power On/Off, Wi-Fi On/Off, Reset
Fuente de Alimentación
External Power Adapter (output: 12VDC/1.0A)
Flash
8MB
DRAM
64MB (DDRII)
LED
PWR, SYS, WLAN, WAN, WAN/LAN, LAN
Dimensiones (W X D X H)
8.2 x 5.0 x 1.0 in.(209 x 126 x 26 mm)
Antena
2 detachable 5dBi antennas
RENDIMIENTO
Sesiones Concurrentes
10000
Rendimiento NAT
160Mbps
Rendimiento VPN IPsec
38Mbps
CARACTERÍSTICAS INALÁMBRICAS
Frecuencia
2.4-2.4835 GHz
Potencia de Transmision
<20dBm (EIRP)
Funciones Inalámbricas
Enable/Disable wireless radio, WDS bridge, WMM, Wireless statistics
Seguridad Inalámbrica
WEP, WPA/WPA2, WPA-PSK/WPA2-PSK
Red de Invitado
Yes
Multi-SSID
Up to 8 SSIDs
FUNCIONES BÁSICAS
WAN Connection Type
Dynamic IP, Static IP, PPPoE, PPTP, L2TP, Dual Access, BigPond
DHCP
DHCP Server/Client
DHCP Reservation
MAC Clone
Modify WAN/LAN MAC Address
Switch Setting
Port Mirror
Rate Control
Port Configuration
Port VLAN
IPTV
IGMP Proxy
IGMP Snooping
FUNCIONES AVANZADAS
Load Balance
Intelligent Load Balance
Policy Routing
Protocol Binding
Link Backup (Timing, Failover)
Online Detection
NAT
One-to-One NAT
Multi-nets NAT
Virtual Server
Port Triggering
UPnP
FTP/H.323/SIP/IPsec/PPTP ALG
Routing
Static Routing
Dynamic Routing (RIP v1/v2)
System Mode
NAT, Non-NAT, Classical Routing
Traffic Control
IP/Port-based Bandwidth Control
Guarantee & Limited Bandwidth
Time-scheduled Policy
IP-based Session Limit
VPN
IPsec VPN
30 IPsec VPN Tunnels
LAN-to-LAN and Client-to-LAN IPsec VPN
Main, Aggressive Negotiation Mode
DES, 3DES, AES128, AES192, AES256 Encryption Algorithm
MD5, SHA1 Authentication Algorithm
Manual, IKE Key Management Mode
IPsec NAT Traversal (NAT-T)
Dead Peer Detection (DPD)
Perfect Forward Secrecy (PFS)
PPTP VPN
8 PPTP VPN Tunnels
PPTP VPN Server/Client
PPTP with MPPE Encryption
NetBIOS passthrough
L2TP VPN
8 L2TP VPN Tunnels
L2TP VPNServer/Client
L2TP over IPsec
NetBIOS passthrough
VPN Pass-through
IPsec (ESP), PPTP, L2TP
SEGURIDAD
Application Control
IM, P2P, Web IM, Web SNS, Web Media Protocol/Proxy Blocking
Attack Defense
TCP/UDP/ICMP Flood Defense
Block TCP Scan (Stealth FIN/Xmas/Null)
Block Ping from WAN
CSRF Defense
Filtering
MAC Filtering
URL/Keywords Filtering
Web Content Filtering (Java, ActiveX, Cookies)
Local Access Control
ARP Inspection
Sending GARP Packets
ARP Scanning by WAN/LAN
IP-MAC Binding
ADMINISTRACIÓN
Service
PPPoE Server
E-Bulletin
Dynamic DNS (Dyndns, No-IP, Peanuthull, Comexe)
Maintenance
Web-based Management Interface
Remote Management
Export & Import Configuration
NTP Synchronize
Syslog Support
SNMP
IP NAT Table
OTHERS
Certification
CE, FCC, RoHS
Package Contents
SafeStream Wireless N Gigabit Broadband VPN Router TL-ER604W
Power Adapter
RJ45 Ethernet Cable
Quick Installation Guide Resource CD
System Requirements
Microsoft® Windows® 8/7/Vista/XP/2000, MAC® OS, Linux-based operating System
Environment
Operating Temperature: 0℃~40℃ (32℉~104℉)
Storage Temperature: -40℃~70℃ (-40℉~158℉)
Operating Humidity: 10%~90% non-condensing
Storage Humidity: 5%~90% non-condensing