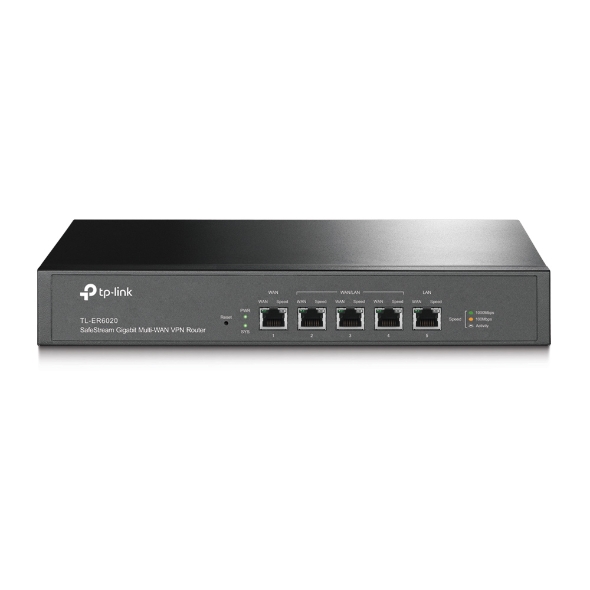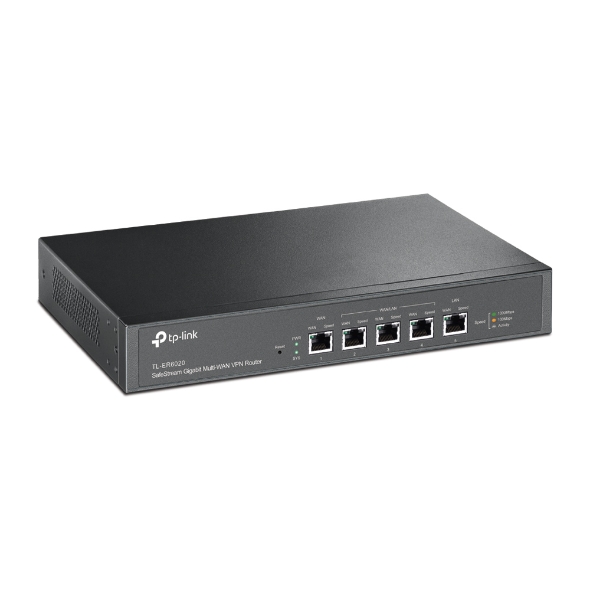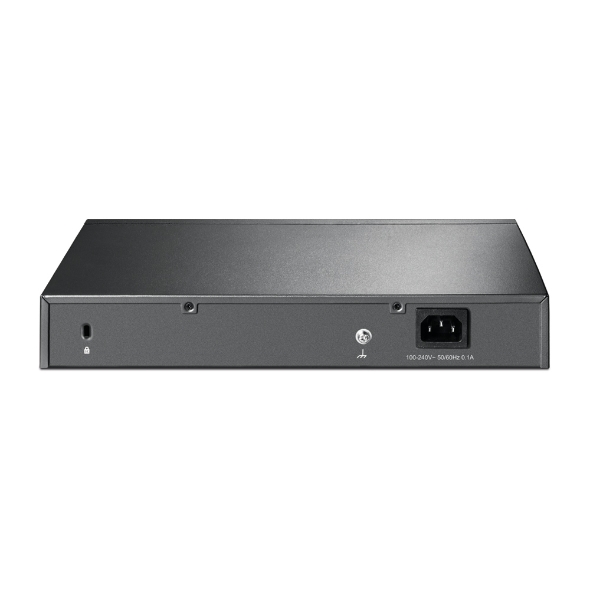 TL-ER6020
Router SafeStream Gigabit Dual-WAN VPN
Procesador dedicado dual core de 64 bit para un rendimiento excepcional
1 puerto Gigabit WAN, 3 puertos Gigabit WAN/LAN, 1 puerto Gigabit LAN
Soporta múltiples protocolos VPN incluyendo IPsec/PPTP/L2TP, lo que ayuda a los usuarios a establecer su propia VPN de manera flexible
Soporte hasta 64 túneles IPsec con un motor VPN en base hardware
Portal cautivo proporciona un método de autenticación conveniente para invitados
Abundantes características incluyendo balanceo de carga, control de ancho de banda y Control de Acceso
Protección ante descargas eléctricas 4kV manteniendo su inversión lo más segura posible
Qué Hace Éste Producto
El Router VPN TL-ER6020 SafeStream Gigabit Dual-WAN de TP-LINK posee capacidades de procesamiento de datos excelente y múltiples funciones poderosas como IPsec/PPTP/L2TP VPN, Balanceo de Carga, Control de Acceso, Defensa DoS y Control de Ancho de Banda. El TL-ER6020 es ideal para empresas pequeñas y medianas, hoteles y otros ambientes en los que hay una alta densidad de usuarios que requieren conexiones estables y seguras.
VPN Clase Empresarial
El TL-ER6020 soporta el paso de tráfico unificado en conjunto con múltiples protocolos VPN como IPsec, PPTP y L2TP en modo Cliente/Servidor. También cuenta con un motor hardware para VPN, permitiendo al router soportat y gestionar hasta 64 conexiones VPN IPsec LAN-a-LAN/Cliente-a-LAN. Características avanzadas VPN incluyen encriptación DES/3DES/AES128/AES192/AES256, autenticación MD5/SHA1 y modos de negociación Main/Aggressive.
Harware Superior
Con un procesador de doble núcleo de 64-bit, el TL-ER6020 escapaz de manejar múltiples tareas mientras mantienen un performance excelente.
Reparto Inteligente de Ancho de Banda
El TL-ER6020 tiene 1 puerto WAN y 3 puertos WAN/LAN, permitiendo que un dispositivo alcance múltiples requerimientos. El reparto inteligente de ancho de banda, distribuye flujos de datos en concordancia con el ancho de banda de cada puerto WAN optimizando un acceso WAN múltiple. Funciones de control de ancho de banda en base a IP y Límite de Sesión permite a los administradores de red la posibilidad de gestionar el uso del ancho de banda de manera flexible.
Con Independencia de la Meteorología, Paz de Mente
Protección professional contra rayos previene la penetración de la sobrecarga eléctrica en su equipo de red, descargando de manera inofensiva a la tierra. Diseñado para soportar 4 KV de electricidad cuando bien instalado, éste router asegura la inversión en su red de las inclemencias de ka Madre Naturaliza.
Branch Location

TP-Link Omada offers enterprise-level VPN, real-time network monitoring, and quick network troubleshooting to meet the requirements of headquarters and branches.

VPN
Easy management
Network monitoring and troubleshooting
High security
CARACTERÍSTICAS DE HARDWARE
Estándares y Protocolos
IEEE 802.3, IEEE802.3u, IEEE802.3ab
TCP/IP, DHCP, ICMP, NAT, PPPoE, SNTP, HTTP, DNS, IPsec, PPTP, L2TP
Interface
1 Puerto Gigabit WAN
3 Puertos Gigabit LAN/WAN
1 Puerto Gigabit LAN
Medios de Red
10BASE-T: UTP categoría 3, 4, 5 cable (Max 100m)
EIA/TIA-568 100Ω STP (Max 100m)
100BASE-TX: UTP categoría 5, 5e cable (Max 100m)
EIA/TIA-568 100Ω STP (Max 100m)
1000BASE-T: UTP categoría 5, 5e, 6 cable (Max 100m)
Cantidad de Ventiladores
Sin Ventilador
Botón
Botón Reset
Fuente de Alimentación
Fuente de Alimentación Interna Universal
AC100-240V~ 50/60Hz Alimentación
Flash
32MB
DRAM
DDRIII 256MB
LED
PWR, SYS, Link/Act, Velocidad, DMZ
Dimensiones (W X D X H)
294*180*44mm (11.6*7.1*1.7in.)
RENDIMIENTO
Sesiones Concurrentes
40000
Rendimiento NAT
940Mbps
Rendimiento VPN IPsec (3DES)
99Mbps
FUNCIONES BÁSICAS
WAN Connection Type
Static/Dynamic IP,
PPPoE/Russian PPPoE,
PPTP/Russian PPTP,
L2TP/Russian L2TP,
Bigpond Cable
MAC Clone
Modificación Dirección MAN WAN/LAN/DMZ
DHCP
Servidor/Cliente DHCP
Reserva DHCP
IPv6
Soporte IPv6
VLAN
Puerto VLAN, 802.1Q
IPTV
Bridge, Personalizado
FUNCIONES AVANZADAS
Equilibrio de carga
Equilibrio de carga inteligente
política de enrutamiento
Protocolo Encuadernación
Enlace de Backup (sincronización, conmutación por error)
Detección en línea
NAT
One-to-One NAT
Multi-nets NAT
Virtual Server, DMZ Host, Port Triggering, UPnP
FTP/H.323/SIP/IPsec/PPTP ALG
Routing
enrutamiento estatico
Enrutamiento dinámico (RIP v1 / v2)
System Mode
NAT, Non-NAT, Classical Routing
Control de Trafico
Control de Banda Ancha basado en IP
Garantía y banda ancha limitada
Políticas de tiempo programado
Límite de sesión basada en IP
TRANSMISION
Equilibrio de carga
Balanceo de Carga Inteligente
Línea Backup (Horario, Caída)
Detección Online

NAT
One-to-One NAT
Multi-nets NAT
Virtual Server
Port Triggering
FTP/H.323/SIP/IPsec/PPTP ALG
UPnP
Routing
Enrutamiento Estático
Política Enrutamiento
Límite de sesión
Límite de Sesión en base a IP
Bandwidth Control
Control Ancho de Banda en base a IP
VPN
IPsec VPN
64 Túneles VPN IPsec
LAN-a-LAN, Cliente-a-LAN
Modo Negociación Main, Aggressive
Algoritmo Encriptación DES, 3DES, AES128, AES192, AES256
Algoritmo Autenticación MD5, SHA1
IPsec NAT Traversal (NAT-T)
Dead Peer Detection (DPD)
Perfect Forward Secrecy (PFS)
PPTP VPN
16 Túneles VPN PPTP
Servidor/Cliente VPN PPTP
PPTP con encirptación MPPE
L2TP VPN
16 Túneles VPN L2TP
Servidor/Cliente VPN L2TP
L2TP sobre IPsec
VPN Pass-through
IPsec (ESP), PPTP, L2TP
SEGURIDAD
DMZ Port
Hardware con puerto DMZ
Control de la Aplicación
Protocolo IM, P2P, mensajería instantánea Web, Web SNS, medios de comunicación Web, Bloqueo Proxy
Filtering
Filtrado MAC
Filtrado URL/Escritura
ARP Inspection
Envío GARP Packets
Escaneo ARP WAN/LAN
Unión IP-MAC
Defensa de Ataque
Defensa de inundación TCP/UDP/ICMP
Bloqueo Escaneo TCP (Stealth FIN/Xmas/Null)
Bloqueo Ping desde WAN
Control de acceso
Control de Acceso vía IP Origen/Destino
AUTENTICACIÓN
Autenticación Web
Autenticación Usuario Local
Autenticación Servidor Radius
Onekey Online
ADMINISTRACIÓN
Servicio
Dynamic DNS (Dyndns, No-IP, Peanuthull, Comexe)
Mantenimiento
Interfaz de Gsestión Web
Gestión Remota
Configuración exportable e importable
SNMP
Diagnósticos(Ping & Traceroute)
Sincronización NTP
Soporte Syslog
Otros
Certificacion
CE, FCC, RoHS
Contenidos del Paquete
TL-ER6020
Cable de alimentación
Kit montaje en Rack
Guía de Instalación
Requisitos del Sistema
Microsoft Windows 98SE, NT, 2000, XP, Vista™ o Windows 7/8/8.1/10
MAC OS, NetWare, UNIX o Linux
Ambiente
Temperatura de Operación: 0℃~40℃ (32℉~104℉)
Temperatura de Almacenamiento: -40℃~70℃ (-40℉~158℉)
Humedad de Operación: 10%~90% sin condensación
Humedad de Almacenamiento: 5%~90% sin condensación
From United States?
Get products, events and services for your region.