Why are my devices not detecting the SSID of CPE/WBS in AP mode?
Overview
In this document the reader will find tips and ideas for solving SSID not being detected or connected issues with their CPE/WBS. Sometimes the clients are unable to detect the Wi-Fi signal of CPE/WBS when working in AP mode. Read on to explore possible reasons and recommended actions.
Table of Contents
CPE/WBS operating in a DFS (Dynamic Frequency Selection) channel
When detecting radar signals, CPE working in a DFS channel must dynamically switch the operating frequency of the 5GHz radio to one that does not interfere with the radar. Prior to selecting that channel, CPE will listen for an uncertain period of time (ranging from 1 to 10 minutes). During this time, CPE does not broadcast SSID. For more details about DFS, please check FAQ-763
Most mobile phones and other wireless devices do support the DFS channels, so they should be able to detect the DFS signal most times except the short period of time when AP checking channel availability (SSID is not broadcasting during this period). But some Rang Extender or Router/AP working with Repeater/Bridge mode, will not detect CPE/WBS wireless signals because they don't support DFS channels. Below table lists the DFS channel available models of TP-Link range extender.
| | | |
| --- | --- | --- |
| Model | Hardware Version | DFS Supported |
| RE200 EU | V1/V2 | √ |
| RE205 EU | V1 | √ |
| RE210 EU | V1 | √ |
| RE305 EU&US | V1 | √ |
| RE350 EU&US | V1 | √ |
| RE360 EU | V1 | √ |
| RE450 EU&US | V1/V2 | √ |
| RE500 EU&US | V1 | √ |
| RE650 EU&US | V1 | √ |
Solution: You can check if you choose a DFS channel under Wireless – Channel/Frequency on the CPE/WBS's web management page. If it says AUTO or a DFS channel, please select a non-DFS channel manually.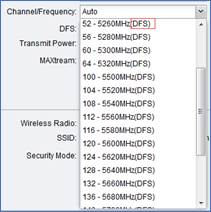 Note: CPE/WBS with EU Version only supports DFS 5GHz channels as required by CE standards.
CPE/WBS working with a nonstandard channel width like 5/10MHz
As seen in the picture below, CPE/WBS can support a very non-standard channel width 5/10MHz. However, common wireless devices such as mobile phones and home wireless routers or APs do not support non-standard 5MHz/10MHz channel width. If CPE/ WBS is configured operating in such channel width, wireless clients will not be able to detect the SSID of CPE/WBS.

Solution: Please use non-standard channel width only when both AP and Client are Pharos CPE/WBS and make sure they are using the same channel width.
CPE/WBS working in an out-of-band channel/frequency
CPE/WBS with Test Mode (Only UN version) can work in an out-of-band channel frequency (nonstandard channel frequency of 2.4G/5G which is not available on most wireless clients). If so, wireless clients will not detect wireless signals of CPE/WBS neither.
CPE/WBS with EU and US versions are fixed with a region code and its channel and power are strictly limited. So SSID not being detected caused by an out-of-band frequency will not happen on EU/US version.
For UN version, customers can choose a specific region according to the real location or the Test Mode. Please note that the Test Mode may violate the local country regulation; It is the installer's responsibility to follow local country regulations including operation within legal frequency channels, output power, and DFS requirements.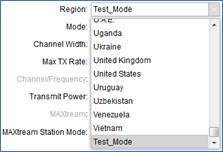 Solution: We should first check the hardware version of CPE/WBS (written on the label). If you have an UN version, you are recommended to choose a real region to avoid such problem.
Not in the wireless coverage of CPE/WBS
CPE uses build-in directional antenna which covers a specific limited area. WBS has no build-in antenna, but generally works with a directional antenna as well. Coverage is mainly determined by the horizontal coverage angle (such as CPE510 H-Plane Beam Width: 45°). Beam Width can be obtained from Specifications on TP-Link website.
As shown below, the mobile phone on the right is not in the wireless coverage of the CPE. So even it is closer to the CPE, it may cannot detect the SSID or the signal strength is much weaker.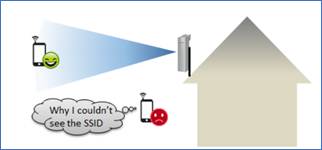 Solution: Make sure the wireless clients are within the CPE's WiFi coverage. And you are recommended to test the wireless clients in where they are very close to CPE/WBS to eliminate the cause of out of wireless coverage if you cannot find the SSID.
Sometimes, your wireless clients can detect the wireless signal of CPE/WBS but never connect to it. If such issue happens, it might have something to do with MAXtream function. MAXtream is TP-Link proprietary protocol which is only available on CPE/WBS device. Other wireless devices will not be able to connect to a Pharos device with MAXtream enabled. Please read FAQ-694 to know more details about MAXtream.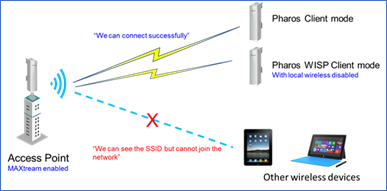 Solution: When a non-Pharos wireless device needs to connect with CPE/WBS, please make sure the MAXtream is disabled on the CPE/WBS (MAXtream is disabled by default).
Other improper configuration of the wireless settings
Some improper configurations such as disabled SSID Broadcast or simply forgetting to save the configuration will cause a disappeared SSID.

Solution: generally, a factory restore of the device will solve most of the undesirable problems, and it's always recommended to back up the configuration file before you reset the device.
Finden Sie diese FAQ hilfreich?
Mit Ihrer Rückmeldung tragen Sie dazu bei, dass wir unsere Webpräsenz verbessern.
Von United States?
Erhalten Sie Produkte, Events und Leistungen speziell für Ihre Region