How to build a Network for Restaurant & Cafe using tp-link products
To operate a restaurant or Cafe successfully, the key is to attract new customers and keep the old ones. Providing wireless internet access may help achieve the two goals. Many business people, tourists and students always need to keep in contact with their friends, families or cooperators online even if they are on holidays. More and more people, like the sales, they would prefer to get out of the office to meet their customers at a comfortable environment. In such case, fast-speed and stable Wi-Fi definitely gives them an extra reason to patronize your place, and even makes them to consume more. Besides, an advanced restaurant MIS (Management Information System) also needs a stable network. The network requirements of a restaurant MIS should be fully considered. TP-LINK can provide professional wired and wireless solution for such requirements.
What are the needs of the network for restaurant and café?
A network for restaurant and café should meet the following needs:
Concise layout, good looking AP design, and PoE power supply are supported;
Centralized management, monitoring the working status of each AP, easy-to-operate feature should be available.
No blind zone. All the corners should be covered with Wi-Fi;
Load balance and high clients capacity are required to handle the burst flow;
Higher security level such as Portal, voucher and 802.1x authentication are supported. VLAN can help to isolate hosts in dealing with security.
Automatic roaming. The clients can switch to other APs automatically when moving around.
What kind of solution can meet the needs of the restaurant and café network?
Here we provide a full solution including the network topology, product features and parameters.
Topology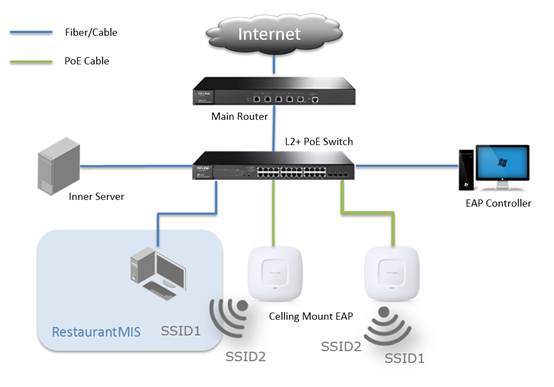 Tips for deploying this network topology:
Customers in Cafe/restaurant always require for high quality wireless connection. Clients' capacity and Wi-Fi interference are the main factors which need to be considered. To improve the clients capacity covered by per unit area, more APs should be installed. We should avoid to use the same channel on the APs which are close to each other to reduce the interference. As for cafe and restaurant, they are always designed in different patterns, so only field measurement can help to determine the best deployment solution.
What are the highlights of this solution?
This solution combines TP-LINK managed switches, EAPs as well as EAP controller software. And the main features are listed as below:
EAP is designed with professional antennas whose power is variable. To deal with different environment, we can adjust the transmit power to a proper value.
In the EAP wireless framework, different APs can broadcast the same SSID. Clients will switch to different AP automatically while moving around.
Load balance is supported among EAPs, when one AP is overload, the clients will be assigned to other AP nearby to balance the load.
By using VLAN and multi-SSID, the management network can be isolated from client's network, so this would greatly help to protect the inner network. Each client is safe as AP isolation feature could help to isolate each other.
Voucher and portal authentication are supported. The administrator can customize any information such as ads and special offers on the portal page, and redirect the URL as wish. Combined with external portal/radius server, counting and timing functions can be used.
The EAP is celling mount designed, PoE supported, good looking and easy to install.
No need to buy the expensive hardware AC. All the EAPs could be centralized managed by EAP controller software. All the EAP status can be monitored on the web GUI of the controller.
Which product should I choose to build network?
Type

Model

Brief Introduction

High performance solution

EAP330

Celling mount 802.11AC dual band enterprise AP; speeds up to 1900Mbps; managed by EAP controller software; 802.3at PoE supported with good looking appearance

TL-SG3424P

Standard PoE switch with 24 gigabit ports. 802.1q 802.3af/at PoE L2 switch, VLAN, IGMP snooping, QoS, LACP supported, variety management methods, easy to configure, suitable for managed PoE network

Cost effective solution

EAP220

Celling mount 802.11N dual band enterprise AP; speed up to 600Mbps; managed by EAP controller software; 802.3af PoE supported with good looking surface

T1600G-28PS

Standard PoE switch with 24 gigabit ports. 802.1q 802.3af/at PoE L2+ switch, support static routing, VLAN, IGMP snooping, QoS, LACP and ACL etc. variety management methods; easy to configure; suitable for managed PoE network
When deploying a wireless network, various products can be chosen according to the different environment, for example:
Small Cafe: 802.11n single band celling mount designed AP can also meet the demands. It can cover most of the areas as required, enough for normal use.
Large restaurant: 802.11AC dual band celling mount designed AP is recommended. It has stronger anti-interference capacity and can handle more clients, provides better network experience.
Byla tato FAQ užitečná?
Vaše zpětná vazba nám pomůže zlepšit naše webové stránky
From United States?
Get products, events and services for your region.