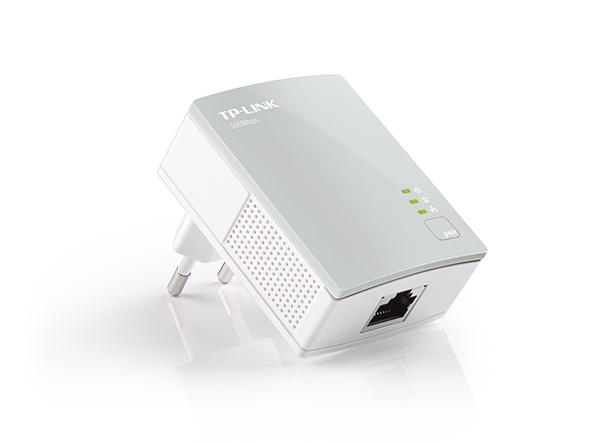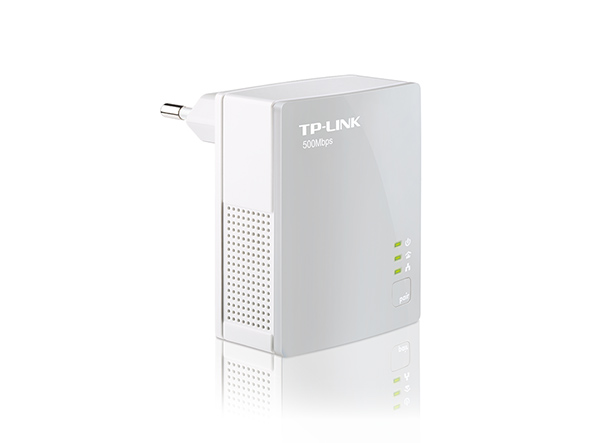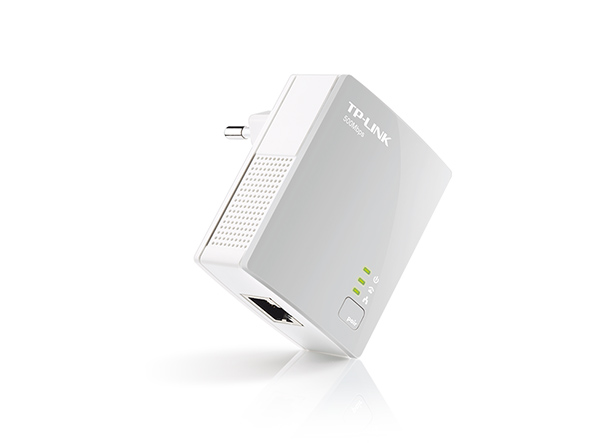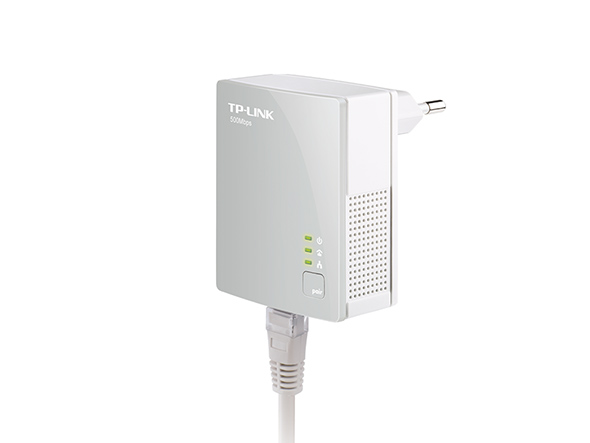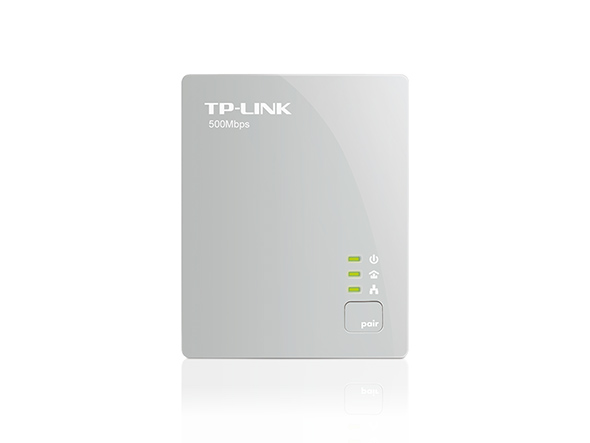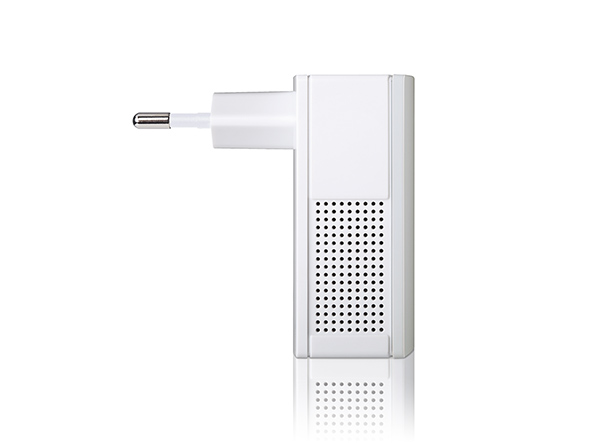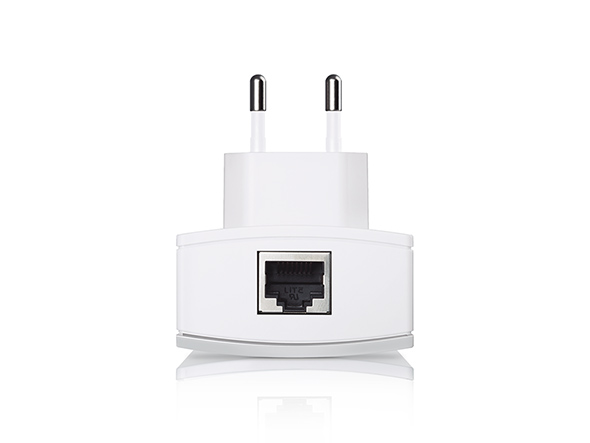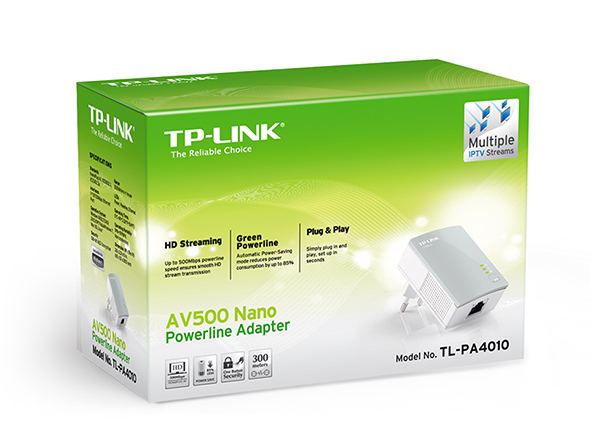 Adaptador Nano Powerline AV500 TL-PA4010
• En cumplimiento con la norma de HomePlug AV, velocidad de transferencia de datos de alta velocidad de hasta 500Mbps
• Diseño en miniatura, más pequeño que la mayoría de los adaptadores powerline en el mercado, se adapta indiscretamente en cualquier tomacorriente
• Sin cables nuevos, Fácil operación Plug and Play (conecte y use), No se requiere configuración
• El Modo de Ahorro de Energía Patentado reduce automáticamente el consumo de energía hasta del 85%*
* Los datos actuales pueden variar debido a las condiciones de la red y a factores ambientales.
Hasta 500 Mbps Powerline Velocidades Ideal para Transmisión HD
Gracias a la avanzada tecnología de AV Home Plug, TL-PA4010 proporciona a los usuarios con velocidades de transferencia de datos estable, de alta velocidad de hasta 500Mbps en una longitud de línea de hasta 300 metros. Con una velocidad de hasta 500 Mbps, TL-PA4010 permite a las aplicaciones de ancho de banda pesada como HD streaming, juegos en línea y descarga de archivos grandes, convirtiendo su hogar en un establecimiento de una red robusta y de alta velocidad.
Router
Diseño Miniatura
Con su nuevo diseño de la carcasa ultra-compacto, el TL-PA4010 es mucho menor que la herencia productos Powerline Mini 500Mbps de TP-LINK. Con sólo 28,5 mm de grosor, que casi se funde por completo frente a cualquier toma de corriente.
Botones Pair para una Red Segura
Simplemente pulsando el botón de par en los adaptadores, los usuarios pueden configurar una red Powerline sin problemas en cuestión de minutos, con 128-bit AES para seguridad de red y protección de datos.
¡Así de Simple!
1. Conecta el adaptador a la toma de corriente
2. Conecta el dispositivo a través del cable de red al adaptador
3. Pulsa los botones pair, ¡ya está!
Power LED
Powerline LED
Ethernet LED
Botón Pair
Nota: Los adaptadores powerline deben desplegarse en grupos de dos o más.
Enchufe adaptador conectado un solo Internet en una toma de corriente cercana.
Conecta adaptadores adicionales a PCs / portátiles TV / Internet u otros dispositivos conectados en red a través de un cable Ethernet y ¡Ya está!

Recomendación:

Pulse los botones de pares para la seguridad de red y protección de datos.
The theoretical maximum channel data transfer rate is derived from HomePlug AV specifications. Actual data transfer rate will vary from network environment including: distance, network traffic, noise on electrical wires, building material and construction, quality of electrical installation and other adverse conditions.
Actual data will vary because of the network conditions and environment factors.
CARACTERÍSTICAS DE HARDWARE
Tipo de Enchufe
EU,UK,US
Estándares y Protocolos
HomePlug AV, IEEE802.3, IEEE802.3u
Interfaz
1Puerto 10/100Mbps Ethernet
Botón
Botón Pair
Consumo de Energía
Máximo: 2.30W (220V/50Hz)
Típico: 2.13W (220V/50Hz)
En Espera: 0.44W (220V/50Hz)
LED
PWR, PLC, ETH
Dimensiones (W X D X H)
2.6 x 2.0 x 1.1 Pulg.(65×52×28.5mm)
Rango
300M en Casa
OTHERS
Certification
CE, FCC, RoHS
Package Contents
Adaptador Powerline Ethernet
Cable Ethernet (RJ45)
CD de Instalación,
Guía de Instalación Rápida
System Requirements
Windows 8/7/Vista/XP/2000, Mac, Linux
Environment
Temperatura de Funcionamiento: 0℃~40℃ (32℉~104℉)
Temperatura de Almacenamiento: -40℃~70℃ (-40℉~158℉)
Humedad de Funcionamiento: 10%~90% sin condensación
Humedad de Almacenamiento: 5%~90% sin condensación