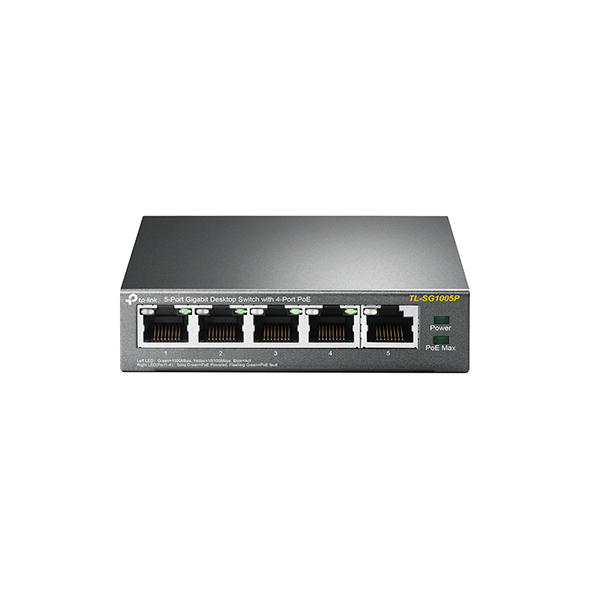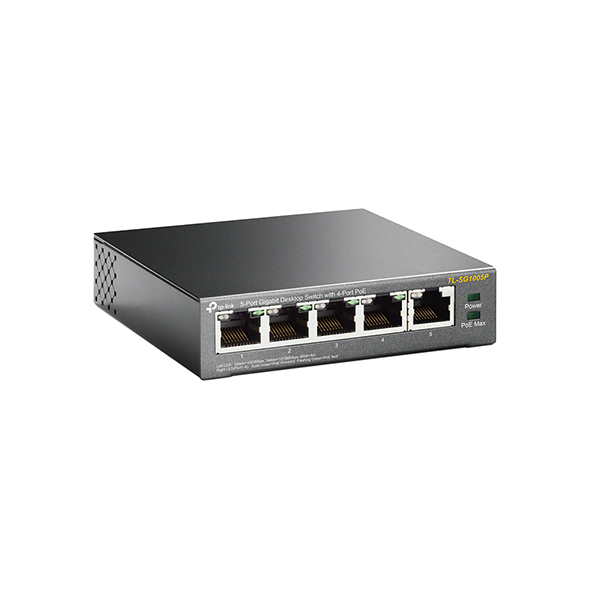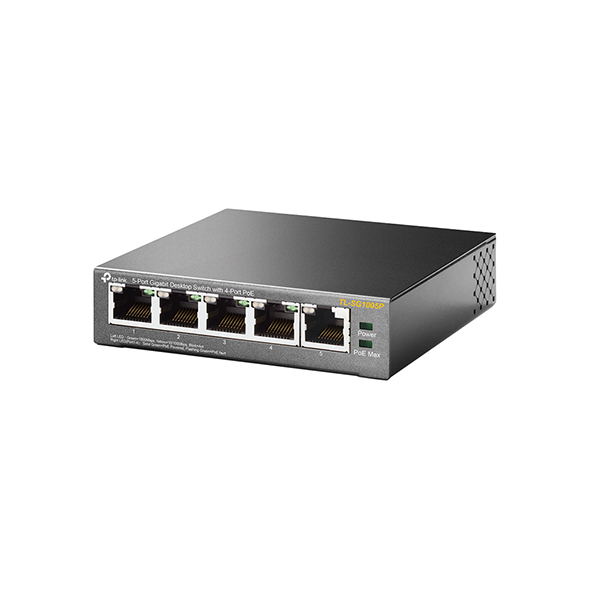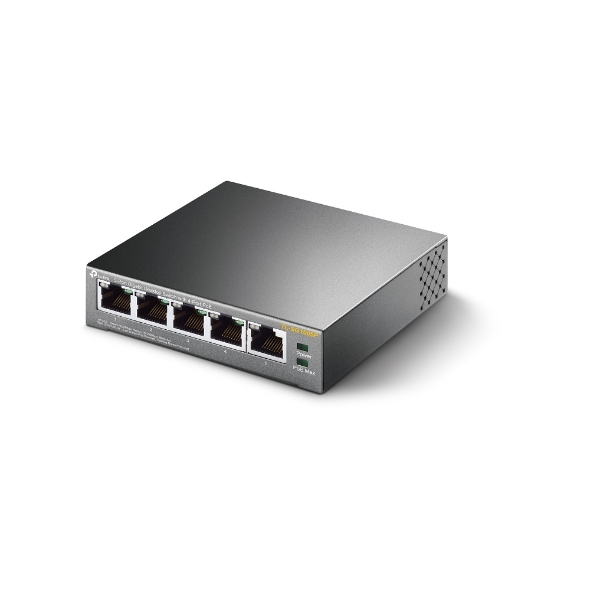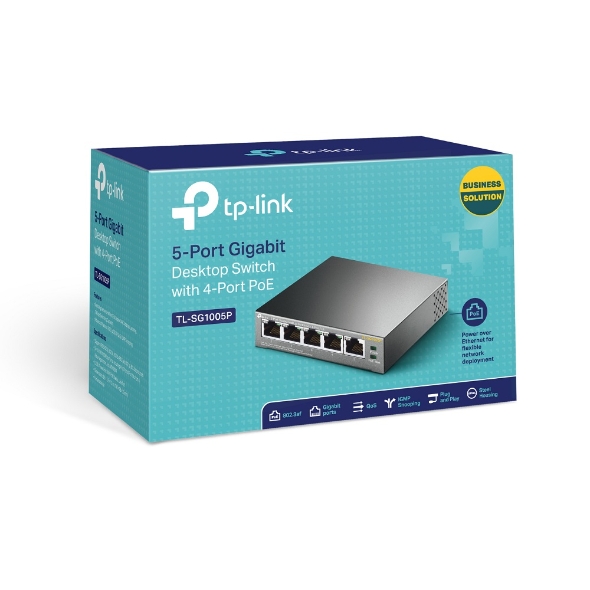 TL-SG1005P
Switch de Sobremesa de 5 Puertos Gigabit con 4 puertos PoE
5 puertos RJ45 10/100/1000Mbps
Con 4 puertos PoE, energía eléctrica y datos se transmiten sobre un solo cable
Compatible con dispositivos bajo standard IEEE 802.3af, permite la expansión de una red doméstica o de oficina
QoS 802.1p/DSCP habilita la eleción de tráfico sesible para garantizar una latencia baja
Soporta PoE hasta 15,4W por cada puerto
Soporta PoE total de 56W por todos los puertos
No necesita de configuración ni instalación
Para qué sirve este producto
TL-SG1005P se trata de un switch de 5 puertos 10/100/1000Mbps no gestionable, que no necesita ninguna configuración y proporciona 4 ouertos PoE (Energía sobre Ethernet). Puede detectar y suministrar energía automáticamente a aquellos Dispositivos Alimentados bajo standard IEEE 802.3af. En éste caso, la energía eléctrica se transmite a la vez que los datos por un solo cable permitiendo la expansión de de su red hacia zonas sin enchufes o cables eléctricos, donde se puede instalar dispositivos como Puntos de Acceso, Cámaras IP o Teléfonos IP, etc.
Energia sobre Ethernet
4 de los 5 puertos RJ45 con negociación automática (del puerto 1 al 4) del switch soportan el modo Power over Ethernet (PoE). Estos puertos PoE detectan automáticamente la presencia de dispositivos PoE compatibles con el estándar IEEE 802.3af y les suministran alimentación eléctrica
Protección contra Sobrecargas
El TL-SG1005P dispone de una función de prioridad* que ayuda a proteger el equipo cuando se produce una sobrecarga en la alimentación del sistema. Si el consumo eléctrico de todos los equipos PoE es mayor o igual que 56 W, se establece una prioridad de alimentación entre los puertos PoE en función de la cual el switch interrumpe la alimentación en el puerto que posea una menor prioridad.
Función de Prioridad en los Puertos
Prioridad (puerto 1 > puerto 2 > puerto 3 > puerto 4): Esta función le ayuda a proteger el sistema en condiciones de trabajo normal, lo que significa que el Puerto 4 dejará de suministrar energía cuando le portencia total de todos los equipos alimentados supera 56W. Por ejemplo, los puertos 1, 2 y 4 están utilizando 15,4 W (la potencia máxima por puerto es de 15,4 W), por lo que el suministro del sistema es de 56W en total. Si se conecta un dispositivo PoE adicional que consume 10 W en el puerto 3, el equipo desconecta la alimentación del puerto 4 para protegerse. De este modo, los puertos 1 y 2 consumirán 15,4 W, el puerto 3 utilizará 10 W y no se suministrará alimentación al puerto 4.
Fácil de Usar
El TL-SG1005P es fácil de instalar y utilizar. No requiere ningún tipo de configuración o instalación. Con su diseño de sobremesa y excepcional rendimiento y calidad, el switch de 5 puertos Gigabit con 4 puertos PoE TL-SG1005P de TP-LINK resulta una excelente elección para ampliar tanto su red doméstica como la de su oficina
Switches for Surveillance

For general surveillance, TP-Link has designed a variety of PoE Switches to meet the requirements of most IPCs. Many robust features provide value well beyond basic networking needs, creating a versatile and reliable surveillance network to grow your business.

Long-Range PoE
Auto Camera Recovery
Enhanced Network Security

Hospitality

TP-Link Omada allows hotels to build reliable WiFi networks. Hotel WiFi network solutions including network topology, design, features, installation, and products are introduced.

Full WiFi coverage and wired connections
Flexible guest control
Seamless roaming
Easy Management

Education

Due to its reliable, scalable, and secure network solution, TP-Link has been widely acknowledged by global customers in the Education market ranging from infant schools with a few APs up to colleges and universities with hundreds of APs.

Easy management
High-density WiFi
Full WiFi coverage and wired connections
VPN and security
Arion Hotel

TP-Link's suitable networking solution has improved the overall connection experience in Arion Hotel.

Arion Hotel

TP-Link's suitable networking solution has improved the overall connection experience in Arion Hotel.

"We knew that our premises had wiring problems. We have tried various other networking solutions to no avail. We greatly appreciated the fact that when we approached TP-Link and its partner (Go Group), they did not just try to sell us materials but did a needs-based survey as well as a site survey. It was crucial that the suggested design, installation, and operation, was not based on the best available solution but on the most suitable solution, for our case, as the Project Manager of TP-Link said. The result was much more than the expected and contributes to a remarkable customer experience, along with a smooth hospitality operation." —-Commercial Manager of Arion Hotel
CARACTERÍSTICAS DE HARDWARE
Interface
5 puertos RJ45 a 10/100/1000Mbps
Negociación automática, MDI/MDIX automático

Medios de Red
10BASE-T: cable UTP Categoría 3, 4, 5 (máximo 100 metros)
EIA/TIA-568 100Ω STP (máximo 100 m)
100BASE-TX: cable UTP Categorías 5, 5E (máximo 100 metros)
EIA/TIA-568 100Ω STP (máximo 100 m)
1000BASE-T: cable UTP Categorías 5, 5E, 6 o superior (máximo 100 metros)
EIA/TIA-568 100Ω STP (máximo 100 m)

Cantidad de Ventiladores
Sin ventiladores
Consumo de Energía
Máximo (PoE on): 63,31W (220V/50Hz)
Máximo (PoE off): 4,26W (220V/50Hz)

Fuente de Alimentación Externa
Fuente de Alimentación Externa (Salida: 48VDC / 1.25A)
Puertos PoE (RJ45)
Estándard: 802.3 af compatible
Puertos PoE: Puerto1- Puerto4
Alimentación Eléctrica: 56W

Sitio de Banda Ancha
10Gbps
Tabla de Dirección Mac
2K
Dimensiones (W X D X H)
99.8 x 98 x 25 mm (3.9 x 3.9 x 1.0 in.)
Consumo Máximo de energía
3.95W(220/50Hz. no PD connected)64.44W(220/50Hz. with 56W PD connected)
Disipación Máxima de Calor
13.48BTU/h(no PD connected)219.87BTU/h(with 56W PD connected)
CARACTERÍSTICAS DE SOFTWARE
Características Avanzadas
Compatible con Dispositivos Alimentados IEEE 802.3af
Función de Prioridad
Direcciones MAC: Auto Aprendizaje y Auto Envejecimiento
Control de Flujo EEE802.3x
802.1p/DSCP QoS
IGMP Snooping

Método de Transferencia
Store-And-Forward (Almacenamiento y reenvío)
Otros
Certificacion
FCC, CE, RoHS
Contenidos del Paquete
TL-SG1005P, Adaptador de corriente, Manual de Usuario
Consumo
4,26 vatios (máx. sin dispositivos PoE conectados)
63,31 vatios (máx. con dispositivos PoE conectados consumiendo 56W)

Ambiente
Temperatura de funcionamiento: 0℃~40℃ (32℉~104℉)
Temperatura de almacenamiento: -40℃~70℃ (-40℉~158℉)
Humedad de funcionamiento: 10%~90% sin condensación
Humedad de almacenamiento: 5%~90% sin condensación

From United States?
Get products, events and services for your region.