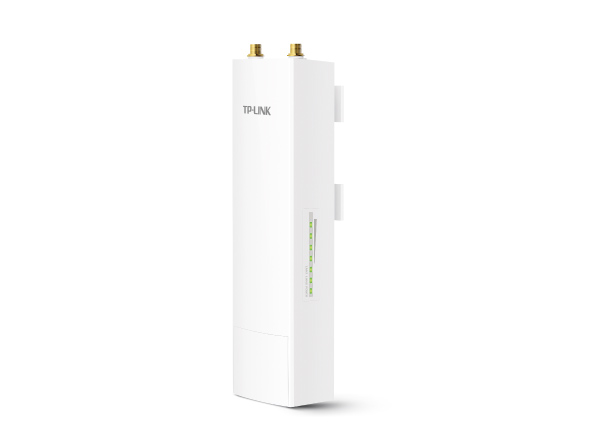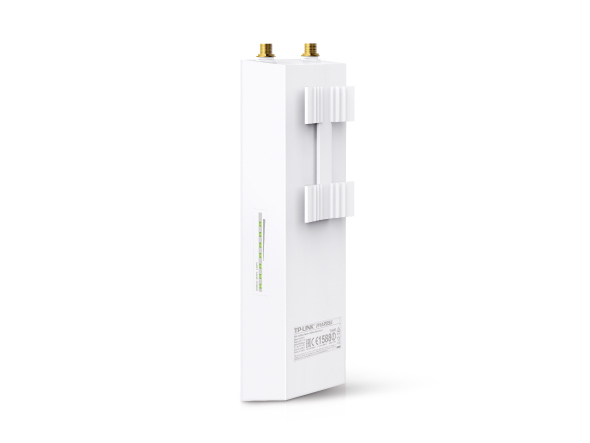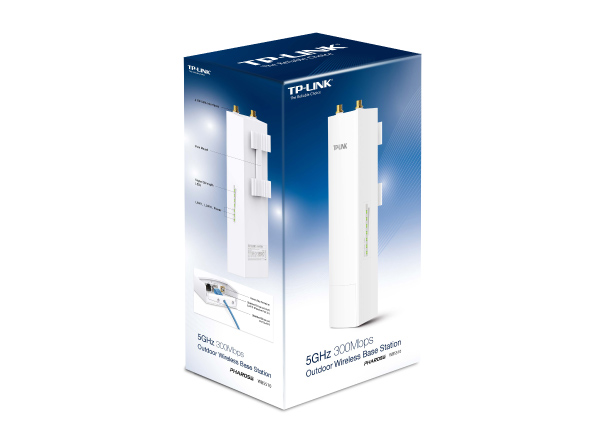 Estación Base Inalámbrica para Exterior 5GHz 300Mbps
Canales de frecuencia de funcionamiento generales garantizan menor interferencia inalámbrica
Velocidad inalámbrica N de hasta 300Mbps
Ancho de banda seleccionable de 5/10/20/40 MHz
Potencia de transmisión ajustable de 1 a 27dBm / 500mW
2 conectores RP-SMA para antena MIMO externa
Trabaja con antena parabólica TP-LINK para datos inalámbricos de larga distancia de transmisión de hasta 50 Km +
1 puerto Ethernet 10/100 / 1000Mbps pasivo PoE y 1 puerto Ethernet 10 / 100Mbps para aplicaciones extendidas
TP-LINK Pharos MAXtream (Time-Division-Multiple-Access) tecnología que mejora el rendimiento del producto, la capacidad y rendimiento de latencia, ideal para aplicaciones PtMP
Sistema de Administración Centralizada - Control Pharos
Soporta modos de operación Router AP, Router AP Cliente, AP, Cliente AP, Multi-Puente y Repetidor
Carcasa resistente a la intemperie, 15kV ESD y 6KV protección contra rayos

Acceso Donde Más Lo Necesitas
La Estación Base Inalámbrica para Exterior 5GHz 300Mbps
de TP-LINK está diseñada específicamente para proporcionar una solución efectiva para aplicaciones
de redes inalámbricas
en exteriores . Con su plataforma de administración centralizada y alto grado de flexibilidad, es la elección ideal para proporcionar punto a punto, punto a multipunto, y cobertura Wi-Fi al aire libre. Los pares de la Estación Base Inalámbrica para exterior de TP-LINK ofrecen un desempeño profesional con un diseño fácil de usar, por lo que es la solución perfecta para los usuarios empresariales y domésticos.
Transmisión de Datos Inalámbricos a Larga Distancia
Dos interfaces de antenas RP-SMA externas permiten que la estación base inalámbrica para exterior se integre perfectamente con la línea de antenas sectoriales y antena dish de TP-LINK. Cuando sea necesaria la transmisión de datos inalámbricos de larga distancia, el WBS510 se puede combinar con una antena parabólica de TP-LINK, lo que permite transferir datos a distancias de hasta 50 km.
Fácil Instalación, No Necesitas Herramientas
Las Estaciones Base de Pharos funciona perfectamente con la antena dish de TP-LINK y un sector antenas para proporcionar PtP eficiente y transmisión de datos PtMP. las Estaciones Base Pharos también cuentan con un sistema incorporado de montaje,evitando el uso de herramientas para su instalación.
Diseño de Hardware de Nivel Empresarial
Para maximizar el rendimiento y estabilizar la transmisión inalámbrica de larga distancia, la serie Pharos se construye con chipsets Qualcomm Atheros de nivel empresarial, de alta ganancia en antenas y amplificadores de alta potencia. Además de excelentes componentes internos, las estaciones base Pharos también disponen de un diseño especial, carcasa resistente a la intemperie y capacidad PoE. Este hardware líder en la industria asegura que las estaciones base Pharos puedan implementar una amplia variedad de entornos, soportando amplios rangos de humedad y temperatura (-30°C~70°C) (-22°F~158°F).
Chipset de Nivel Empresarial Qualcomm Atheros
Antenas de Alta Ganancia
Carcasa Resistente a la Intemperie
Adaptador Pasivo PoE
Protección contra rayos 6000V
Protección

15KV

ESD
Tecnología MAXtream TDMA – Rendimiento Garantizado
Como las redes crecen en escala, las estaciones base y otros dispositivos a menudo compiten por el acceso a una sola conexión de datos, lo que resulta un rendimiento disminuido y una experiencia más pobre para el usuario final. Las Estaciones Base Pharos utilizan tecnología TDMA MAXtream para contrarrestar esta competencia y garantizar que las tasas de transferencia de datos se mantengan altas, incluso a medida que aumenta la demanda.
Pharos Control - Sistema de Administración Centralizada
Las Estaciones Base Pharos están equipadas con Pharos Control, un software de administración centralizada que ayuda a los usuarios a administrar fácilmente todos los dispositivos de red desde una sola PC. Pharos Control ofrece la máxima comodidad para los usuarios que desean controlar la detección de dispositivos, supervisar el estado de la red, actualizar el firmware del dispositivo, o llevar a cabo otras tareas de mantenimiento de red.
PharOS
PharOS es un sistema de administración basada en web fácil de usar que permite a los usuarios avanzados y profesionales de la red llevar a cabo el ajuste de calibración y acceso a las opciones de configuración más avanzadas.
Serie Pharos de TP-LINK Proporciona Soluciones de Alto Rendimiento
Las series de productos Pharos de TP-LINK están dedicadas a proporcionar soluciones de alto rendimiento para aplicaciones de redes inalámbricas para exterior. Hoy en día Pharos incluye una variedad de dispositivos CPE y dispositivos de estación base, antenas de clase carrier, y una aplicación de administración centralizada.
WBS510

WBS210

CPE510

CPE210

OAP210

Compatibilidad
802.11 a/n
802.11 b/g/n
802.11 a/n
802.11 b/g/n
802.11 b/g/n
Velocidad Inalámbrica
5GHz 300Mbps
2.4GHz 300Mbps
5GHz 300Mbps
2.4GHz 300Mbps
2.4GHz 300Mbps
Transmisión de Energía
27dBm
27dBm
23dBm
27dBm
27dBm
Antena
\
\
13dBi
9dBi
2 x 5dBi
MAX Distancia de Transmisión
50+km
30+km
15+km
5+km
\
Interfaz de Antena Externa
2 RP-SMA connectors for MIMO antenna
\
2 x 5dBi External omni-directional antennas
Puertos Dual Ethernet
1 10/100/1000Mbps + 1 10/100Mbps
2 10/100Mbps
1 10/100/1000Mbps + 1 10/100Mbps
Wireless Networking for Elevators

TP-Link offers wireless point to point link delivering up to 300 Mbps throughput. The point to point link provides wireless coverage to the entire shaft, and delivers network to the elevator car, connecting the surveillance cameras or digital signage. So that real time video can be recorded to a DVR without hard wiring coax cable directly from the camera to the recorder.

Easy, Flexible Installation
Stable Connections at High-Speeds
Ideal for Elevator Camera
No Complex Cabling
PoE Support
CARACTERÍSTICAS DE HARDWARE
Procesador
Qualcomm Atheros Enterprise AR9350B 560MHz CPU, MIPS 74Kc
Memoria
64MB DDR2 RAM, 8MB Flash
Interface
1 10/100/1000Mbps Shielded Ethernet Port (LAN0/POE)
1 10/100Mbps Shielded Ethernet Port (LAN1)
2 RP-SMA
1 Grounding Terminal
1 Reset Button
Fuente de Alimentación
Passive Power over Ethernet via LAN0 (+4,5pins; -7,8pins)
Voltage range: 16-27VDC
Dimensiones (W X D X H)
189 x 75 x 32 mm
Protección
15KV ESD Protection
6000V Lightning Protection
Cercado
Outdoor ASA stabilized plastic material
IP65 water and dust proof Certification
CARACTERÍSTICAS INALÁMBRICAS
Estándares Inalámbricos
IEEE 802.11a/n
Protocolo Propietario
TDMA Mode (with Pharos MAXtream enabled)
Velocidades Inalámbricas
Up to 300Mbps (40MHz,Dynamic)
Up to 144.4Mbps (20MHz,Dynamic)
Up to 72.2Mbps (10MHz,Dynamic)
Up to 36.1Mbps (5MHz,Dynamic)
Frecuencia
5.15~5.85GHz
Potencia de Transmisión
27dBm/500mW (Adjustable power by 1dBm)
CARACTERÍSTICAS DE SOFTWARE
Modos de Funcionamiento
AP / Client / Bridge /Repeater
AP Router Mode / AP Client Router(WISP Client) Mode
Configuracion De Red
WAN: Static/Dynamic/PPPoE/L2TP/PPTP
LAN: Static/Dynamic/Dynamic/DHCP
Forwarding: DMZ/ALG/UPnP/Virtual Server/Port Trigger
Security: SPI Firewall/Ping Forbidden/VPN/DOS Protection
Access Control
Static Routing
Bandwidth Control
IP & MAC Binding
Configuraciones Inalámbricas
Pharos MAXtream TDMA Technology
802.11a/n Modes
Selectable Channel Width: 5/10/20/40MHz
Automatic Channel Selection
Transmission Power Control
Dynamic Frequency Selection (DFS)
WDS Enable/Disable
Security: WPA/WPA2, WPA-PSK/WPA2-PSK (AES/TKIP) Encryption, 64/128/152-bit WEP Encryption
SSID Broadcast Enable/Disable
Multi-SSID with VLAN Tagging (AP mode only)
Distance/ACK Timeout Setting
Wireless MAC Address Filter
Wireless Advanced:
> Beacon Interval/RTS Threshold/Fragmentation Threshold/DTIM Interval/AP Isolation/Short GI/Wi-Fi Multimedia
Administración
Discovery and Remote Management via Pharos Control application
HTTP/HTTPS Web-based management
System Log
SNMP Agent(v2c)
Ping Watch Dog
Dynamic DDNS
SSH Server
Herramientas de sistema
Wireless Signal Quality Indicators:
Signal Strength/Noise/Transmit CCQ/CPU/Memory
Monitors: Throughput/Stations/Interfaces/ARP/Routes/WAN/DHCP
Spectrum Analyzer
Speed Test
Ping
Traceroute
Optimizaciones a Nivel de Sistema
802.11a/n Tx beamforming technology
Optimized IGMP Snooping/Proxy for multicast applications
Hardware watch dog
Otros
Certificacion
CE, FCC, RoHS, IP65
Contenidos del Paquete
Outdoor Wireless Base Station
24V 1A Passive PoE Adapter
Pole Mounting Kit
AC Power Cord
Quick Installation Guide
Requisitos del Sistema
Microsoft Windows 98SE, NT, 2000, XP, Vista™ or Windows 8, Windows 7, MAC OS, NetWare, UNIX or Linux.
Note: We recommend you to use one of following Web browsers for an improved user experience: Google Chrome, Safari, and Firefox. IE browsers are not recommended.
Ambiente
Operating Temperature: -30°C~70°C (-22℉~158℉)
Storage Temperature: -40℃~70℃ (-40℉~158℉)
Operating Humidity: 10%~90% non-condensing
Storage Humidity: 5%~95% non-condensing
From United States?
Get products, events and services for your region.