How to configure my wireless router with ASK4 Internet service
Note:
If you are living in student accommodation where ASK4 provide their own wireless service and you would like to use a router.
You must set up a router as a wireless access point.
Using a router that performs the DHCP service is against ASK4's
terms of use
.
Failure to disable the DHCP service of your router may result in your connection being suspended.
For ASK4's explanation of this application, you may refer to this website:
Using Multiple Devices
: By default, you can have 2 devices registered to your Ask4 account.
In order to have more than 2 devices registered (such as a phone or another PC), please contact ASK4.
MAC Addresses
: Devices are registered to the ASK4 network using their MAC Address (sometimes referred to as the physical or Wi-Fi address). The MAC address is a unique ID for your computer, tablet or smart phone.
If you've been using your computer wired before following the guide above, you will need to register your wireless MAC address. Please contact ASK4.
Click
here
for
How to Configure TP-Link
router as a wireless Access Point
.
We don't need WAN port on the TP-Link router in this network.
After you configuring the router as Access Point please connect Ethernet Cable through the wall to
LAN port
on TP-Link router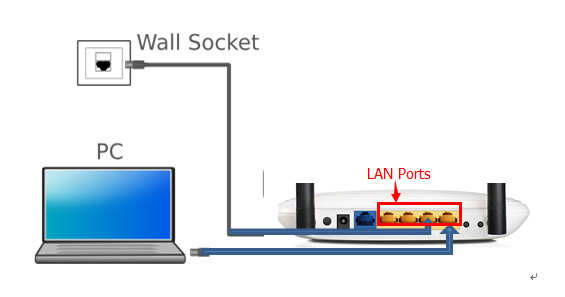 Finden Sie diese FAQ hilfreich?
Mit Ihrer Rückmeldung tragen Sie dazu bei, dass wir unsere Webpräsenz verbessern.
Subscription Für TP-Link ist Datenschutz sehr wichtig. Weitere Informationen zu unseren Datenschutzbedingungen finden Sie in der Datenschutzerklärung von TP-Link.
Von United States?
Erhalten Sie Produkte, Events und Leistungen speziell für Ihre Region