How to Check the IP Address of the Print Server
Sometimes we forget the exact IP address of the print server. To solve the problem, we can use the PSAdmin software to check the IP address. In this article, we have the windows XP computer as an example.
Please check the IP address of the computer, make sure it is in the same subnet with the Print Server. For example, if the IP address of the Print Server is 192.168.0.X, we can change the computer's IP address to 192.168.0.100.
About how to change the IP address of the computer, please refer to FAQ 14.
After the CD installation of Print Server, the PS Admin software must be installed in the computer. We can find it in the Start Menu----All Programs----Network Print Server.After the installation of Print server with the resource disk, we can find the soft in the Start Menu----All Programs----Network Print Server)

Step2:
When we open the PSAdmin software, it will search for the Print Server on the network. Or we can use the refresh button to search for the Print Server manually.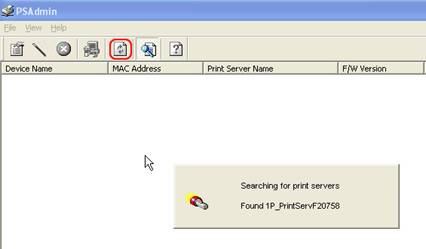 Step3:
After we find the Print Server, we can check the IP address in the TCP/IP option.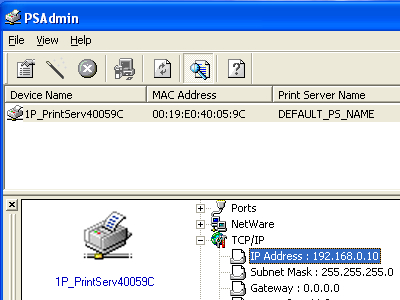 We can also modify the IP address by pressing the Properties button in the tool bar: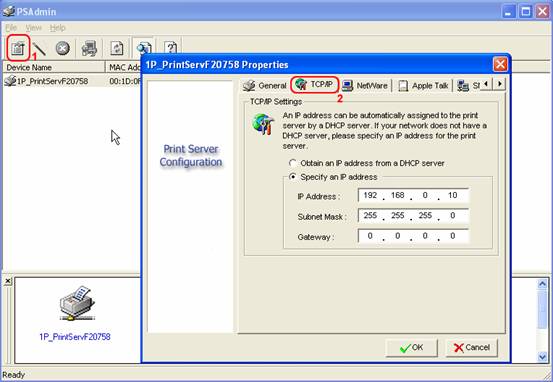 Get to know more details of each function and configuration please go to ​Download Center to download the manual of your product.
Finden Sie diese FAQ hilfreich?
Mit Ihrer Rückmeldung tragen Sie dazu bei, dass wir unsere Webpräsenz verbessern.
Subscription Für TP-Link ist Datenschutz sehr wichtig. Weitere Informationen zu unseren Datenschutzbedingungen finden Sie in der Datenschutzerklärung von TP-Link.
From United States (English)?
Check products and services for your region.