How to Change Wireless Settings of the Extended Networks? (blue UI)?
User's Application Scenario:
If you want to extend another host network after Quick Setup, you can refer to this section. Moreover, you can change the wireless settings for your extended networks.
How can I do that?
Follow the steps below:
Visit http://tplinkrepeater.net, and log in with the username and password you set for the extender.
Note: Here we take the configuration of the 2.4GHz network as an example. If the 5GHz network is available on your extender, please refer to the instructions to set your 5GHz network.
To extend another host network
1) Go to Settings > Wireless > Connect to Network.
2) Enable Connect to 2.4GHz Network and click Wireless Scanner to find all available networks.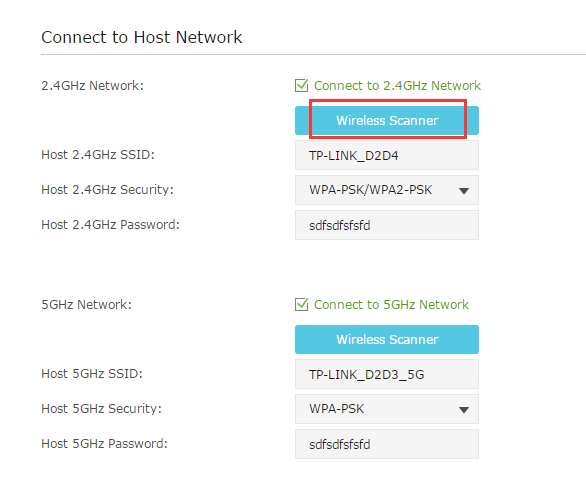 3) Select the 2.4GHz host network you want to extend.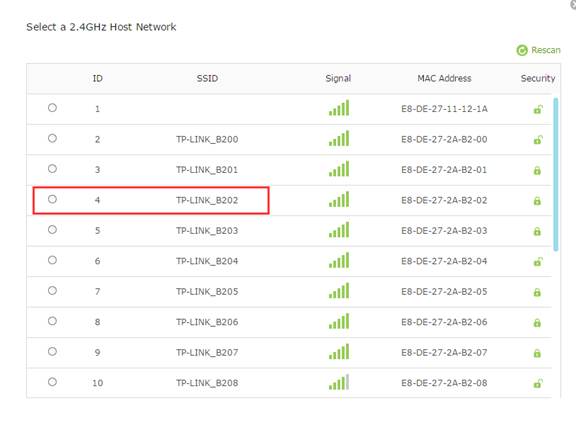 Note: If the network you want to extend is on but not listed, please try the following steps:
Move the extender closer to your router, and click Rescan on the top-right corner of the list.
You can manually enter the parameters of the network you want to extend, and click Save.
4) Once a host network is selected, the SSID and security type will be automatically filled in. If the selected network is encrypted, enter the password in the Password field.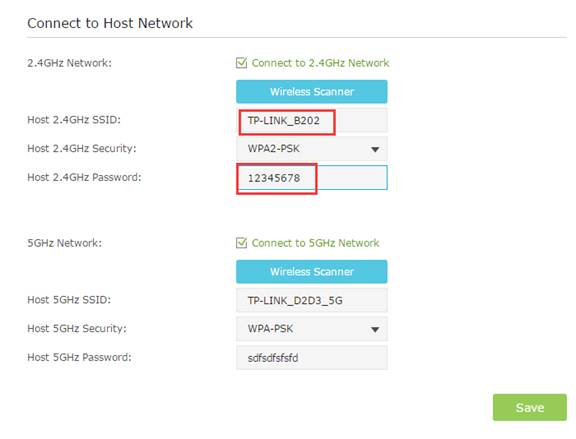 5) Click Save.
To enable or disable the extended network:
1) Go to Settings > Wireless > Extended Network.
2) The wireless radio is enabled by default. If you want to disable the wireless function of a certain band, just clear the Enable checkbox. In this case, all the wireless settings of this band will be invalid.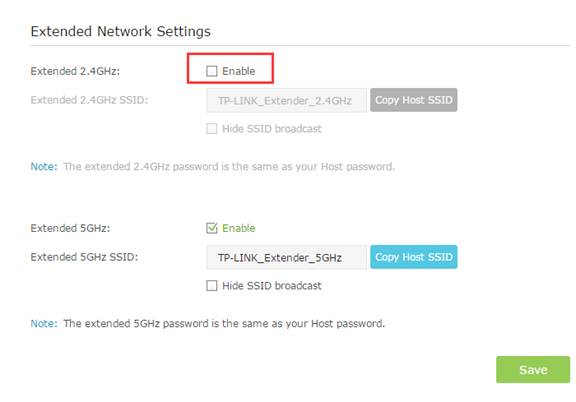 3) Click Save.
To change the wireless network name (SSID):
1) Go to Settings > Wireless > Extended Network.
2) Create a new SSID in Extended 2.4GHz SSID or click Copy Host SSID. The value is case sensitive.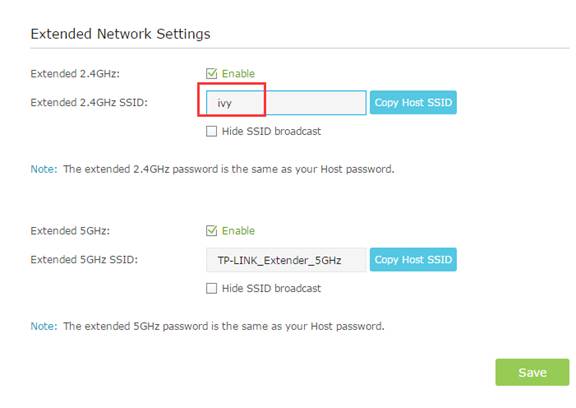 3) Click Save.
Note: If you change the wireless settings via a wireless device, you will be disconnected after the settings are applied. Please write down the new SSID for future use.
To hide the SSID of the extended network:
1) Go to Settings > Wireless > Extended Network.
2) Select Hide SSID broadcast, and the corresponding SSID will not display when you scan for local wireless networks on your wireless device and you have to manually join the network.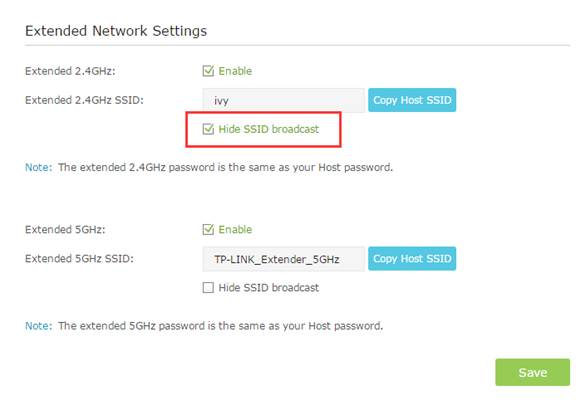 3) Click Save.
Get to know more details of each function and configuration please go to Download Center to download the manual of your product.
Finden Sie diese FAQ hilfreich?
Mit Ihrer Rückmeldung tragen Sie dazu bei, dass wir unsere Webpräsenz verbessern.
Subscription Für TP-Link ist Datenschutz sehr wichtig. Weitere Informationen zu unseren Datenschutzbedingungen finden Sie in der Datenschutzerklärung von TP-Link.
From United States?
Check products and services for your region.