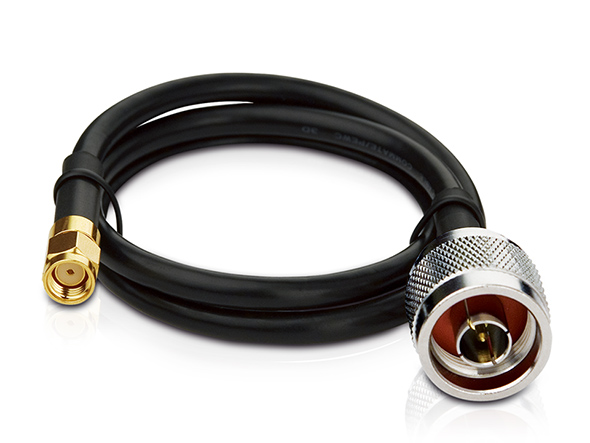 0,5m-LMR200-Adapterkabel N auf RP-SMA TL-ANT200PT
Hergestellt unter Verwendung eines 50cm-Low-loss-LMR-200-Kabels für beste Performance bei 2,4- und 5GHz-Anwendungen.
Wetterfestes Design
N-Male-zu-RP-SMA-Female-Anschluss, anwendbar bei den meisten Verbindungen zwischen Ihrem WLAN-Accesspoint/-Router und der Antenne.
Produktfunktionalitäten
Das Pigtail-Kabel TL-ANT200PT ist ideal für die flexible Verbindung zwischen einem starren Außenkabel und Ihrem WLAN-Accesspoint/Router geeignet. Es ist sehr einfach zu verwenden und benötigt keine Konfiguration oder Installationssoftware.
1. LMR®-200 is made by Times Microwave. LMR® is a registered trademark of Times Microwave. Times Microwave is not affiliated with TP-LINK and does not endorse TP-LINK products.
50cm Low-Loss-LMR-200-Kabel
N-Male-zu-RP-SMA-Female-Anschluss
Zugelassen für 2,4- und 5-GHz-Anwendungen, z.B. IEEE802.11b/g/n/a/ac
ANTENNE
Frequenz
DC .. 6GHz
Impedanz
50Ω nominal
Einfügedämpfung
2GHz 0,7dB
2,5GHz 0,8dB
3GHz 1dB
5GHz 1,2dB
5,5GHz 1,3dB
6.0GHz 1,4dB
Maximales Stehwellenverhältnis (VSWR)
0..3GHz: maximal 1,5:1
3..6GHz: maximal 1,6:1
Steckertyp
N männlich zu RP-SMA weiblich
Verlängerungskabel/Länge
LMR-200-Kabel/0,5m
Betriebstemperatur
-10°C..+60°C
Lagertemperatur
-40°C..+80°C

Länge
0,5m