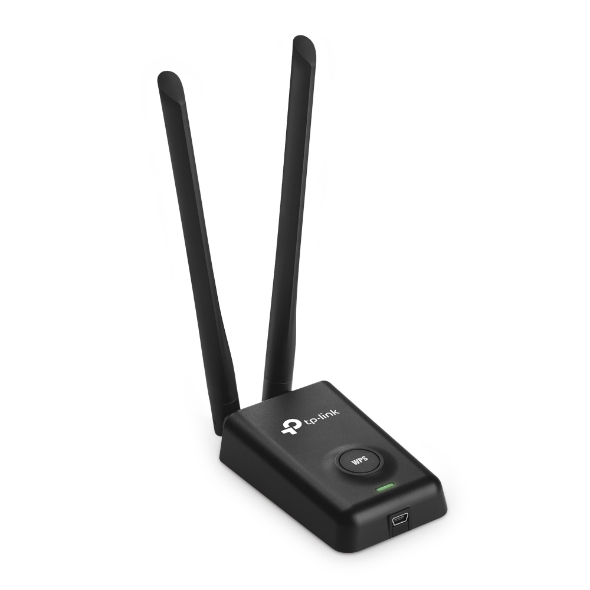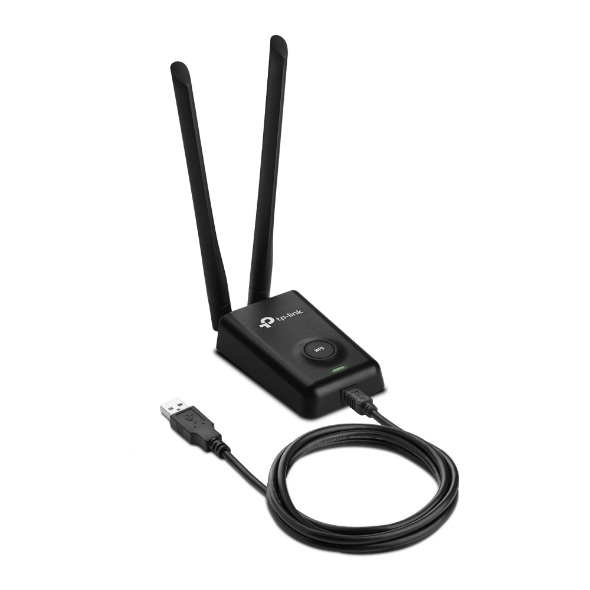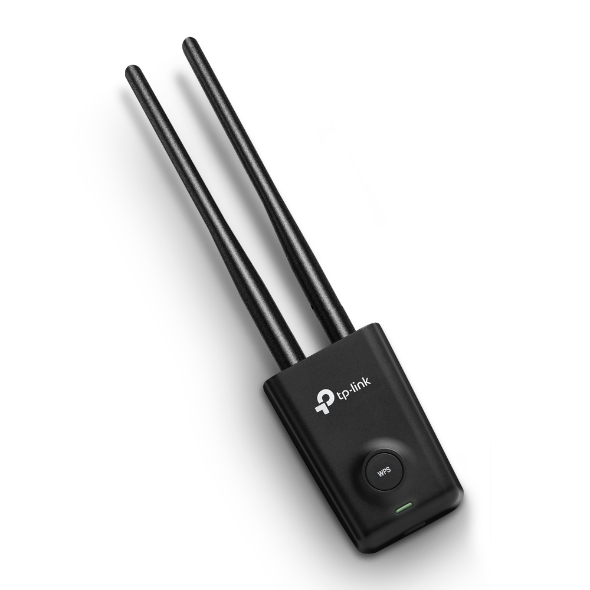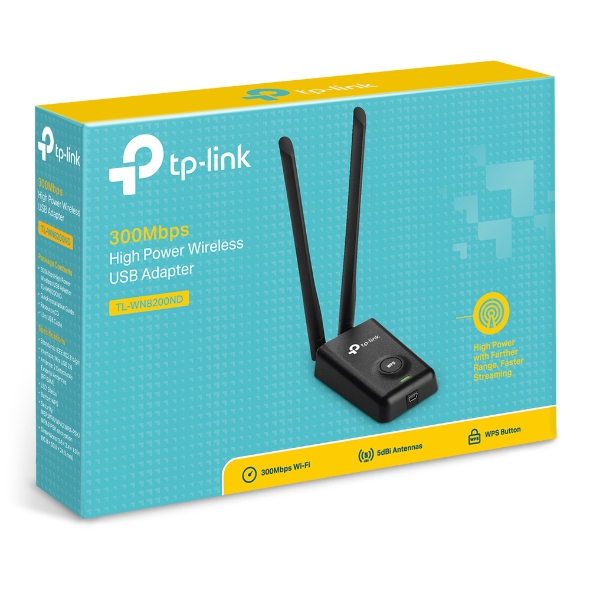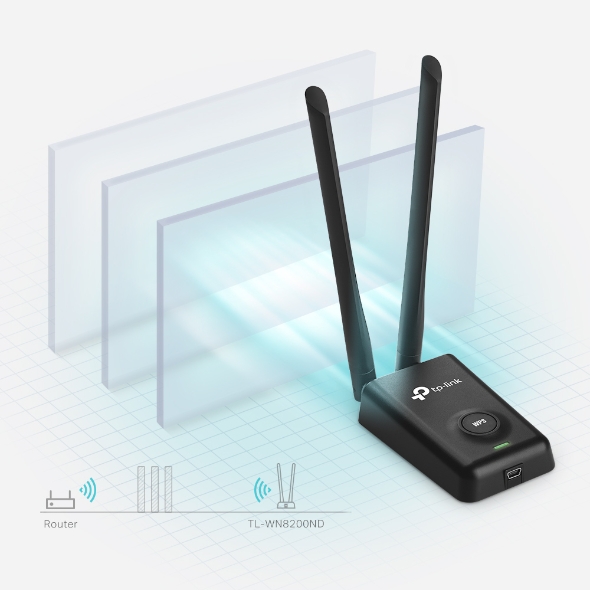 300Mbit/s-High-Power-WLAN-USB-Adapter
Präzise Empfangssensibilität für eine ultralange Übermittlungsdistanz
Übermittlungsraten von bis zu 300Mbit/s, ideal für bandbreitintensive Anwendungen
Einfache WLAN-Sicherheitsverschlüsselung durch Drücken der WPS-Taste
1,5-Meter-USB-Verlängerungskabel für eine bequeme Platzierung
Unterstützt Windows® XP, Vista und Windows 7/ 8
Größere WLAN-Abdeckung,
bequemere Internetvernetzung
300Mbit/s-High-Power-WLAN-USB-Adapter
TL-WN8200ND
Hohe Antennenleistung für eine gute Abdeckung
Dank höherer Sendeleistung liefert der TL-WN8200ND bis zu 10-fache höhere Leistung als normale WLAN-Adapter. Darüber hinaus ist der TL-WN8200ND mit einer unglaublich starken Antennenempfindlichkeit ausgestattet, sodass Sie nicht physisch an Wänden oder Decken/Fußböden scheitern, wenn Sie Zugang zum Internet brauchen.
Router
Andere WLAN-Adapter
Mehr Flexibilität mit abnehmbaren externen 5dBi-Antennen
Die zwei externen Antennen können in verschiedene Richtungen gedreht und ausgerichtet werden, um verschiedenen Betriebsumgebungen gerecht zu werden. Für noch anspruchsvollere Umgebungen können die Antennen auch durch diverse Innenraum-Antennen oder Richtantennen ersetzt werden – für eine noch größere WLAN-Abdeckung.
Benutzerfreundliches Design mit
1,5m-USB-Verlängerungskabel
Neben dem neuen und modischen Erscheinungsbild ist das Desktop-style-Design äusserst vorteilhaft für den Empfang des Signals in verschiedenen Umgebungen. Der TL-WN8200ND wird dazu mit einem 1,5 Meter langen USB-Verlängerungskabel geliefert, was die Installation und Platzierung erleichtert - auch bei Desktop-Geräten.
Einfache Installation

Dank beiliegender Installations-CD lässt sich der TL-WN8200ND in wenigen Minuten in Betrieb nehmen.

WPS-Taste

Sichere Verschlüsselung der WLAN-Verbindung durch WPA-Tastendruck

Systemanforderung

Unterstützt Windows, Mac OS, Linux
*Die maximale WLAN-Signalrate ist von den IEEE Standard 802.11 -Spezifikationen abgleitet. Die tatsächliche Signalrate kann je nach Situation variieren: 1) Umgebungsfaktoren wie Entfernung, Gebäudebeschaffenheit 2)Netzwerkfaktoren wie lokale Interferenz, Netzwerkkomplexität, Netzwerk-Overhead, Netzwerkauslastung, 3) Client-Einschränkungen wie Leistung, Standort, Verbindung, Qualität und Clientzustand.
*To ensure compatibility, you may need to update the adapter's drivers after an OS update. You can find our latest drivers in the download center at tp-link.com/en/download-center.
HARDWARE-FUNKTIONEN
Schnittstelle
Mini-USB
Taste
WPS
WLAN-Standards
IEEE802.11n
IEEE802.11g
IEEE802.11b
Abmessungen (B*T*H)
90,8mm*60,8mm*24,5mm
Antennentyp
2 abnehmbare Rundstrahlantennen (RP-SMA)
Antennengewinn
5dBi
WLAN-FUNKTIONEN
Frequenz
2,4..2,4835GHz
Signalrate
Senden: Bis zu 150 Mbit/s (dynamisch)
Empfang: Bis zu 300 Mbit/s (dynamisch)
Sendeleistung
<20dBm (für Länder, die die CE-Normen benutzen)
<27dBm (für Länder, die die FCC-Normen benutzen)
WLAN-Modi
Ad-Hoc-/Infrastrukturmodus
WLAN-Sicherheit
WEP mit 64 und 128 Bit
WPA/WPA2
WPA-PSK/WPA2-PSK
SONSTIGES
Zertifizierung
CE, FCC, RoHS
Verpackungsinhalt
WLAN-Adapter TL-WN8200ND
2 abnehmbare 5dBi-Rundstrahlantennen
Ressourcen-CD
Schnellinstallationsanleitung
1,5m-USB-Verlängerungskabel
Systemanforderungen
Windows 10/8.1/8/7/XP
Mac OS X
Linux
Umgebung
Betriebstemperatur: 0°C..40°C
Lagertemperatur: -40°C..70°C
Betriebsluftfeuchtigkeit: 10%..90%, nicht kondensierend
Lagerluftfeuchtigkeit: 5%..90%, nicht kondensierend
Subscription Für TP-Link ist Datenschutz sehr wichtig. Weitere Informationen zu unseren Datenschutzbedingungen finden Sie in der Datenschutzerklärung von TP-Link.