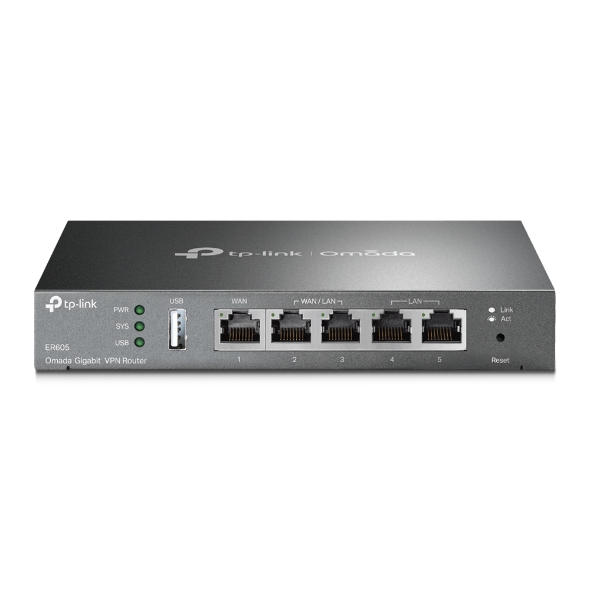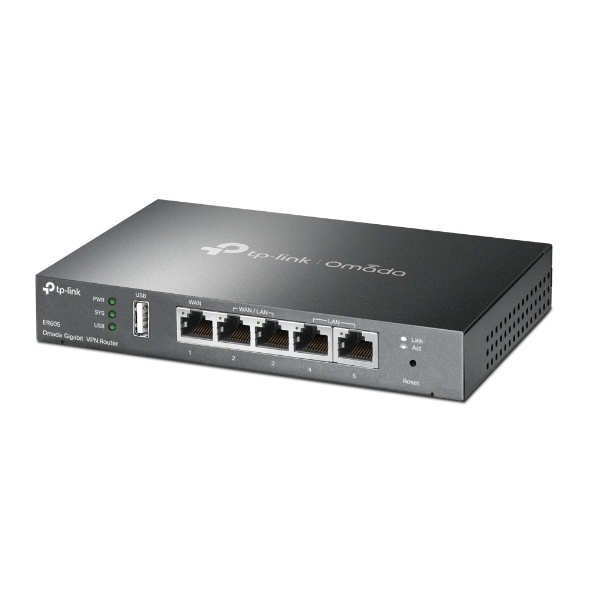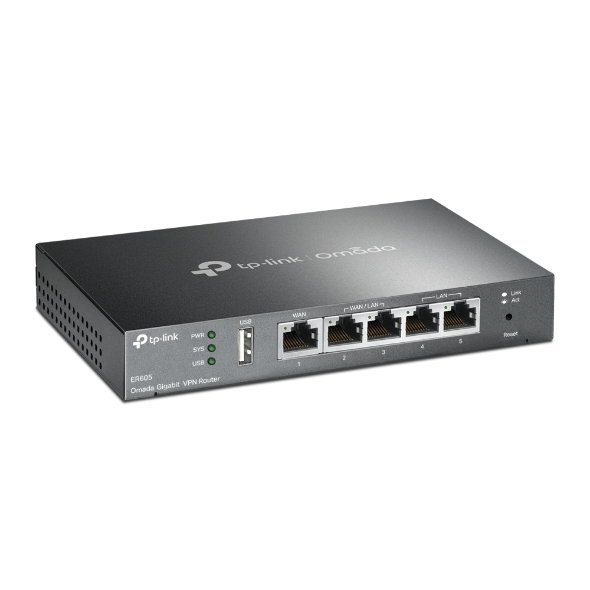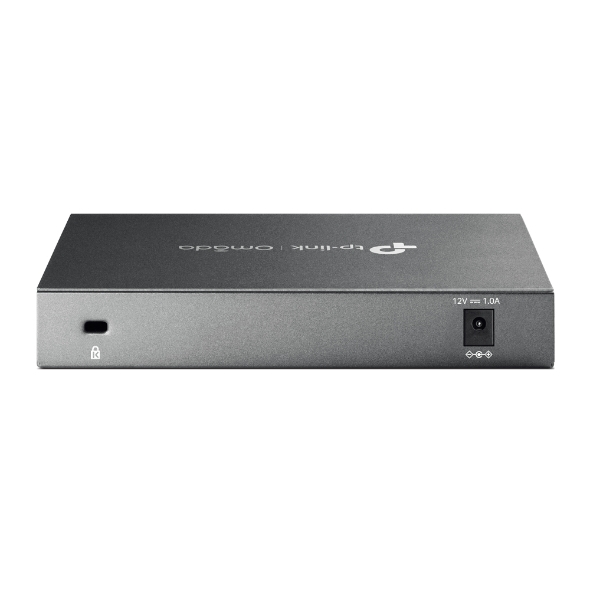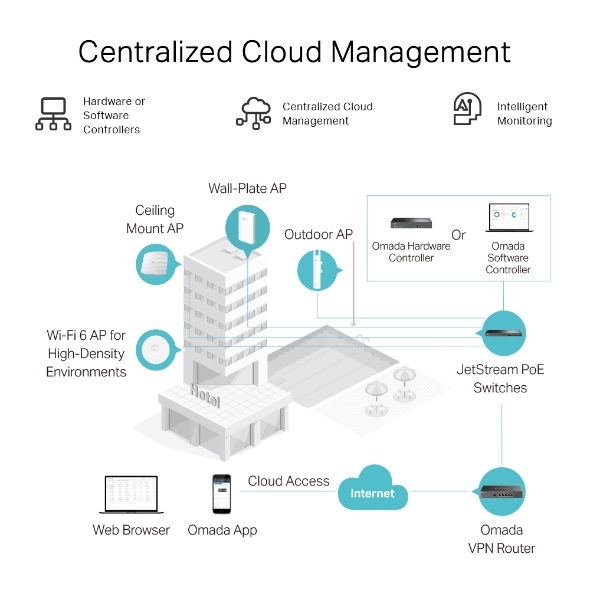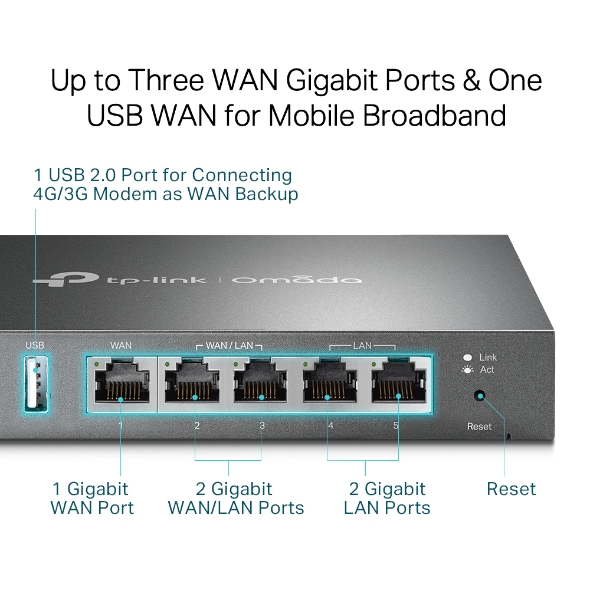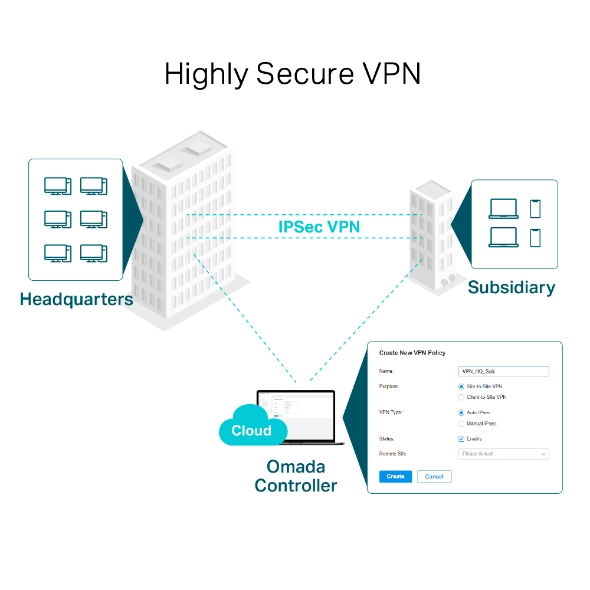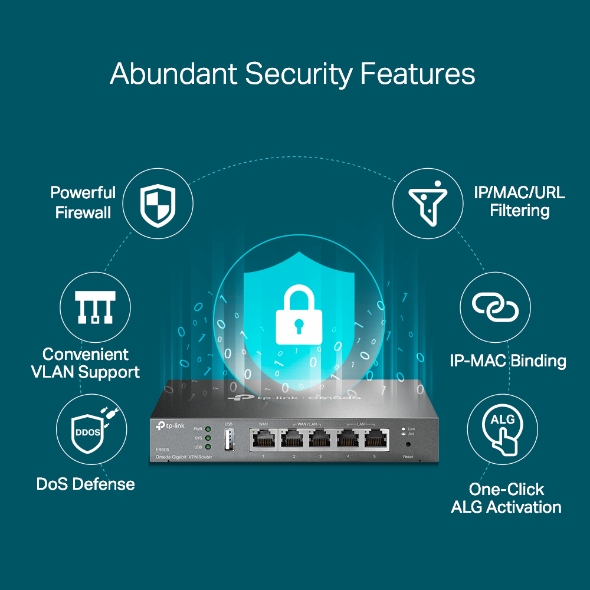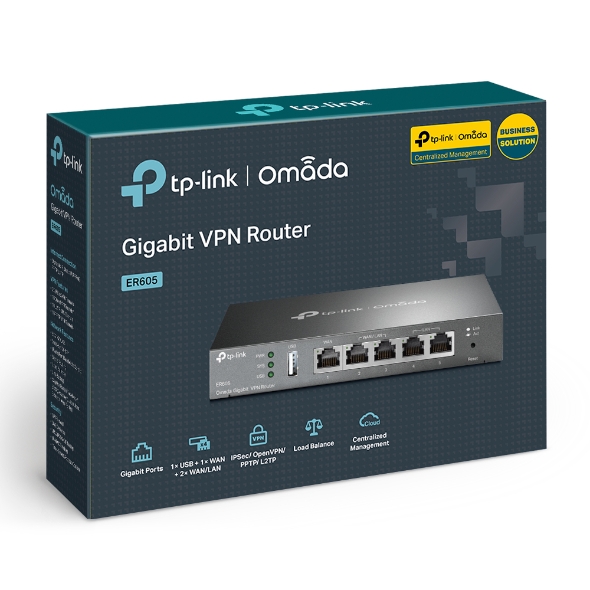 ER605 (TL-R605)
Omada Gigabit VPN Router
Im Omada SDN integriert : Zero-Touch Provisioning (ZTP) ** , zentrales Cloud-Management und smartes Monitoring.
Zentrale Verwaltung : Cloud-Zugriff und Omada-App für höchsten Komfort und eine praktische, einfache Verwaltung.
Fünf Gigabit-Ports : Kabelgebundene Hochgeschwindigkeits-Konnektivität.
Bis zu 3 Ethernet-WAN-Ports : 1 Gigabit-WAN-Port und 2 Gigabit-WAN/LAN-Ports

mit

Load-Balancing erhöhen die Nutzungsrate von mehreren Internetanschlüsse und bündeln deren Bandbreite

.
Ein USB-WAN-Port für die Monilfunknetzanbindung via USB: Mobile Mobilfunkanbindung werden vom Router über ein USB-Mobilfunk-Modem unterstützt für einen einfachen WAN-Backup.‡
Hochsicheres VPN : Unterstützt bis zu 20× LAN-to-LAN IPsec, 16× VPN* , 16× L2TP und 16× PPTP VPN-Verbindungen.
Umfangreiche Sicherheitsfunktionen : Erweiterte Firewall-Richtlinien, DoS-Verteidigung, IP/MAC/URL-Filterung und weitere Sicherheitsfunktionen schützen Ihr Netzwerk und Ihre Daten.

Zentrales Management
Sicheres, zuverlässiges Gigabit-Gateway mit VPN und Multi-WAN
Für den professionellen Einsatz, zentral gesteuert und in der Omada SDN integriert.
ER605
Zentrales Management

Gigabit Ports

1 USB + 1 WAN + 2 WAN/LAN

Load Balance

IPSec/OpenVPN/ PPTP/L2TP

Leistungsstarker Firewall

VLAN

Omada App
Die Omada-SDN-Plattform — Die smarte Cloud-Lösung für professionelle Netzwerke
Der TL-R605 ist für eine nahtlose Verwaltung in der Omada-SDN integriert und kann so zentralisiert von überall zu jeder Zeit verwaltet werden. So wird das gesamte Netzwerk von einer einzigen Plattform eingerichtet, verwaltet, und überwacht. Ein Standalone-Management über die Web-Oberfläche oder App ist auch für die maximale Flexibilität auch möglich.
Hardware oder Software Controller

Zentrales Cloud Management

Intelligentes Monitoring
Wi-Fi 6 AP für den High-Density Umfeld
Omada Hardware Controller
Omada Software Controller
Bis zu drei WAN Gigabit Ports & ein USB WAN für mobiles Internet
Zwei frei austauschbare Ports ermöglichen es dem Router, bis zu drei WAN-Ports für verschiedene Internetzugangsanforderungen zu unterstützen. Die Multi-WAN-Load-Balancing-Funktion verteilt entsprechend dem Bandbreitenanteil jedes WAN-Ports die Datenstreams, um die Auslastungsrate bei mehreren Internetleitungen zu erhöhen.
Mobiles Internet über ein 4G/3G-Modem, das an den USB-Anschluss angeschlossen wird, wird ebenfalls für die WAN-Sicherung unterstützt.
1× USB 2.0 Port um ein USB-Mobilfunk-Modem als WAN Backup anzuschließen
Hochsicherheits-VPN
TL-ER605 unterstützt IPSec/PPTP/L2TP VPN over IPSec/SSL Protokolle. Der leistungsfähige Hardware-Design, ist für bis zu 20× LAN-to-LAN IPsec-, 16× OpenVPN*-, 16× L2TP-, and 16× PPTP-VPN-Verbindungen.. One-click auto IPSec-VPN* vereinfacht die VPN-Konfiguration und ermöglicht die gleichzeitige Netzwerk-Verwaltung, Absicherung und Verschlüsselung private Site-To-Site Datenkommunikationen über das Internet.
Umfassende Sicherheitsfunktionen
Leistungsstarker Firewall
Sichere Firewall-Regeln
schützen Ihr Netwerk und Ihre Daten.
Praktische VLAN-Unterstützung
Erstellen Sie virtuelle Netzwerksegmente, um
die Sicherheit, Stabilität und Verwaltung Ihres
Netwerks zu erhöhen.
DoS-Schutz
Automatische Erkennung und Verhinderung von Denial of Service
(DoS)-Attacken, wie TCP/UDP/ICMP Flooding, Ping
of Death und andere Gefährdungen Ihrer Internetverbindung.
IP/MAC/URL Filterung
Sicherung gegen Viren, Attacken und Eindringlinge.
IP-MAC Binding
Reserviert statische IPs für Endgeräte
um ARP-Attacken oder ARP-Spoofing
abzuwehren.
One-Click ALG Aktivierung
One-Click ALG Activierung für
Anwendungen wie FTP, H323, SIP,
IPsec und PPTP.
Strategische Internetzugriffssteuerung
Legen Sie standartisierte Profile für die Internetnutzung und Zugriffsrechte für unterschiedlicher Benutzergruppen wie Angestellte und Gäste mit IP/MAC/URL-Filter und Zugriffssteuerung (ACL). Captive-Portal-Autentifikation bietet Kontrolle über Netzwerk-Ressourcen, indem die Benutzer erfasst, authentifiziert und klassifiziert wird. So können unterschiedliche Netzwerkressourcen für bestimmte Nutzer oder Gäste zugewiesen werden.
Einfache Verwaltung durch die Omada-App
Befolgen Sie die intuitive, angeleitete Konfiguration in der kostenlosen Omada-App um die Einrichtung innerhalb weniger Minuten anzuschließen. Omada ermöglicht die Konfiguration, Verwaltung und Überwachung des Netzwerks und Endgeräte, alles praktischerweise von einem Moblgerät aus.
HARDWARE-FUNKTIONEN
Standards und Protokolle
• IEEE 802.3, 802.3u, 802.3ab, IEEE 802.3x, IEEE 802.1q• TCP/IP, DHCP, ICMP, NAT, PPPoE, NTP, HTTP, HTTPS, DNS, IPSec, PPTP, L2TP, OpenVPN, SNMP
Schnittstelle
• 1 Fixed Gigabit WAN Port• 2 Fixed Gigabit LAN Ports• 2 Changeable Gigabit WAN/LAN Ports• 1 USB 2.0 Port (Connecting 4G/3G Modem as WAN Backup‡)
Kabel
• 10BASE-T: UTP category 3, 4, 5 cable (Max 100m)EIA/TIA-568 100Ω STP (Max 100m)• 100BASE-TX: UTP category 5, 5e cable (Max 100m)EIA/TIA-568 100Ω STP (Max 100m)• 1000BASE-T: UTP category 5, 5e, 6 cable (Max 100m)
Taste
Reset Button
Spannungsversorgung
External 12V/1A DC Adapter
Flash
128 MB NAND
DRAM
256 MB DDR
LED
PWR, SYS, WAN (Link/Act), LAN (Link/Act), USB
Abmessungen (B*T*H)
6.2 × 4.0 × 1.0 in (158 × 101 × 25mm)
Maximale Leistungsaufnahme
7.94 W
PERFORMANCE
Gleichzeitige Verbindungen
150,000
New Sessions /Second
2,600
NAT (Static IP)
• Upload: 945.77 Mbps• Download: 945.56 Mbps• Bi-Directional: 1808.29 Mbps
NAT(DHCP)
• Upload: 945.93 Mbps• Download: 945.43 Mbps• Bi-Directional: 1808.11 Mbps
NAT(PPPoE)
• Upload: 940.44Mbps• Download: 940.52 Mbps• Bi-Directional: 1804.27 Mbps
NAT (L2TP)
• Upload: 845.64 Mbps• Download: 802.65 Mbps• Bi-Directional: 931.96 Mbps
NAT (PPTP)
• Upload: 771.66 Mbps• Download: 874.81 Mbps• Bi-Directional: 999.54 Mbps
64 Byte Packet Forwarding Rate
• Upload/Download: 1,402,238 pps• Bi-Directional: 1,681,548 pps
IPsec-VPN-Durchsatz
• ESP-MD5-AES256: 171.26 Mbps• ESP-SHA1-AES256: 224.86 Mbps• ESP-SHA2-AES256: 248.04 Mbps
OpenVPN
• 21.70 Mbps
L2TP VPN Throughput
• Unencrypted: 864.65 Mbps• Encrypted: 47.11 Mbps
PPTP VPN Throughput
• Unencrypted: 703.20 Mbps• Encrypted: 76.65 Mbps
GRUNDFUNKTIONEN
WAN-Verbindungstyp
• Static/Dynamic IP• PPPoE• PPTP• L2TP• Mobile Broadband: 4G/3G modem for backup via USB port‡
Klonen der MAC-Adresse
Modify WAN/LAN MAC Address†
DHCP
• DHCP Server/Client• DHCP Address Reservation• Multi-net DHCP*• Multi-IP Interfaces*
IPv6
StaticIP / SLAAC / DHCPv6 / PPPoE / 6to4Tunnel / PassThrough
VLAN
802.1Q VLAN
IPTV
IGMP v2/v3 Proxy, Custom Mode, Bridge Mode
ERWEITERTE FUNKTIONEN
ACL
IP/Port/Protocol/Domain Name Filtering
Erweitertes Routing
• Static Routing• Policy Routing
Datenratenkontrolle
IP-based Bandwidth Control
Loadbalancing
• Intelligent Load Balance• Application Optimized Routing• Link Backup (Timing§, Failover)• Online Detection
NAT
• One-to-One NAT§• Multi-Net NAT• Virtual Server• Port Triggering§• NAT-DMZ• FTP/H.323/SIP/IPSec/PPTP ALG, UPnP
Sicherheit
• SPI Firewall• VPN Passthrough• FTP/H.323/PPTP/SIP/IPsec ALG• DoS Defence, Ping of Death• Local Management
Session Limit
IP-based Session Limit
VPN
IPsec-VPN
• 20 IPsec VPN Tunnels• LAN-to-LAN, Client-to-LAN• Main, Aggressive Negotiation Mode• DES, 3DES, AES128, AES192, AES256 Encryption Algorithm• IKEv1/v2• MD5, SHA1 Authentication Algorithm• NAT Traversal (NAT-T)• Dead Peer Detection (DPD)• Perfect Forward Secrecy (PFS)
PPTP-VPN
• PPTP VPN Server• 10 PPTP VPN Clients**• 16 Tunnels• PPTP with MPPE Encryption
L2TP-VPN
• L2TP VPN Server• 10 L2TP VPN Clients**• 16 Tunnels• L2TP over IPSec
OpenVPN
• OpenVPN Server*• 10 OpenVPN Clients*△• 16 OpenVPN Tunnels*
SICHERHEIT
Filterung
• WEB Group Filtering§• URL Filtering• Web Security§
ARP-Inspektion
• Sending GARP Packets§• ARP Scanning§• IP-MAC Binding§
Angriffsschutz
• TCP/UDP/ICMP Flood Defense• Block TCP Scan (Stealth FIN/Xmas/Null)• Block Ping from WAN
Access Control
Source/Destination IP Based Access Control
AUTHENTICATION
Web Authentication
• No Authentication• Simple Password*• Hotspot(Local User / Voucher* / SMS* / Radius*)• External Radius Sever• External Portal Sever*• Facebook*
VERWALTUNG
Omada App
Yes. Requiring the use of OC300, OC200, Omada Cloud-Based Controller, or Omada Software Controller.
Centralized Management
• Omada Hardware Controller (OC300)• Omada Hardware Controller (OC200)• Omada Software Controller• Omada Cloud-Based Controller
Cloud Access
Yes. Requiring the use of OC300, OC200, Omada Cloud-Based Controller, or Omada Software Controller.
Dienst
Dynamic DNS (Dyndns, No-IP, Peanuthull, Comexe)
Wartung
• Web Management Interface• Remote Management• Export & Import Configuration• SNMP v1/v2c/v3• Diagnostics (Ping & Traceroute)§• NTP Synchronize§• Syslog Support
Zero-Touch Provisioning
Yes. Requiring the use of Omada Cloud-Based Controller.
Management Features
• Automatic Device Discovery• Intelligent Network Monitoring• Abnormal Event Warnings• Unified Configuration• Reboot Schedule• Captive Portal Configuration
SONSTIGES
Zertifizierung
CE, FCC, RoHS
Verpackungsinhalt
• Gigabti VPN Router ER605• Power Adapter• RJ45 Ethernet Cable• Quick Installation Guide
Systemanforderungen
Microsoft Windows 98SE, NT, 2000, XP, Vista™ or Windows 7/8/8.1/10/11, MAC OS, NetWare, UNIX or Linux
Umgebung
• Operating Temperature: 0–40 ℃ (32–104 ℉);• Storage Temperature: -40–70 ℃ (-40–158 ℉)• Operating Humidity: 10–90% RH non-condensing• Storage Humidity: 5–90% RH non-condensing
‡Die vollständige Liste der Kompatibilität von 4G/3G-Modems finden Sie unter https://www.tp-link.com/en/er605/compatibility/
*Diese Funktionen erforden den Omada Hardware Controller, Software Controller, or Cloud-Based Controller.
† LAN MAC Address kann nur im in Standalone Mode geändert werden.
§ Diese Funktionen werden nur in Standalone unterstützt.
△Für OpenVPN: Wenn er als VPN-Server eingerichtet ist, kann jeder WAN-Port mit bis zu 10 VPN-Clients verbunden werden. Gleichzeitig kann der ER605 als VPN-Client eine Verbindung mit bis zu 10 VPN-Servern herstellen. Die Gesamtzahl der OpenVPN-Tunnel ist auf 16 begrenzt.
**Für PPTP and L2TP VPN: Der ER605 kann als VPN-Client arbeiten und sich mit bis zu 10 VPN-Servern verbinden.
***Zero-Touch Provisioning erfordert die Verwendung des Omada Cloud-Based Controllers. Gehen Sie zu https://www.tp-link.com/omada-cloud-based-controller/product-list/ um zu überprüfen, welche Modelle mit Omada Cloud-Based Controller kompatibel sind.
Subscription Für TP-Link ist Datenschutz sehr wichtig. Weitere Informationen zu unseren Datenschutzbedingungen finden Sie in der Datenschutzerklärung von TP-Link.
Von United States?
Erhalten Sie Produkte, Events und Leistungen speziell für Ihre Region