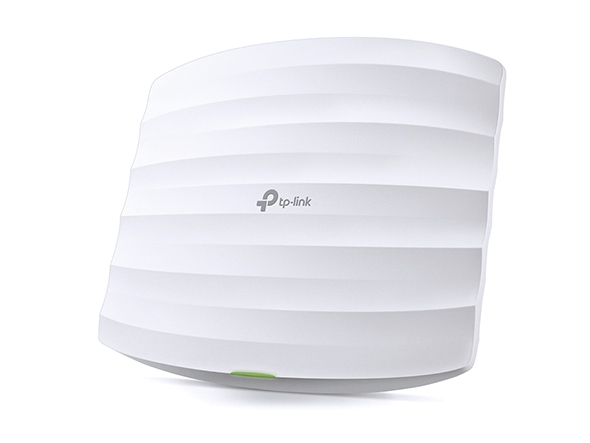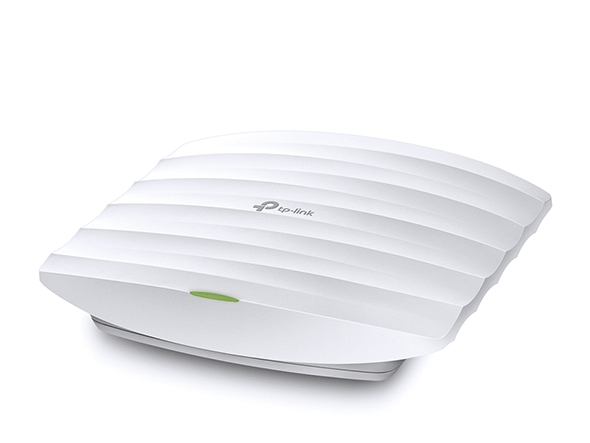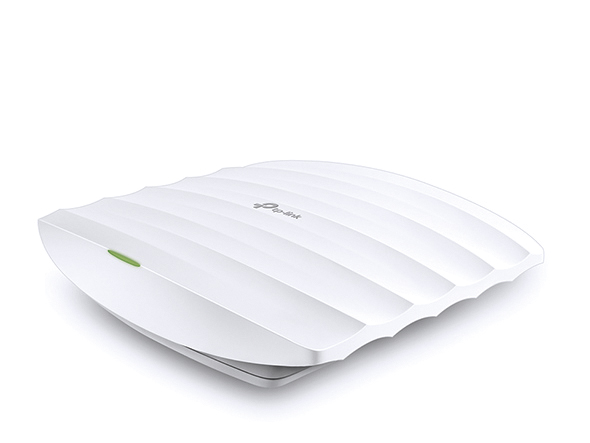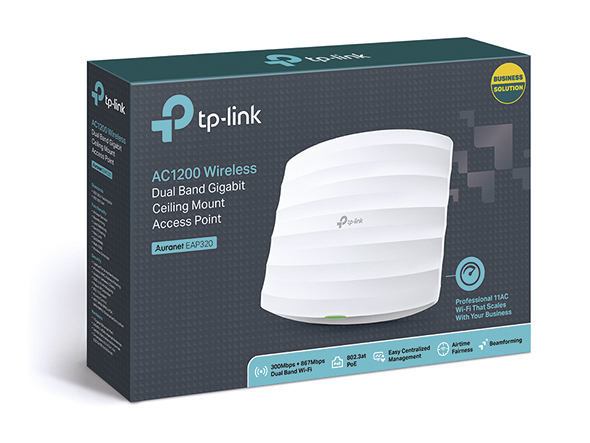 EAP320
Auranet-AC1200-Dualband-Gigabit-WLAN-Accesspoint zur Deckenmontage
Kostenlose Management-Software für eine zentrale Verwaltung hunderter EAPs
Simultanes Dualband nach 802.11ac: Bis zu 300Mbit/s WLAN-Geschwindigkeit auf 2,4 und 867 Mbit/s auf 5GHz
Enterprise-Funktionalitäten wie Beamforming, Airtime-Fairness und Band-Steering sorgen für optimale Performance bei Business-Anwendungen
Captive Portal für sichere Zugangskontrolle und einfache Gast-Authentifizierung
WPA/WPA2-Enterprise, 802.1x mit RADIUS und Erkennung fehlerhafter Accesspoints
Unterstützt PoE nach 802.3at/af für einfache, kostengünstige Installation ohne Verlegen neuer Kabel
AC1200-WLAN
Die Enterprise-Lösung
für Ihr Business-WLAN
Bahnbrechende
WLAN-Geschwindigkeit
mit AC1200
Der EAP320 unterstützt den neuen WLAN-Standard 802.11ac- Wi-Fi kombiniert mit erweiterter MIMO- und TurboQAM-Technologie. .
Dank simultaner Dualbandübertragung bietet er WLAN-Geschwindigkeiten von bis zu 1,2Gbit/s, davon 300Mbit/s auf 2,4 und 867Mbit/s auf dem 5GHz-Band.
Damit sorgt er für stabilen Empfang und stellt genügend Bandbreite für kritische Business- Anwendungen zur Verfügung.
867Mbit/s5GHz
300Mbit/s2.4GHz
Leistungsstarke Hardware für exzellente Performance
WLAN
für höchste Ansprüche
Der Broadcom Enterprise-Class Chipsatz bietet eine herausragende WLAN-Leistung.
Er garantiert einen stabileren Betrieb auch über längere Strecken und ermöglicht die Anbindung von mehr Clients. Der spezielle Hochleistungsverstärker, die performanten Antennen und die intelligent konzipierte RF-Abschirmung sorgen für eine exzellente Datenübertragung.
Broadcom Enterprise-Class Chipsatz
Spezieller Hochleistungsverstärker, performanten Antennen und intelligent konzipierte RF-Abschirmung
Broadcom Enterprise-Class Chipsatz, spezieller Hochleistungsverstärker,
performanten Antennen und intelligent konzipierte RF-Abschirmung
Broadcom
Enterprise-Class
Chipsatz
RF-Abschirmung
Erweiterte WLAN-Funktionalitäten für optimale Performance
Airtime
Fairness

Airtime-Fairness verbessert die WLAN-Performance, indem der Zugriff für langsamere Geräte begrenzt wird.

Band
Steering

Band-Steering verbindet Dualband-Geräte automatisch mit dem breiteren und weniger frequentierten 5GHz-Band. Damit wird die Gesamtleistung im Netz verbessert, insbesondere in Umgebungen mit vielen Clients.

Beamforming
Technology

Mit Beamforming erhöht der EAP320 die WLAN-Stabilität und -Reichweite, indem er das Signal gezielt in die Richtung des jeweiligen Empfängers aussendet.
EAP Controller-Software
für zentrales Management
Die kostenlose Management-Software agiert wie ein Access Controller und erlaubt die Steuerung von mehreren Hundert Accesspoints.
Aufgaben wir Konfiguration, Firmware-Updates und Echtzeitüberwachung der WLAN-Geräte im Netzwerk können dadurch nicht nur lokal sondern auch per Remote-Zugang leicht erledigt werden.
Mehr erfahren >
Captive Portal-
Sichere Authentifizierung von Gastnutzern
Mit dem praktischen Captive Portal können die Gast-WLAN-Einstellungen einfach und unkompliziert an spezifische Anforderungen angepasst werden. Das intelligente Nutzer-Authentifizierungssystem gewährleistet dabei die Sicherheit des firmeneigenen Netzwerkes und verhindert den Zugriff nicht autorisierter Personen auf sensible Daten.
PoE-Unterstützung und Design zur Deckenmontage
Flexible Platzierung
Mit seinem kompakten Gehäuse zur Decken- oder Wandmontage ist der EAP320 kinderleicht zu installieren.
Die PoE-Unterstützung minimiert dabei den Verkabelungsaufwand.
Business-Class WLAN-Lösung
Geeignet für Multi-User-Umgebungen
Der EAP320 stellt eine flexible, einfach zu installierende und zu verwaltende Business-Class-WLAN-Lösung mit anspruchsvoller Sicherheitstechnik dar. Damit eignet er sich ideal für den professionellen Einsatz in Umgebungen, in denen mehr als ein Accesspoint benötigt wird,
wie z. B. in kleinen und mittleren Unternehmen und öffentlichen Einrichtungen.
Hotel
Firma
Campus
Shopping-Center
Modell
Auranet EAP330
Auranet EAP320
Auranet EAP220
Auranet EAP120
Auranet EAP110
Produktname
AC1900-Dualband-Gigabit-WLAN-Accesspoint
AC1200-Dualband-Gigabit-WLAN-Accesspoint
N600-Dualband-Gigabit-WLAN-Accesspoint
300Mbit/s-Gigabit-
WLAN-Accesspoint
300Mbit/s-
WLAN-Accesspoint
Datenrate
2,4GHz: 600Mbit/s
5GHz: 1300Mbit/s
2,4GHz: 300Mbit/s
5GHz: 867Mbit/s
2,4GHz: 300Mbit/s
5GHz: 300Mbit/s
2,4GHz: 300Mbit/s
2,4GHz: 300Mbit/s
RJ45-Anschlüsse
2 Gigabit-Ports
1 Gigabit-Port, 1 Konsolenanschluss
1 Gigabit-Port
1 Gigabit-Port
1 10/100Mbit/s-Port
Interne Antennem
2,4GHz: 3*6dBi
5GHz: 3*7dBi
2,4GHz: 2*6dBi
5GHz: 2*7dBi
2,4GHz:2*4dBi
5GHz: 2*4dBi
2,4GHz:2*4dBi
2,4GHz:2*3dBi
PoE
IEEE 802.3at
IEEE 802.3at
IEEE 802.3af
IEEE 802.3af
Passives PoE
Captive Portal
√
√
√
√
√
Airtime Fairness
√
√
-
-
-
Beamforming
√
√
-
-
-
Band Steering
√
√
√
-
-
Load Balance
√
√
√
√
√
Retail

A good wireless network cannot only serve the network office system of the mall, but also bring a more comfortable shopping experience to customers. The TP-Link Omada SDN Solution empowers store owners to create a modern and compelling in-store experience for every customer.

Boost online business
Full WiFi coverage
Seamless roaming
High-concurrent clients
Easy management

Accommodation

For people living in residential buildings, like villas, dormitories, and apartments, stable and high-speed WiFi is necessary. People share resources and communicate with each other via wired and wireless connections safely. TP-Link Omada offers central management, real-time network monitoring, and quick network troubleshooting to meet the requirements of different people.

Easy centralized management
Multi-tenant privilege assignment
High security
Captive portal
Full WiFi coverage and wired connections to every suite
HARDWARE-FUNKTIONEN
Schnittstelle
1 RJ45-Gigabit-LAN-Port
(unterstützt PoE nach IEEE802.3at)
1 Konsolenport
Physischer Diebstahlschutz
Kensington-Slot
Taste
Reset
Spannungsversorgung
PoE oder externe 12V/1,5A-Gleichspannung
Energieverbrauch
13W
Abmessungen (B*T*H)
220,5mm*193,5mm*36,5mm
Antennentyp
intern, Rundstrahl
2,4GHz: 2*6dBi
5GHz: 2*7dBi
Montage
Decken-/Wandmontage (Montagesatz im Lieferumfang enthalten)
Watchdog
Ja
Hardware Watch Dog
Yes
WLAN-FUNKTIONEN
WLAN-Standards
IEEE802.11ac
IEEE802.11n
IEEE802.11g
IEEE802.11b
IEEE802.11a
Frequenz
2,4GHz und 5GHz
Signalrate
5GHz:bis zu 867Mbit/s
2,4GHz:bis zu 300Mbit/s
Sendeleistung
CE:
max. 20dBm (2,4GHz)
max. 23dBm (5GHz)

FCC:
max. 27dBm
WLAN-Funktionen
Multi-SSID (bis zu 16 SSIDs, 8 pro Band)
WLAN ein/aus
Automatische Kanalwahl
Automatische Sendeleistungsregelung
QoS (WMM)
Airtime-Fairness
Beamforming
Band-Steering
Loadbalancing
Datenratenbegrenzung
Zeitgesteuerter Neustart
WLAN-Zeitplanung
WLAN-Statistiken, basierend auf SSID/AP/Client
WLAN-Sicherheit
Portal zur Nutzerauthentifizierung
Zugriffskontrolle
MAC-Adressfilterung
WLAN-Isolierung
SSID-to-VLAN-Mapping
Erkennung fehlerhaft konfigurierter Accesspoints
802.1x
WEP mit 64, 128 und 152Bit / WPA / WPA2-Enterprise / WPA-PSK / WPA2-PSK
VERWALTUNG
Omada Cloud Access
Yes
Omada App
Yes
Omada Cloud Controller
Yes
Omada Controller Software
Yes
EAP-Controller-Software
Ja
Benachrichtigung per E-Mail
Ja
LED abschaltbar
Ja
Managementzugriff MAC-Adress-basiert filterbar
Ja
SNMP
v1,v2c
Lokales/Remote-Systemprotokoll
Lokal/remote
Telnet
Ja
SSH
Yes
Weboberfläche
HTTP/HTTPS
CLI (Kommandozeile)
Ja
Layer3-Management
Ja
Multi-Site-Management
Ja
Management VLAN
Yes
SONSTIGES
Zertifizierung
CE
FCC
RoHS
Verpackungsinhalt
AC1200-Dualband-Gigabit-WLAN-Accesspoint EAP320
Spannungsadapter
Montageset
Installationsanleitung
CD
Systemanforderungen
Microsoft Windows XP/Vista/7/8/10
Umgebung
Betriebstemperatur: 0°C..40°C
Lagertemperatur: -40°C..70°C
Betriebsfeuchtigkeit: 10%..90%, nicht kondensierend
Lagerfeuchtigkeit: 5%..90%, nicht kondensierend
Von United States?
Erhalten Sie Produkte, Events und Leistungen speziell für Ihre Region