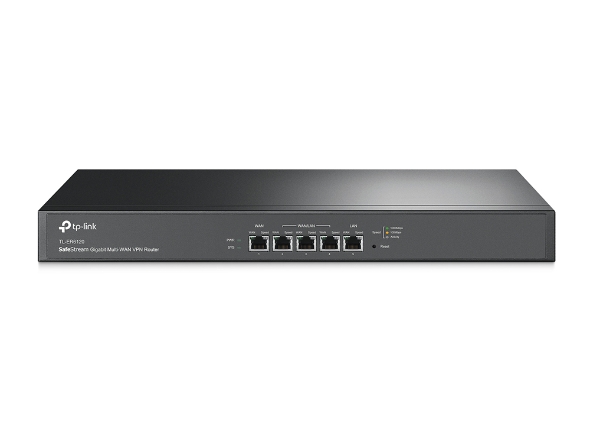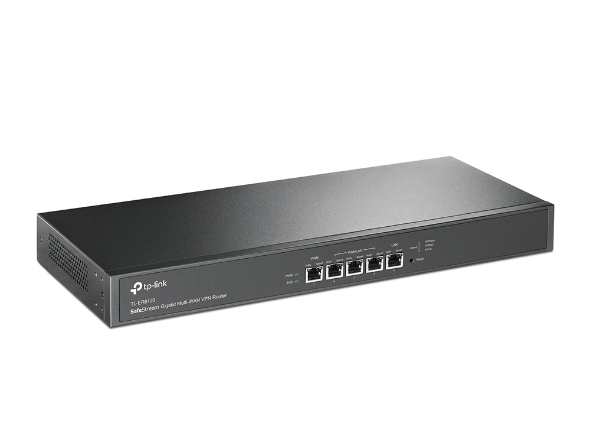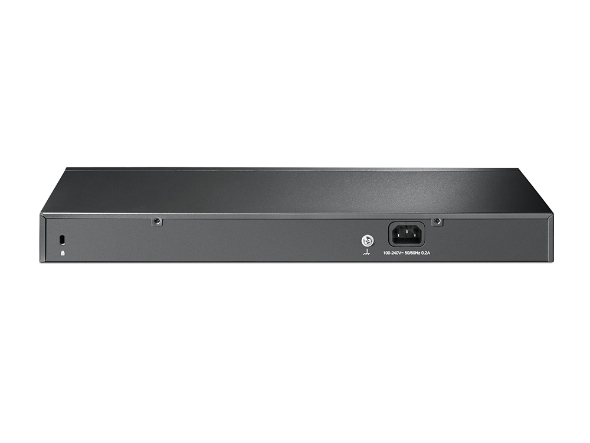 TL-ER6120
SafeStream Gigabit Multi-WAN VPN Router
64-bit network dedicated processor, 512MB DDRIII high-speed memory, for higher business network performance
Equipped with 1 Gigabit WAN port, 3 Gigabit WAN/LAN ports and 1 Gigabit LAN port
Supports multiple VPN protocols including IPsec/PPTP/L2TP, helping users to establish VPN connections more flexibly
Supports up to 100 IPsec VPN tunnels with a hardware-based VPN engine
Captive portal provides a convenient method for guest authentication
Abundant features including load balance, bandwidth control and access control
Professional 4KV lightning protection keeps your investments as safe as possible
What This Product Does
The TL-ER6120 SafeStream Gigabit Multi-WAN VPN Router from TP-Link boasts excellent data processing capabilities and an array of powerful functions, including IPsec/PPTP/L2TP VPN, Load Balance, Access Control, DoS Defense and Bandwidth Control. The TL-ER6120 is ideal for small and medium businesses, along with hotels and other settings where a large number of users require a stable, secure connection.
Enterprise-Standard VPN
The TL-ER6120 supports pass-through traffic together with multiple VPN protocols including IPsec, PPTP and L2TP in Client/Server mode. It also features built-in VPN engine hardware, allowing the router to support and manage up to 100 LAN-to-LAN/Client-to-LAN IPsec VPN connections. Advanced VPN features include DES/3DES/AES128/AES192/AES256 encryption, MD5/SHA1 authentication, and Main/Aggressive negotiation modes.
Intelligent Bandwidth Allocation
The TL-ER6120 features 1 WAN port and 3 WAN/LAN ports, allowing one device to meet multiple requirements. Intelligent Load Balancing distributes data streams according to the bandwidth proportion of each WAN port to make the most of multi-line broadband. IP-based Bandwidth Control and Session Limit functions give network administrators the power to flexibly manage how their bandwidth is used.
Superior Hardware
With a 64-bit network processor and 512MB DDR3 memory, TL-ER6120 is able to handle multiple tasks while maintaining excellent performance and greater reliability.
Peace of Mind Whatever the Weather
Professional-standard lightning protection prevents electrical surges from penetrating your network equipment, instead discharging them harmlessly into the Earth. Designed to withstand 4KV of electricity when well-grounded, this router ensures your network investments remain as safe as possible from the wrath of Mother Nature.
Más >
Soluciones relacionadas
Branch Location

TP-Link Omada offers enterprise-level VPN, real-time network monitoring, and quick network troubleshooting to meet the requirements of headquarters and branches.

VPN
Easy management
Network monitoring and troubleshooting
High security
Tang Palace Restaurant

TP-Link Provides Wireless Coverage for Fine Dining Chinese Restaurant in Dubai

Tang Palace Restaurant

TP-Link Provides Wireless Coverage for Fine Dining Chinese Restaurant in Dubai

"Tang Palace management and owner, Antai Peng, were satisfied with the performance of newly implemented wireless network. Since September 2015 TP-Link's Omada solution delivered reliable, high-performing wireless network and provided guests with a strong and consistent Wi-Fi signal."
CARACTERÍSTICAS DE HARDWARE
Estándares y Protocolos
IEEE 802.3, IEEE802.3u, IEEE802.3ab
TCP/IP, DHCP, ICMP, NAT, PPPoE, SNTP, HTTP, DNS, IPsec, PPTP, L2TP
Interfaz
1 Puerto Gigabit WAN
3 Puertos Gigabit WAN/LAN
1 Puerto Gigabit LAN
Medios de Red
10BASE-T: UTP categoía 3, 4, 5 cable (Max 100m)
EIA/TIA-568 100Ω STP (Max 100m)
100BASE-TX: UTP categoría 5, 5e cable (Max 100m)
EIA/TIA-568 100Ω STP (Max 100m)
1000BASE-T: UTP categoría 5, 5e, 6 cable (Max 100m)
Botones
Botón RESET
Fuente de Alimentación
Fuente de Alimentación Universal Interna
Entrada AC100-240V~ 50/60Hz
Flash
32MB
DRAM
512MB DDRIII
LED
PWR, SYS, Link/Act, Speed, DMZ
Dimensiones
440x220x44 mm. (17.3x8.7x1.7 in)

RENDIMIENTO
Sesiones Concurrentes
150000
NAT(iMIX)
936Mbps
NAT(DHCP)
878Mbps
NAT(PPPoE)
665Mbps
Rendimiento VPN IPsec (AES256)
373Mbps
FUNCIONES BÁSICAS
Tipo de conexión WAN
IP Estática/Dinámico
PPPoE PPPoE/Russian
PPTP/Russian
L2TP/Russian
Bigpond Cable
Clonado MAC
Modificación dirección MAC WAN
DHCP
Servidor/Ciente DHCP
Reserva DHCP
IPv6
Soporte IPv6
VLAN
VLAN 802.1Q, Puerto VLAN
IPTV
Puente, Configurable
FUNCIONES AVANZADAS
Balanceo de Carga
Balanceo de Carga Inteligente
Backup de Línea (Por tiempo, Caída de servidio)
Detección Online
NAT
NAT Uno a Uno
NAT Multi-nets
Servidor Virtual, DMZ Host, Port Triggering, UPnP
FTP/H.323/SIP/IPsec/PPTP ALG
Enrutamiento
Enrutamiento Estático
Política de Enrutamiento
Control de Tráfico
Control de Ancho de Banda en base a IP
Límite de Sesión en base a IP
VPN
VPN IPsec
100 Túneles VPN IPsec
LAN-a-LAN, Cliente-a-LAN
Modo de Negociación Main, Aggressive
Algoritmo de Encriptación DES, 3DES, AES128, AES192, AES256
Algoritmo de Autenticación MD5, SHA1
IPsec NAT Traversal (NAT-T)
Dead Peer Detection (DPD)
Perfect Forward Secrecy (PFS)
VPN PPTP
50 Túneles PPTP VPN
VPN PPTP Servidor/Cliente
Encriptación PPTP con MPPE
VPN L2TP
50 Túneles L2TP VPN
VPN L2TP Servidor/Cliente
L2TP sobre IPsec
VPN Pass-through
IPsec (ESP), PPTP, L2TP
SEGURIDAD
Filtrado
MAC Filtering
URL/Keywords Filtering
Inspección ARP
Envío de paquetes GARP
Escaneo ARP WAN/LAN
Unión IP-MAC
Defensa contra Ataques
Defensa Inundación TCP/UDP/ICMP
Bloqueo Escaneo TCP (Stealth FIN/Xmas/Null)
Bloqueo Pung desde WAN
Control de Acceso
Control de Acceso en base a IP Destino/Origen
GESTIÓN
Servicio
Dynamic DNS (Dyndns, No-IP, Peanuthull, Comexe)
Mantenimiento
Gestión de Interfaz WEB
Gestión Remota
Importar y Exportar Configuración
SNMP
Diagnóstico (PING & Traceroute)
Sincronización NTP
Soporte Syslog
Gestión basada en Web
Autenticación Usuario Local
Autenticación Servidor Radius
Online Onekey
Otros
Certificaciones
CE, FCC, RoHS
Contenido del Paquete
TL-ER6120
Cable de Alimentación
Kit de Instalación en Rack
Guía de Instalación
Requisitos del sistema
Microsoft® Windows® 98SE, NT, 2000, XP, Vista™ o Windows 7, MAC® OS, NetWare®, UNIX® o Linux
Factores Ambientales
Temperatura de funcionamiento: 0℃~40℃ (32℉~104℉)
Temperatura de almacenamiento: -40℃~70℃ (-40℉~158℉)
Humedad de funcionamiento: 10%~90% sin condensación
Humedad de almacenamiento: 5%~90% sin condensación
Premios

Good

TL-ER6120 won award (good) from c´t in DE.-2012

2012, Germany
De United States?
Obtener productos, eventos y servicios para su región.