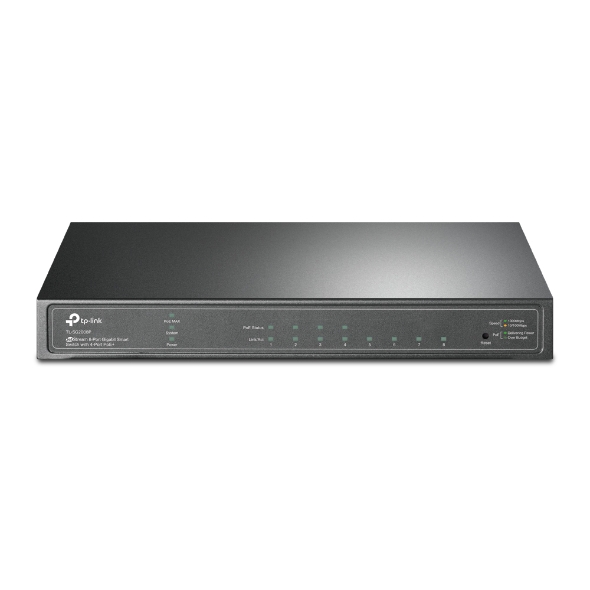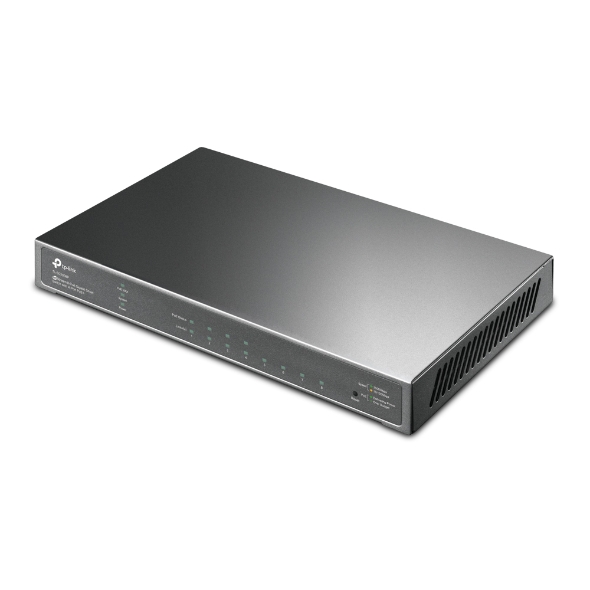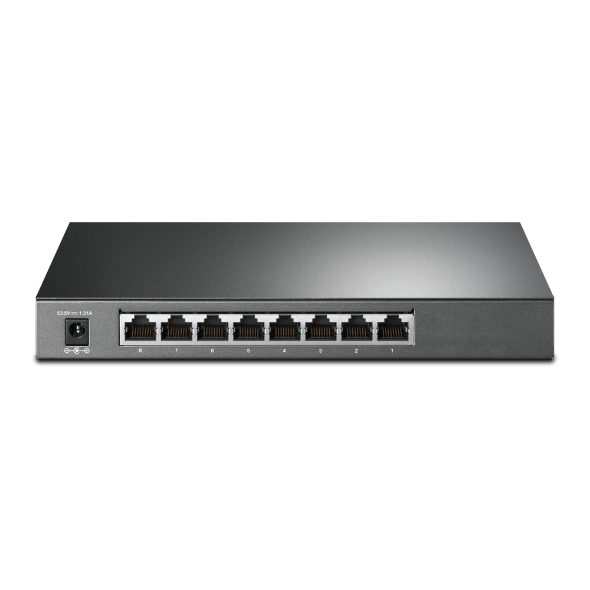 Switch Smart Gigabit JetStream de 8 puertos con 4 puertos PoE+
Presupuesto PoE de 62 W: 4 puertos PoE + compatibles con 802.3at / af con un suministro total de 62 W *.
Puertos Gigabit: los puertos 4 × gigabit PoE + y los puertos 4 × gigabit no PoE proporcionan conexiones de alta velocidad.
Integrado en Omada SDN: Zero-Touch Provisioning (ZTP) **, Administración centralizada de la nube y Monitoreo inteligente.
Administración centralizada: acceso a la nube y aplicación Omada para una comodidad y administración fáciles.
Estrategias de seguridad sólidas: enlace de puertos IP-MAC, ACL, seguridad de puertos, defensa DoS, control de tormentas, DHCP Snooping, 802.1X, autenticación de radio y más.
Optimización las aplicaciones de voz y video: L2 / L3 / L4 QoS e IGMP snooping.
Aprender más sobre la tecnología PoE TP-Link >

Gestión Centralizada
Switching más inteligente para resultados más inteligentes
Switch Smart Gigabit JetStream de 8-puertos con 4-puertos PoE+
TL-SG2008P
Gestión centralizada vía Nube

Integración den plataforma Omada SDN

Reglas de red personalizadas

Soporta lista de control de acceso (ACL)

Suminitro PoE+ total

4 puertos PoE+ suministran un total de 62 W *

Funcionamiento silencioso

Diseño sin ventilador ideal para entornos sensibles al ruido
Redes definidas por software (SDN) con acceso a la nube
La plataforma de redes definidas por software (SDN) de Omada integra dispositivos de red, incluidos puntos de acceso, conmutadores y puertas de enlace, proporcionando una gestión de la nube 100% centralizada. Omada crea una red altamente escalable, todo controlado desde una única interfaz. Se proporcionan conexiones inalámbricas y por cable sin interrupciones, ideales para su uso en hostelería, educación, comercio minorista, oficinas y más.
Más >
Soluciones relacionadas
Switches for Surveillance

For general surveillance, TP-Link has designed a variety of PoE Switches to meet the requirements of most IPCs. Many robust features provide value well beyond basic networking needs, creating a versatile and reliable surveillance network to grow your business.

Long-Range PoE
Auto Camera Recovery
Enhanced Network Security

Hospitality

TP-Link Omada allows hotels to build reliable WiFi networks. Hotel WiFi network solutions including network topology, design, features, installation, and products are introduced.

Full WiFi coverage and wired connections
Flexible guest control
Seamless roaming
Easy Management

Education

Due to its reliable, scalable, and secure network solution, TP-Link has been widely acknowledged by global customers in the Education market ranging from infant schools with a few APs up to colleges and universities with hundreds of APs.

Easy management
High-density WiFi
Full WiFi coverage and wired connections
VPN and security
CARACTERÍSTICAS DE HARDWARE
Estándares y Protocolos
IEEE 802.3i, IEEE 802.3u, IEEE 802.3ab, IEEE 802.3ad, IEEE 802.3af, IEEE 802.3at, IEEE 802.3x, IEEE 802.1d, IEEE 802.1s, IEEE 802.1w, IEEE 802.1q, IEEE 802.1p, IEEE 802.1x
Interfaz
• 8 puertos RJ45 10/100/1000 Mbps (los puertos 1–4 admiten 802.3at / af PoE +)
• Negociación automática / Auto MDI / MDIX
Medios de Red
• 10BASE-T: UTP category 3, 4, 5 cable (maximum 100m)• 100BASE-TX/1000Base-T: UTP category 5, 5e or above cable (maximum 100m)
Cantidad de Ventiladores
Sin ventiladores
Fuente de Alimentación
• Adaptador de corriente externo (Salida: 53.5 VDC / 1.31 A)
Consumo de Potencia
• 7.9 W (220 V/50 Hz) (no PD connected)• 79.2 W (220 V/50 Hz) (with 62 W PD connected)
Puertos PoE (RJ45)
• Estándar: compatible con 802.3af / at
• Puertos PoE: 4 puertos
• Suministro PoE total: 62 W *
Dimensiones
209 x 126 x 26mm (8.2 x 4.9 x 1.0 in)
Consumo de Potencia Máximo
• V1: 69,7 W (220 V/50 Hz) (con PD de 62 W conectado); 7,9 W (220 V/50 Hz) (sin PD conectado)
• V2: 73,8 W (220 V/50 Hz) (con PD de 62 W conectado)
• V3: 77,3 W (110 V/60 Hz) (con PD de 62 W conectado)
Disipación máxima de calor
• V1: 237,82 BTU/h (220 V/50 Hz) (con PD de 62 W conectado); 26,95 BTU/h (220 V/50 Hz) (sin PD conectado)
• V2: 251,84 BTU/h (220 V/50 Hz) (con PD de 62 W conectado)
• V3: 263,6 BTU/h (110 V/60 Hz) (con PD de 62 W conectado)
RENDIMIENTO
Ancho de Banda / Backplane
16 Gbps
Tabla de Direcciones MAC
8k
Memoria del Buffer de Paquete
4.1 Mbit
Jumbo Frame
9 KB
CARACTERÍSTICAS DE SOFTWARE
Calidad de Servicio
• 802.1p CoS/ DSCP priority• 8 priority queues• Priority Schedule Mode- SP (Strict Priority)- WRR (Weighted Round Robin)• Queue Weight Config• Bandwidth Control- Port/Flow based Rating Limit• Smoother Performance• Actions for flows- Mirror(to supported interface)- Redirect(to supported interface)- Rate Limit- QoS Remark• Storm Control- Multiple Control Modes(kbps/ratio/pps)- Broadcast/Multicast/Unknown-Unicast Control
Características L2 y L2+
• Relé DHCP
- Relé DHCP VLAN
• Relé DHCP L2
• Agregar un link
- Agregación de enlaces estáticos
- LACP 802.3ad
- Hasta 8 grupos de agregación y hasta 8 puertos
por grupo
• Protocolo de árbol de expansión
- 802.1D STP
- 802.1w RSTP
- MSTP 802.1s
- Seguridad STP: TC Protect, BPDU Filter / Protect,
Proteger la raíz
• Detección de bucle invertido
• Control de flujo
- Control de flujo 802.3x
• Reflejo
- Duplicación de puertos
- Duplicación de CPU
- Doce y cincuenta y nueve de la noche
- Muchos a uno
- Basado en flujo
- Entrada / Salida / Ambos
• Protocolo de detección de enlace de dispositivo (DLDP)
• 802.1ab LLDP / LLDP-MED
Multicast L2
• 512 IPv4,IPv6 shared multicast groups• IGMP Snooping- IGMP v1/v2/v3 Snooping- Fast Leave- IGMP Snooping Querier- IGMP Authentication- Static Group Config• MLD Snooping- MLD v1/v2 Snooping- Fast Leave- MLD Snooping Querier- Static Group Config• Multicast VLAN Registration• Multicast Filtering
Soporte IPv6
• IPv6 Dual IPv4/IPv6• Multicast Listener Discovery(MLD) Snooping• IPv6 neighbor discovery (ND)• Path maximum transmission unit (MTU) discovery• Internet Control Message Protocol (ICMP) version 6• TCPv6/UDPv6• IPv6 applications- DHCPv6 Client- Ping6- Tracert6- Telnet(v6)- IPv6 SNMP- IPv6 SSH- IPv6 SSL- Http/Https- IPv6 TFTP
VLAN
• VLAN Group- Max. 4K VLAN Groups• 802.1Q tag VLAN• MAC VLAN• Protocol VLAN• GVRP• Voice VLAN
Lista de Control de Acceso
• Time-Range- Time Slice- Week Time-Range- Absolute Time-Range- Holiday• Time-based ACL• MAC ACL- Source MAC- Destination MAC- VLAN ID- User Priority- Ether Type• IP ACL- Source IP- Destination IP- IP Protocol- TCP Flag- TCP/UDP Source Port- TCP/UDP Destination Port- DSCP/IP TOS• IPv6 ACL• Combined ACL• Rule Operation- Permit/Deny• Policy Action- Mirror- Rate Limit- Redirect- QoS Remark• ACL Rules Binding- Port Binding- VLAN Binding
Seguridad
• AAA• 802.1X- Port based authentication- MAC(Host) based authentication- Authentication Method includes PAP/EAP-MD5/EAP-TLS/EAP-TTLS/EAP-PEAP- MAB- Guest VLAN- Support Radius authentication and accountability• IP/IPv6-MAC Binding- 512 Binding Entries- DHCP Snooping- DHCPv6 Snooping- ARP Inspection- ND Detection• IP Source Gurad- 253 Entries- Source IP+Source MAC• IPv6 Source Gurad- 183 Entries- Source IPv6 Address+Source MAC• DoS Defend• Static/Dynamic/Permanent Port Security- Up to 64 MAC addresses per port• Broadcast/Multicast/Unicast Storm Control- kbps/ratio/pps control mode• Port Isolation• Secure web management through HTTPS with SSLv3/TLS1.0• Secure Command Line Interface (CLI) management with SSHv1/SSHv2• IP/Port/MAC based access control
Características de Conmutación L2
• Link Aggregation- static link aggregation- Up to 8 aggregation groups and up to 8 ports per group- 802.3ad LACP• Spanning Tree Protocol- 802.1D STP- 802.1w RSTP- 802.1s MSTP- STP Security: Loop back detection, TC Protect, BPDU Filter/Protect, Root Protect• Loopback Detection• Flow Control- 802.3x Flow Control• Mirroring- Port Mirroring- One-to-One- Many-to-One- Flow-Based- Ingress/Egress/Both- CPU Mirroring• Device Link Detect Protocol(DLDP)
Gestión
• Web-based GUI and CLI management• SNMPv1/v2c/v3• SNMP Trap/Inform• RMON (1,2,3,9 groups)• SDM Template• DHCP/BOOTP Client• Dual Image, Dual Configuration• CPU Monitoring• Cable Diagnostics• EEE• System Log• 802.1ab LLDP/ LLDP-MED
Características Avanzadas
• Detección automática de dispositivos
• Configuración por lotes
• Actualización de firmware por lotes
• Supervisión de red inteligente
• Advertencias de eventos anormales
• Configuración unificada
• Horario de reinicio
MIBs
• MIB II (RFC1213)• Interface MIB (RFC2233)• Ethernet Interface MIB (RFC1643)• Bridge MIB (RFC1493)• P/Q-Bridge MIB (RFC2674)• RMON MIB (RFC2819)• RMON2 MIB (RFC2021)• Radius Accounting Client MIB (RFC2620)• Radius Authentication Client MIB (RFC2618)• Remote Ping, Traceroute MIB (RFC2925)• Support TP-Link private MIBs
GESTIÓN
Omada App
Si
Gestión Centralizada
• Omada Cloud-Based Controller• Omada Hardware Controller (OC300)• Omada Hardware Controller (OC200)• Omada Software Controller
Acceso a la nube
Sí (a través de OC300, OC200, Omada Cloud-Based Controller o Omada Software Controller)
Aprovisionamiento sin contacto
Sí. Requiere el uso del controlador basado en la nube de Omada (compatible con TL-SG2008P v1, v3 y superior, aunque no es compatible con TL-SG2008P v2)
Funciones de gestión
• Gestión GUI basada en web y CLI
• SNMPv1 / v2c / v3
• Captura / informe SNMP
• RMON (grupos 1,2,3,9)
• Plantilla SDM
• Cliente DHCP / BOOTP
• Imagen dual, configuración dual
• Monitoreo de la CPU
• Diagnóstico de cable
• EEE
• Registro del sistema
• 802.1ab LLDP / LLDP-MED
Otros
Certificaciones
CE, FCC, RoHS
Contenido del Paquete
• TL-SG2008P• Power Adapter• Installation Guide• Rubber Feet
Requisitos del sistema
Microsoft® Windows® 98SE, NT, 2000, XP, Vista™ o Windows 7/8/10, MAC® OS, NetWare®, UNIX® o Linux.
Factores Ambientales
Temperatura de Funcionamiento: 0℃~40℃ (32℉~104℉)
Temperatura de Almacenamiento: -40℃~70℃ (-40℉~158℉)
Humedad de Funcionamiento: 10%~90% sin condensación
Humedad de Almacenamiento: 5%~90% sin condensación
*Los cálculos del presupuesto de PoE se basan en pruebas de laboratorio. El presupuesto real de energía PoE no está garantizado y variará como resultado de las limitaciones del cliente y los factores ambientales.
** El aprovisionamiento Zero-Touch requiere el uso del controlador basado en la nube Omada.
De United States?
Obtener productos, eventos y servicios para su región.