Homepage
>
Blog
>
The importance of a strong WiFi connection for events, milestones and celebrations
The importance of a strong WiFi connection for events, milestones and celebrations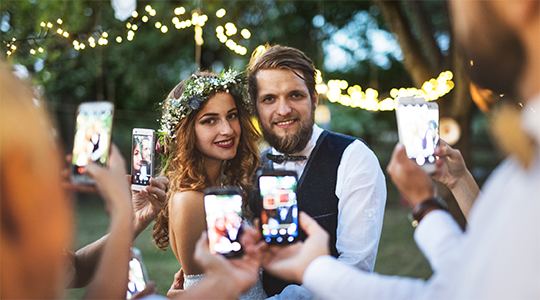 In this rapidly changing event industry, seamless connectivity and efficient operations have become imperative for businesses to deliver unforgettable moments. Whether it's a grand wedding celebration, a milestone birthday party or any other joyous occasion, a strong and reliable WiFi connection is pivotal in enhancing the overall experience. Here are the reasons why having a robust WiFi infrastructure is essential in this ultra-dynamic landscape.
Seamless sharing and social media engagement

In this era of social media and instant sharing, guests love to capture and share significant moments from celebrations. With a strong WiFi connection, event attendees can effortlessly share their experiences, photos and videos on various social media platforms.

Real-time communication

With a reliable WiFi connection, event organizers can provide all attendees with a smooth and seamless communication experience. Guests can connect through messaging apps and video calls or even stay up-to-date with event-related updates and announcements.

Interactive activities and entertainment

Strong WiFi connectivity opens up the doors to various interactive activities and entertainment options for events. Features like live streaming, virtual reality experiences or interactive games become more accessible and engaging when attendees have a reliable online connection.

Efficient check-in and registration processes

With a robust WiFi connection, attendees can quickly register using online forms and their details can be seamlessly synchronized with event management systems. This not only reduces paperwork but also minimizes waiting times and ensures a smooth entry for all participants.

Reliable vendor operations

Food stalls, photo booths, live streaming services and other vendors rely heavily on a stable internet connection to provide their services efficiently. A strong WiFi network ensures that these essential operations run smoothly, consequently enhancing the overall quality of the event.
Revolutionize your event business with Omada SDN
Event businesses that host celebrations and milestones can greatly benefit from upgrading their networking infrastructure with solutions like Omada SDN— a comprehensive business networking solution that revolutionizes the way businesses in this industry operate. Here's how Omada's features and benefits can transform your business.
Uninterrupted connectivity
From live streaming to online registrations, a reliable and high-speed internet connection is paramount for smooth event operations. Omada ensures uninterrupted connectivity, freeing you from slow or unstable internet connections.
Scalable infrastructure
As your needs expand, your network seamlessly accommodates the increasing number of devices, ensuring excellent performance without compromising speed or quality. This flexibility allows you to host events of all sizes, from small gatherings to grand celebrations.
Streamlined operations
Omada empowers you to streamline your operations. It enables you to easily manage and control your network, allowing you to monitor and limit bandwidth usage, prioritize specific devices and protect against unauthorized access.
Smart insights and analytics
Omada provides valuable insights and analytics on network usage, enabling you to recognize trends, optimize resources and enhance decision-making. By harnessing this data, you can identify peak usage periods, analyze user behavior and make informed choices to improve your services continuously.
Whether you organize weddings and parties or manage event spaces, Omada SDN's scalable infrastructure ensures that your networking needs are met as your business grows. Visit https://www.tp-link.com/ca/business-networking/ or email us at sales.ca@tp-link.com to learn more.
From United States?
Get products, events and services for your region.