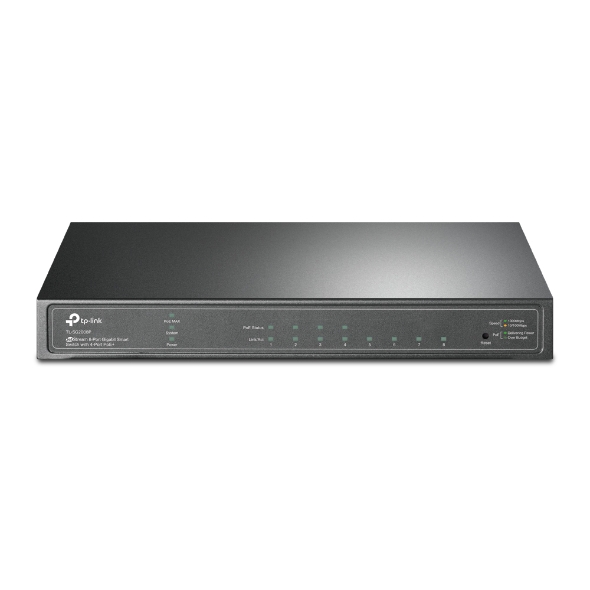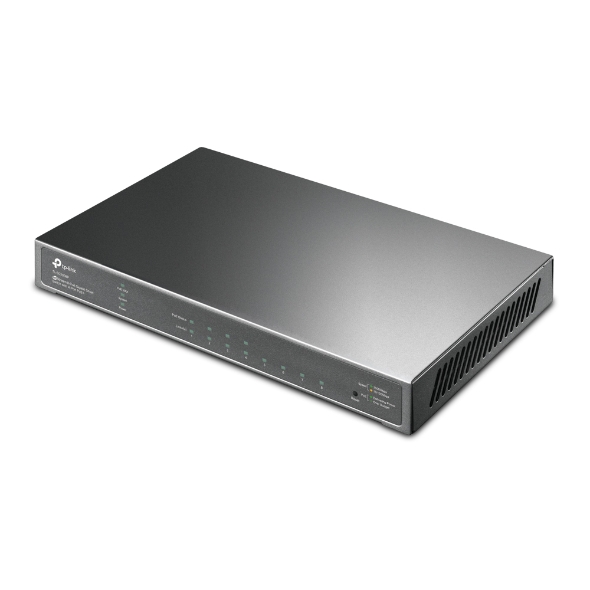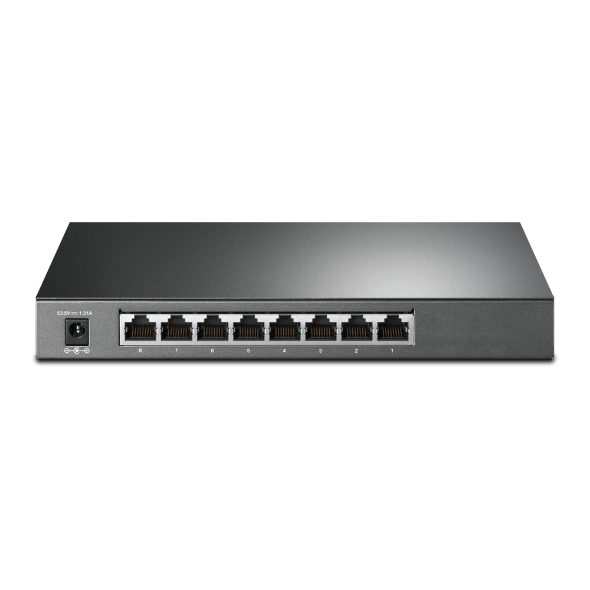 TL-SG2008P
JetStream 8-портов Gigabit Smart комутатор с 4 порта PoE+
62 W PoE бюджет: 4× 802.3at/af-съвместими PoE+ порта с обща захранваща мощност 62 W*.
Изцяло Gigabit портове: 4× Gigabit PoE+ порта и 4× Gigabit не-РоЕ порта предоставят високоскоростни връзки.
Интегрирани в Omada SDN: Zero-Touch Provisioning (ZTP)**, Централизирано облачно управление и интелигентен мониторинг.
Централизирано управление: Облачен достъп и приложение Omada за ултра удобно и лесно управление.
Мощни стратегии за сигурност: Обвързване по IP-MAC-порт, ACL, Защита на порт, Защита от DoS атаки, Сторм контрол, DHCP снупинг, 802.1X и Radius автентификация и други.
Оптимизирайте приложенията за глас и видео: L2/L3/L4 QoS и IGMP снупинг.
Научете повече за TP-Link PoE технологията >

Централизирано облачно управление
По-интелигентно комутиране за по-интелигентни резултати
JetStream 8-портов Gigabit Smart комутатор с 4 порта PoE+
TL-SG2008P
Централизирано управление

Управление на няколко сайта

Приложение Omada

Оптимизиране на мултикаст

VLAN

Списък за контрол на достъпа

62 W PoE бюджет *

Устойчив метален корпус
Сценарии за множество приложения
TL-SG2008P е напълно съвместим с PoE устройства, като IP камери, точки за достъп и IP телефони. Той също така работи с не-PoE кабелни устройства, за да осигури гигабитови връзки, като компютри, принтери и IPTV.
Наблюдение

Работи с IP камери

Конферентен разговор

Работи с IP телефони

Wi-Fi покритие

Работи с Omada EAP

Кабелни връзки

Работи с персонални компютри и принтери
Захранване през Ethernet за опростено внедряване на мрежата
Разполага с четири 802.3af / при съвместими PoE + портове, превключвателят поддържа общ бюджет за мощност до 62 W. * Проектиран да използва един Ethernet кабел както за предаване на данни, така и за захранване, той предлага гъвкаво внедряване за PoE поддържани устройства като безжичен достъп точки, IP камери и IP телефони, намаляващи инфраструктурните разходи за малкия бизнес.
интернет
Рутер
Мрежов видеорекордер
Монитор
IP камера
IP телефон
Точки за достъп
Функции с добавена стойност носят неочакван опит
Списък за контрол на достъпа (ACL)

ACL служи като виртуален администратор, като позволява на всички свързани устройства да получават данни в съответствие с дефинираните от потребителя мрежови правила и ви помага да създадете необходимите мрежови регулации.

QoS за изживяване без забавяне

Определете приоритета на трафика въз основа на QoS, като гарантирате, че приложенията, чувствителни към латентност, като глас и видео, остават ясни и без забавяне.

VLAN за сигурност

Използвайте VLAN за постигане на управление на логическо групиране на устройства в различни физически локални мрежи, подобряване на сигурността на информацията и намаляване на претоварването на данни.
Omada SDN - по-интелигентно решение в облак за бизнес мрежи
Платформата Omada Software Defined Networking (SDN) интегрира мрежови устройства, включително точки за достъп, комутатори и шлюзове, гарантирайки мощна бизнес мрежа с по-висока ефективност, по-висока сигурност и по-голяма надеждност.
Научете повече за Omada SDN >>
Хардуерен контролер Omada
Таван AP
AP-стена
Външен AP
TL-SG2008P
SafeStream Security Gateway
Облачен достъп
Hassle-Free Centralized Cloud Management:100% централизирано управление в облак на цялата мрежа от различни сайтове - всички контролирани от един интерфейс навсякъде и по всяко време.
Лесно управление с приложението Omada
Следвайте инструкциите за конфигуриране в безплатното приложение Omada, за да се настроите за минути. Omada ви позволява да конфигурирате настройки, да наблюдавате състоянието на мрежата и да управлявате клиенти, всичко това от удобството на смарт телефон или таблет.
Щракнете тук, за да видите устройства, съвместими с Omada App>
Switches for Surveillance

For general surveillance, TP-Link has designed a variety of PoE Switches to meet the requirements of most IPCs. Many robust features provide value well beyond basic networking needs, creating a versatile and reliable surveillance network to grow your business.

Long-Range PoE
Auto Camera Recovery
Enhanced Network Security

Hospitality

TP-Link Omada allows hotels to build reliable WiFi networks. Hotel WiFi network solutions including network topology, design, features, installation, and products are introduced.

Full WiFi coverage and wired connections
Flexible guest control
Seamless roaming
Easy Management

Education

Due to its reliable, scalable, and secure network solution, TP-Link has been widely acknowledged by global customers in the Education market ranging from infant schools with a few APs up to colleges and universities with hundreds of APs.

Easy management
High-density WiFi
Full WiFi coverage and wired connections
VPN and security
ХАРДУЕРНИ ХАРАКТЕРИСТИКИ
Стандарти и протоколи
IEEE 802.3i, IEEE 802.3u, IEEE 802.3ab, IEEE 802.3ad, IEEE 802.3af, IEEE 802.3at, IEEE 802.3x, IEEE 802.1d, IEEE 802.1s, IEEE 802.1w, IEEE 802.1q, IEEE 802.1p, IEEE 802.1x
Интерфейс
• 8× 10/100/1000 Mbps RJ45 Ports (Ports 1–4 Support 802.3at/af PoE+)• Auto-Negotiation/Auto MDI/MDIX
Мрежова медия
• 10BASE-T: UTP category 3, 4, 5 cable (maximum 100m)• 100BASE-TX/1000Base-T: UTP category 5, 5e or above cable (maximum 100m)
Брой вентилатори
Fanless
Захранване
• External Power Adapter (Output: 53.5 VDC/ 1.31 A)
Консумирана енергия
• 73.8 W (220 V/50 Hz) (with 62 W PD connected)
PoE портове (RJ45)
• Standard: 802.3af/at compliant• PoE Ports: 4 Ports• Power Supply: 62 W*
Размери (Ш x Д x В )
8.2 x 4.9 x 1.0 in (209 x 126 x 26mm)
ПРОИЗВОДИТЕЛНОСТ
Bandwidth/Backplane
16 Gbps
Таблица на МАС адресите
8k
Packet Buffer Memory
4.1 Mbit
Jumbo кадър
9 KB
СОФТУЕРНИ ХАРАКТЕРИСТИКИ
Качество на услугата
• 802.1p CoS/DSCP priority• 8 priority queues• Priority Schedule Mode- SP (Strict Priority)- WRR (Weighted Round Robin)• Queue Weight Config• Bandwidth Control- Port/Flow-based Rating Limit• Smoother Performance• Storm Control- Multiple Control Modes(kbps/ratio)- Broadcast/Multicast/Unknown-Unicast Control
L2 and L2+ Features
• DHCP Relay- DHCP VLAN Relay• DHCP L2 Relay• Link Aggregation- Static link aggregation- 802.3ad LACP- Up to 8 aggregation groups and up to 8 portsper group• Spanning Tree Protocol- 802.1D STP- 802.1w RSTP- 802.1s MSTP- STP Security: TC Protect, BPDU Filter/Protect,Root Protect• Loopback Detection• Flow Control- 802.3x Flow Control• Mirroring- Port Mirroring- CPU Mirroring- One-to-One- Many-to-One- Flow-Based- Ingress/Egress/Both• Device Link Detect Protocol (DLDP)• 802.1ab LLDP/ LLDP-MED
L2 Multicast
• 511 IPv4, IPv6 shared multicast groups• IGMP Snooping- IGMP v1/v2/v3 Snooping- Fast Leave- IGMP Snooping Querier- Static Group Config• Multicast VLAN Registration (MVR)• Multicast Filtering• MLD Snooping- MLD v1/v2 Snooping- Fast Leave- MLD Snooping Querier- Static Group Config• Limited IP Multicast (256 profiles and 16 entries per profile)
IPv6 Support
• IPv6 Dual IPv4/IPv6• Multicast Listener Discovery (MLD) Snooping• IPv6 neighbor discovery (ND)• Path maximum transmission unit (MTU) discovery• Internet Control Message Protocol (ICMP)version 6• TCPv6/UDPv6• IPv6 applications- DHCPv6 Client- Ping6- Tracert6- Telnet (v6)- IPv6 SNMP- IPv6 SSH- IPv6 SSL- Http/Https- IPv6 TFTP
VLAN
• VLAN Group- Max. 4K VLAN Groups• 802.1Q tag VLAN• MAC VLAN: 12 Entries• Protocol VLAN• GVRP• Voice VLAN
Access Control List
• Support up to 230 entries• Time-Range- Time Slice- Week Time-Range- Absolute Time-Range- Holiday• Time-based ACL• MAC ACL- Source MAC- Destination MAC- VLAN ID- User Priority- Ether Type• IP ACL- Source IP- Destination IP- IP Protocol- TCP Flag- TCP/UDP Source Port- TCP/UDP Destination Port- DSCP/IP TOS• IPv6 ACL• Combined ACL• Rule Operation- Permit/Deny• Policy Action- Mirror- Rate Limit- Redirect- QoS Remark• ACL Rules Binding- Port Binding- VLAN Binding• Actions for flows- Mirror (to supported interface)- Redirect (to supported interface)- Rate Limit- QoS Remark
Защита
• AAA• 802.1X- Port-based authentication- MAC (Host) based authentication- Authentication Method includes PAP/EAP-MD5- MAB- Guest VLAN- Support Radius authentication andaccountability• IP/IPv6-MAC Binding- 512 Binding Entries- DHCP Snooping- DHCPv6 Snooping- ARP Inspection- ND Detection• IP Source Guard- 253 Entries- Source IP+Source MAC• IPv6 Source Guard- 183 Entries- Source IPv6 Address+Source MAC• DoS Defend• Static/Dynamic/Permanent Port Security- Up to 64 MAC addresses per port• Broadcast/Multicast/Unicast Storm Control- kbps/ratio control mode• Port Isolation• Secure web management through HTTPS withSSLv3/TLS 1.2• Secure Command Line Interface (CLI)management with SSHv1/SSHv2• IP/Port/MAC-based access control
MIBs
• MIB II (RFC1213)• Bridge MIB (RFC1493)• P/Q-Bridge MIB (RFC2674)• Radius Accounting Client MIB (RFC2620)• Radius Authentication Client MIB (RFC2618)• Remote Ping, Traceroute MIB (RFC2925)• Support TP-Link private MIBs• RMON MIB(RFC1757, rmon 1,2,3,9)
MANAGEMENT
Omada App
Yes
Centralized Management
• Omada Hardware Controller (OC300)• Omada Hardware Controller (OC200)• Omada Software Controller
Cloud Access
Yes (Through OC300, OC200, or Omada Software Controller)
Management Features
• Web-based GUI• Command Line Interface (CLI) through telnet• SNMPv1/v2c/v3• SNMP Trap/Inform• RMON (1,2,3,9 groups)• SDM Template• DHCP/BOOTP Client• Dual Image, Dual Configuration• CPU Monitoring• Cable Diagnostics• EEE• SNTP• System Log
ДРУГИ
Сертификати
CE, FCC, RoHS
Съдържание на пакета
• TL-SG2008P• Power Adapter• Installation Guide• Rubber Feet
Системни изисквания
Microsoft® Windows® 98SE, NT, 2000, XP, Vista™ or Windows 7/8/10, MAC® OS, NetWare®, UNIX® or Linux.
Околна среда
• Operating Temperature: 0–40 ℃ (32–104 ℉);• Storage Temperature: -40–70 ℃ (-40–158 ℉)• Operating Humidity: 10–90% RH non-condensing• Storage Humidity: 5–90% RH non-condensing
*Изчисленията за PoE бюджета са базирани на лабораторни тестове. Реалният PoE бюджет за захранване не е гарантиран и ще варира в зависимост от ограниченията на клиента и факторите на околната среда.
Присъединете се към TP-Link общносттаTP-Link takes your privacy seriously. For further details on TP-Link's privacy practices, see TP-Link's Privacy Policy.
From United States?
Get products, events and services for your region.