Professional Solutions for
High-Density

Environments
Enhanced Multi-User Capability
Improved Dense WiFi Experience
Full WiFi Coverage
What Is High-Density
Driven by the adoption of IoT and the need for wireless by more people carrying more devices than ever before, much higher demands and challenges for WiFi solutions in high-density environments are raised. High-density WiFi environments are locations with hundreds or even thousands of WiFi clients in a given area. Common cases are the hotel meeting rooms, lecture halls, or even sports stadiums, theaters, and shopping malls. Due to the growing demands, high-density WiFi solutions will remain an important part of enterprise network upgrading in the years to come.
Evolving Issues in High-Density Networks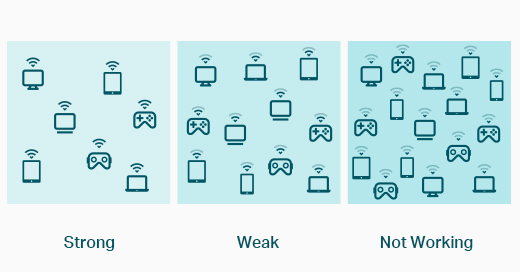 As Density Increases, Performance Deteriorates
Businesses need quality WiFi to keep employees productive and customers happy. However, a large amount of services, applications, and devices are placing an increasing strain on WiFi networks. Limits of WiFi capacity lead to unnecessary dropped connections and constant buffering. When data demand hits critical mass, it tends to result in data packets loss, exerting negative impact on business productivity.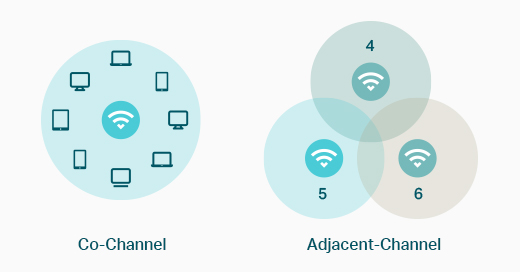 More WiFi Creates More Interference
Imaging 100 people talking in your ear on and on, how would that feeling be? You won't hear anything at all. Two reasons for poor WiFi performance are co-channel Interference (CCI)—using the same channel, and adjacent channel interference (ACI)—using separate channels but with cross-over. Massive WiFi signals could interfere with each other, creating massive issues for users in high density locations.
TP-Link Omada High-Density WiFi Solution
TP-Link's Omada EAP Series products provide a range of capable indoor solutions engineered to meet the increasing demands of high-density networks. For public locations with a high density of end users, WiFi infrastructure should be able to handle concurrent access from a large number of devices, while also maintain stable and secure WiFi. Features such as portal authentication and multi-site management are essential to allow modern business to create a customized network that's suitable for themselves and their customers.
Application Scenarios
Public sites with a high volume of mobile devices require stable and uninterrupted WiFi such as airports and stadiums.
Large campuses with multiple floors and distributed buildings require high network throughput and full WiFi coverage such as schools, hotels, and dormitories.
Temporary sites crowded with many users and terminals such concerts and special events.

Hospitality
High Quality and Full Coverage Wi-Fi

Restaurant
Full Wi-Fi Coverage in High-Density Environment

Shopping Mall
Social Marketing for O2O

Meeting Room
Wireless and Wired Connections for dense usage

Railway Station
High-Density Wi-Fi
Typical Topology of High-Density Network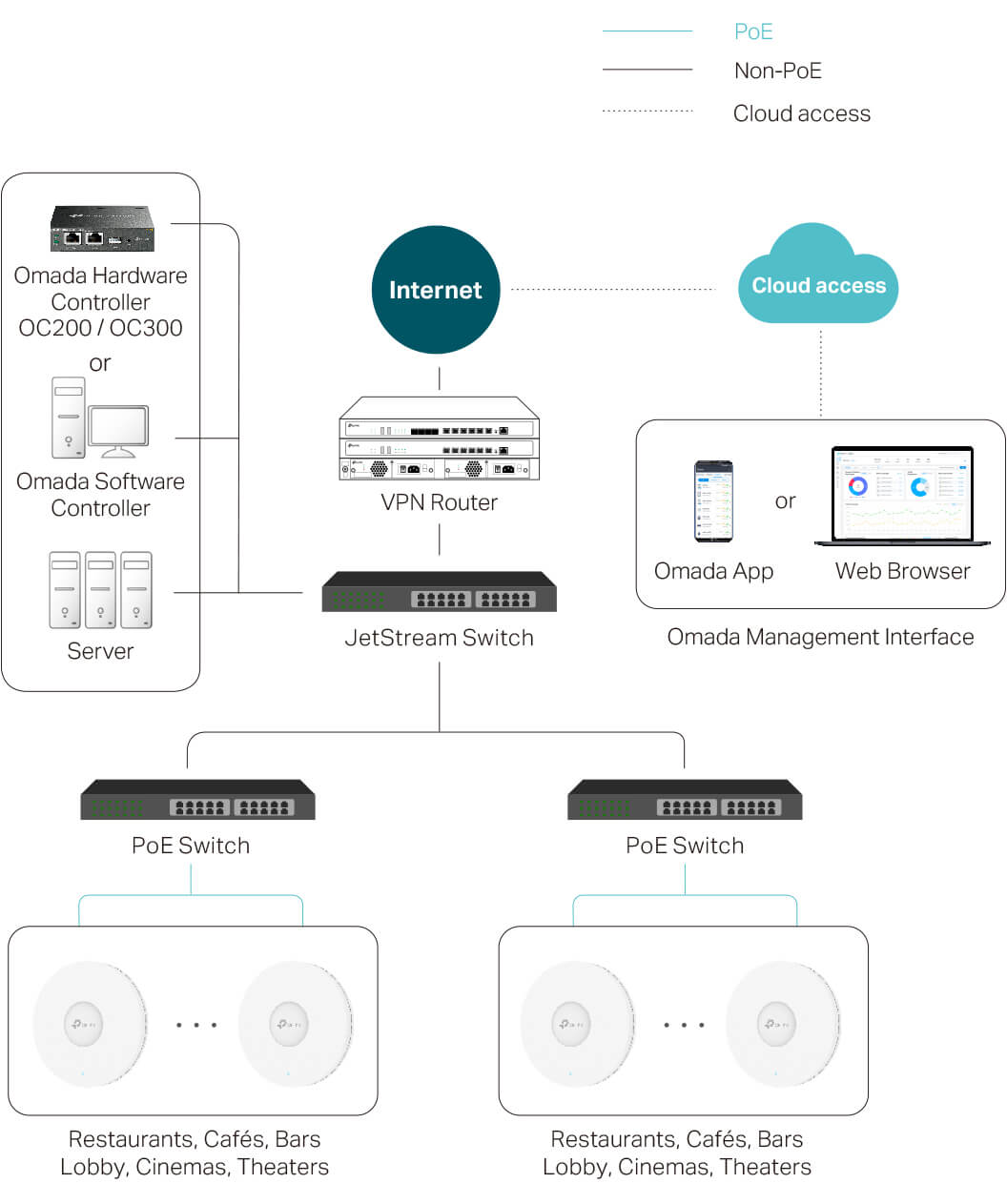 What's the Difference in High-Density Design
How many WiFi clients can a high-density AP support?
When we are talking about performance, it is always under specific conditions. Theoretically, the high-end WiFi 6 APs like EAP660 HD and EAP620 HD are capable of supporting 1000+ concurrent WiFi clients. In real-world scenarios, the maximum recommended client density is dependent on environmental conditions.
Comparison of Client Number between HD AP and Non-HD AP
To evaluate the improvement that a high-density AP can achieve compared to APs without HD capability, the concurrent clients simulation tests of EAP660 HD, EAP620 HD, and an AC1750 Non High-Density WiFi 5 Access Point were conducted.
According to the results of the tests, Omada WiFi 6 HD APs greatly improve overall capacity and network quality especially when used for bandwidth-intensive activities, compared to standard WiFi 5 APs without high-density capability. The numbers may vary depending on the models and conditions of the client devices, as well as the network environment where the access points are deployed.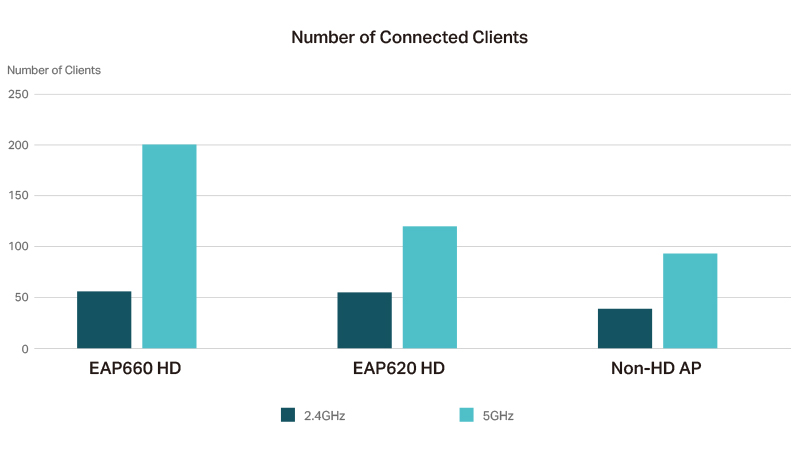 How much performance capability can a high-density AP achieve?
Comparison of Throughput between TP-Link WiFi 6 HD AP and its Competitor
The throughput test was conducted to evaluate Omada EAP660 HD's throughput performance at different distances and its ability of penetrating walls, while comparing it to other brands' equivalent WiFi 6 HD APs.
With cutting-edge hardware and software design, TP-Link EAP660 HD demonstrated satisfying wireless performance in most test situations and surpassed the competitive WiFi 6 AP in both two-walled and three-walled tests. The ability of EAP660 HD is powerful, and is believed to be a reliable choice.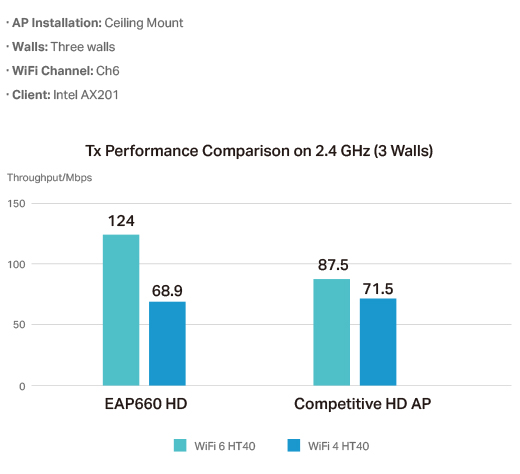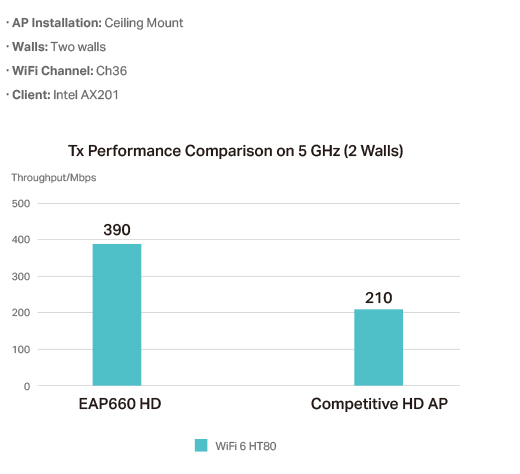 Why Choose TP-Link High-Density Solution


Larger Capacity for High-Density Environments
Omada WiFi 6 and WiFi 5 APs improve efficiency and ensure top-tier performance for high-density locations like shopping malls, supermarkets, and restaurants. The high-end WiFi 6 HD AP provides a maximum of 1000+ concurrent clients. In real-world scenarios, the maximum recommended client density is dependent on environmental conditions.

Seamless Roaming
Ensure customers enjoy uninterrupted streaming when moving around by switching clients automatically to the access points with the optimal signal.

Band Steering
With a dual-band network, client devices will be steered by the network and will be connected to the band that is relatively free.

Load Balance
This feature is to balance the number of users across APs, in case that a single AP has too many clients while the others are idle.

Auto Channel Selection
To prevent overlapping channel interferences, the AP automatically adjusts the channels of the radios to avoid co-channel interferences and increase efficiency.

Omada Mesh Technology
Omada Mesh Technology enables wireless connectivity between access points for extended range, making wireless deployments more flexible and convenient.
Intelligent Self-Organizing

Self-Healing

Airtime Faireness
ATF lets each WiFi take turns to send or receive data within its own time slot to prevent older devices from slowing down your network. In this way, the capacity and efficiency of WiFi will be improved.

Full WiFi Coverage
Ceiling mount APs with professional antennas and Beamforming provide high-speed and long-range WiFi coverage for multiple scenarios.

Stable High-Speed Wired Connections
2.5 G or 1 G Ethernet port delivers exceptional multi-gigabit performance to support the insatiable demand for better and faster WiFi.

Easy Centralized Management
Centrally manage your access points, switches, gateways, and more, anywhere, anytime—all controlled from a single easy-to-use interface.

Easy Installation and Deployment
Easy mount construction and a refined, minimalist appearance. Compatibility with standard 802.3at PoE+ is ideal for flexible deployment.

Boost Business with A Customized Page
Captive Portal provides direct exposure to promotional information and other marketing content while securing network access for guests.
High-Density Product Recommendations
Product Category
Standard
Model
WiFi Class
Ethernet Ports
Antennas
Deployment
Main Features
Omada Ceiling Mount Access Points
WiFi 6
EAP660 HD
AX3600
1× 2.5 GE

2.4 GHz: 4× 4 dBi




5 GHz: 4× 5 dBi

Lobby / Supermarket / Restaurant / Barz

OFDMA
MU-MIMO
Mesh*
Seamless Roaming
1024-QAM
Centralized Management
Zero-Touch Provisioning**
Captive Portal
802.3at PoE/12V DC

EAP620 HD
AX1800
1× GE

2.4 GHz: 2× 4 dBi




5 GHz: 2× 5 dBi

Lobby / Supermarket / Restaurant / Bars

OFDMA
MU-MIMO
Mesh*
Seamless Roaming
1024-QAM
Centralized Management
Zero-Touch Provisioning**
Captive Portal
802.3at PoE/12V DC

WiFi 5
EAP265 HD
AC1750
2× GE

2.4 GHz: 3× 3.5 dBi




5 GHz: 3× 4 dBi

Restaurant / Café / Bars

MU-MIMO
Mesh*
Seamless Roaming
Centralized Management
Zero-Touch Provisioning**
Captive Portal
802.3af PoE / Passive PoE
*Use of Mesh may require further software upgrades.
**Zero-Touch Provisioning is supported when using Omada Cloud-Based Controller.
Powerful Support
---
Get the Solutions and Products with Partner Program
TP-Link's success as a provider of network solutions has been built on its relationship and unrivalled commitment to its partners. For Value-added Resellers (VARs) and System Integrators (SIs) looking for access to even better deals and tailored support, TP-Link has designed the TP-Link Partner Program to help grow business.
SubscriptionTP-Link takes your privacy seriously. For further details on TP-Link's privacy practices, see TP-Link's Privacy Policy.
About Us
Press
Learning Center
From United States?
Check products and services for your region.