WiFi is always necessary in outdoor environments, whether when you have a party or work at your garden, or wirelessly connect outdoor cameras or outdoor speakers. The routers or access points installed indoors cannot provide smooth WiFi experience for outdoors due to limited coverage and signal attenuation. Installing outdoor WiFi access points is the common way to provide outdoor WiFi.
TP-Link Omada outdoor WiFi access points offer smooth outdoor WiFi experience even in harsh outdoor environments. The outdoor wifi extenders are ideal for the use in outdoor events, WiFi outside home, or in the garden, yard, outdoor swimming pool, outdoor café, outdoor barns and shed. With Omada outdoor WiFi range extenders, the outdoor wifi solution is ideal for wirelessly connecting outdoor camera and outdoor speakers.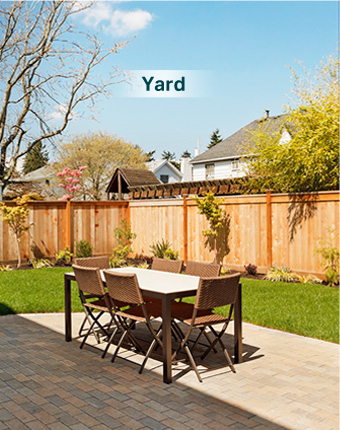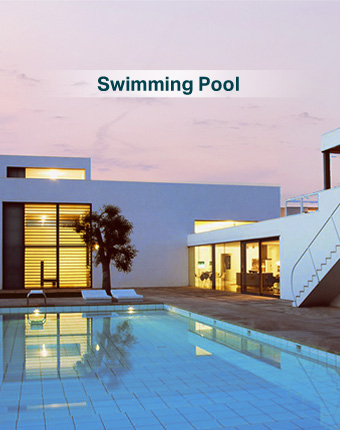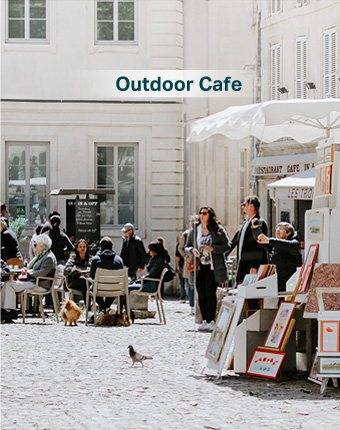 Fast & Efficient Outdoor WiFi
Outdoor WiFi 6 with MU-MIMO communicates high-speed WiFi to multiple devices at the same time.
Weatherproof
IP67 or IP65 weatherproof enclosure protects your outdoor wifi extenders from harsh outdoor conditions.
Long Outdoor WiFi Range
Professional antennas equipped with high-power amplifiers utilize WiFi 6 technology to provide expansive outdoor wireless coverage.
---
What Do You Need to Consider When Deploy Outdoor WiFi?
Outdoor Environment. Outdoor environment is always the first thing to consider, as it's easy to corrode or fail to work for common extenders or routers in the harsh outdoor environments.
WiFi Range. The devices need to provide smooth outdoor WiFi for all the outside areas you need.
Installation Method. Easy installation is necessary, especially that PoE is required to transmit data and power through a single Ethernet cable.
Management. Centralized management greatly benefits the maintenance if you need to deploy multiple outdoor WiFi access points.
WiFi Speed. Smooth WiFi without buffering is important, even when dozens of clients connect to the network.
---
Typical Outdoor WiFi Solution
Need to deploy an outdoor WiFi network to have an outdoor party, work outside the house, or connect the outdoor wireless cameras or outdoor wirless speakers? TP-Link Omada outdoor WiFi access points provide fast and stable WiFi outside, and are well suitable for all kinds of home and business outdoor scenarios.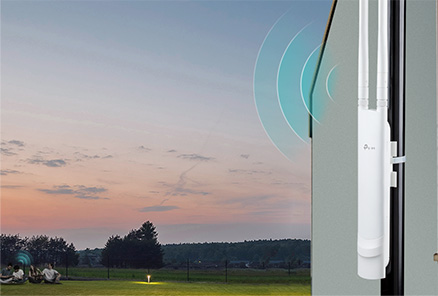 1. WiFi Outside — Home Scenarios
Outdoor WiFi for Yard/ Garden/ Home Swimming Pool/ Shed/ Barns/ and More
For outdoor small office and home scenarios, generally one or two outdoor WiFi extenders are deployed to connect the outdoor wireless cameras, phones, tablets, and laptops. With the included passive PoE adapter, connect the Omada outdoor access points with your existing router, to provide data and power simultaneously using a single Ethernet cable.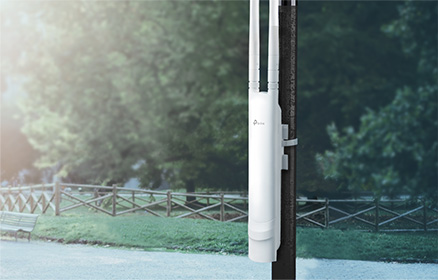 2. WiFi Outside — Business Scenarios
Outdoor WiFi for Outdoor Events/ Medium and Big Outdoor Swimming Pool/ Outdoor Café/ Outdoor Parking/ Parks/ Amusement Park/ Outdoor Amphitheatre/ and more
For small and medium business scenarios, generally several outdoor extenders are deployed for dozens of clients and large open areas. With the PoE switches or included passive PoE adapters, connect the Omada access points with a single Ethernet cable. Should certain access points are inconvenient to be connected to LAN ports, use Omada Mesh technology to wirelessly connect the outdoor access points without additional cables.
---
What Can You Get with TP-Link Omada Outdoor WiFi Access Points?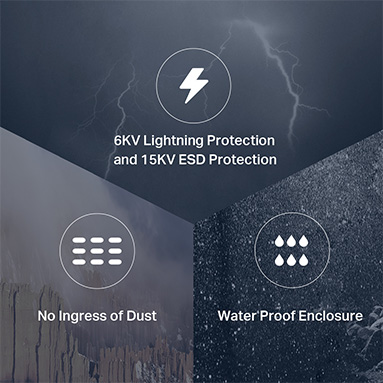 IP67 or IP65 Weatherproof Enclosure for Outdoor Environment*
Rated as IP67 or IP65 during Ingress Protection testing, a resilient weatherproof enclosure and -30–70 ℃ (-22–158 ℃) operating temperature range protect the outdoor access points against harsh outdoor condition. This is achieved with a casing made from durable ASA material and specialised waterproof antennas.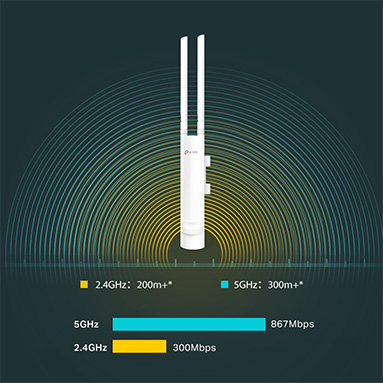 Long Outdoor WiFi Range*
Dedicated high-power amplifier and professional antennas along with the latest generation 802.11ac Wave 2 MU-MIMO technology, ensure superior WiFi performance and long-range coverage over 2.4GHz and 5GHz wireless bands.
PoE Support for Easy Outdoor WiFi Setup*
Omada outdoor access points support both standard 802.3af/at and Passive PoE for flexible deployment, and can be simultaneously provided power and data via a single Ethernet cable by PoE switches or the provided PoE adapters.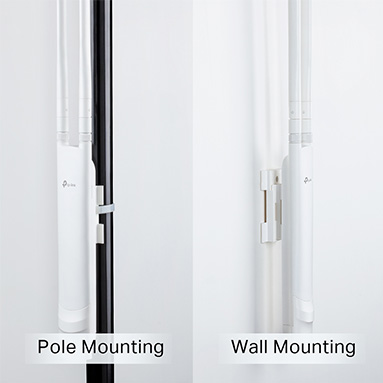 Flexible Installation
Omada outdoor WiFi access points can be easily installed on a wall or a pole with the provided mounting kits.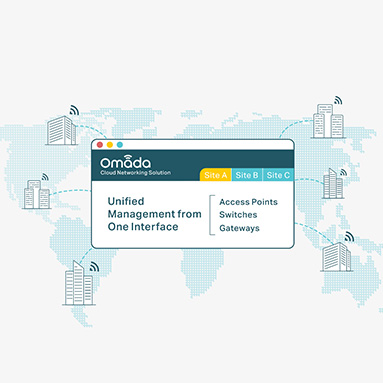 Cloud Centralized Management—Anytime, Anywhere*
100% centralized cloud management of the whole outdoor WiFi system from different sites, all controlled from a single interface—anytime, anywhere. Standalone management via the Omada app or web interface is also supported.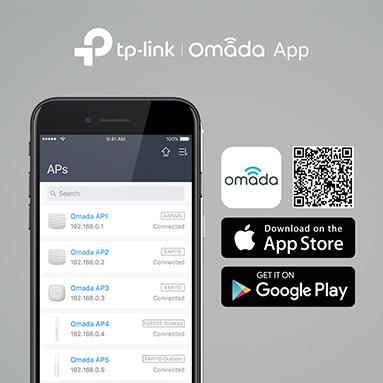 Easy Management with the Omada App
Omada app provides the easiest way to access and manage Omada outdoor access points with your phone. Follow configuration instructions on the free Omada app to get set up in minutes.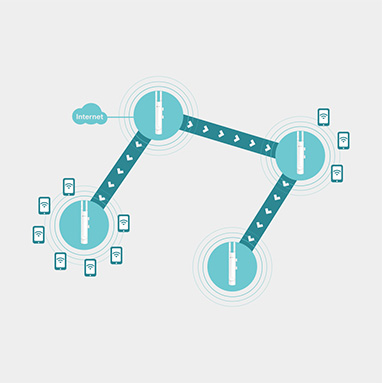 Omada Mesh for Flexible Outdoor Wireless Deployment*
Enables wireless connectivity between APs for extended range without additional cables, making outdoor wireless deployments more flexible and convenient. Intelligent self-organization and self-healing ensure you stay online even when one AP is disrupted.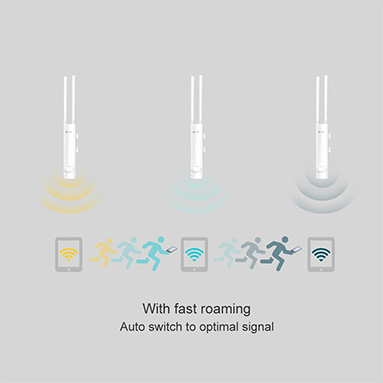 Seamless Roaming for Uninterrupted Streaming*
802.11k and 802.11v seamless roaming seamlessly connects devices to the outdoor access point with the optimal signal when moving between APs. This allows sensitive applications like VoIP and video conferences to go uninterrupted.
---
How to Choose Omada Outdoor WiFi Access Points for WiFi Outside?
Currently, TP-Link Omada offers three kinds of outdoor WiFi access points for outdoor WiFi. As for the switches connecting with the outdoor access points, TP-Link offers dozens of kinds of products. Go to TP-Link Switches to find the suitable switches for you. The guide of Switches for Business WiFi will further help you pick the right switches.
Model
EAP610-Outdoor
EAP225-Outdoor
EAP110-Outdoor
WiFi Speed (5 GHz)*
1201 Mbps
867 Mbps
-
WiFi Speed (2.4 GHz)*
574 Mbps
300 Mbps
300 Mbps
Ethernet Ports
1× 10/100/1000 Mbps
1× 10/100/1000 Mbps
1× 10/100 Mbps
Max. Range (m)*
300 m (5 GHz)
200 m (2.4 GHz)
300 m (5 GHz)
200 m (2.4 GHz)
200 m
Power Supply
802.3at PoE or 48V Passive PoE
(PoE Adapter Included)
802.3af/at PoE or 24V Passive PoE
(PoE Adapter Included)
24V Passive PoE (PoE Adapter Included)
Weatherproof
IP67
IP65
IP65
Mounting
Pole/Wall Mounting (Kits included)
Operating Environment

Operating Temperature: -30–70 ℃(-22–158 ℉)
Operating Humidity: 10–90% RH non-condensing

Cloud Centralized Management
Omada App
√
√
√
Omada Mesh
√
√
-
Seamless Roaming
√
√
-
MU-MIMO, Band Steering, Beamforming
√
√
-
Recommended Capacity*
60–80 Clients
60–80 Clients
30–50 Clients
---
FAQs about Omada Outdoor WiFi Access Points
Need I Buy PoE Adapters when deploy the outdoor WiFi access points?

No, a passive PoE adapter is included in every box of EAP225-Outdoor and EAP110-Outdoor.

How to configure my outdoor wifi access points work as a Mesh network?

For detailed introduction and configuration guide, please refer to the User Guide of Omada Controller:
You can find the Mesh related introduction at Page 264. More questions about Omada Mesh are all listed.
Disclaimers
*1. Maximum wireless signal rates are the physical rates derived from IEEE Standard 802.11 specifications. Actual wireless data throughput and wireless coverage are not guaranteed and will vary as a result of 1) environmental factors, including building materials, physical objects, and obstacles, 2) network conditions, including local interference, volume and density of traffic, product location, network complexity, and network overhead, and 3) client limitations, including rated performance, location, connection, quality, and client condition.
*2. 60 m is the maximum distance from the power supply at which passive PoE can function and is based on laboratory testing. Actual results may vary depending on cable type and texture.
*3. Seamless Roaming requires clients need to support 802.11k/v and may require additional set up. Performance may vary depending on the client device.
*4. Omada Mesh, Seamless Roaming, Captive Portal, and Cloud Access require the use of Omada SDN controllers. Please refer to the User Guides of Omada SDN controllers for configuration methods.
*5. Lighting and ESD protection requires proper grounding or use of a verified shielding cable.
---
Get the Solutions and Products with Partner Program
TP-Link's success as a provider of network solutions has been built on its relationship and unrivalled commitment to its partners. For Value-added Resellers (VARs) and System Integrators (SIs) looking for access to even better deals and tailored support, TP-Link has designed the TP-Link Partner Program to help grow business.
From United States?
Get products, events and services for your region.