Mar.2023

06
Omada Cloud-Based Controller Officially Released
Sydney, Australia – March 06, 2023 –
TP-Link, a leading global provider of networking and smart home products have officially released their new Omada Cloud-Based Controller. The Omada Cloud-Based Controller is available to enjoy now. Register and log in to the Omada Cloud to centrally manage one or multiple networks remotely, via the cloud.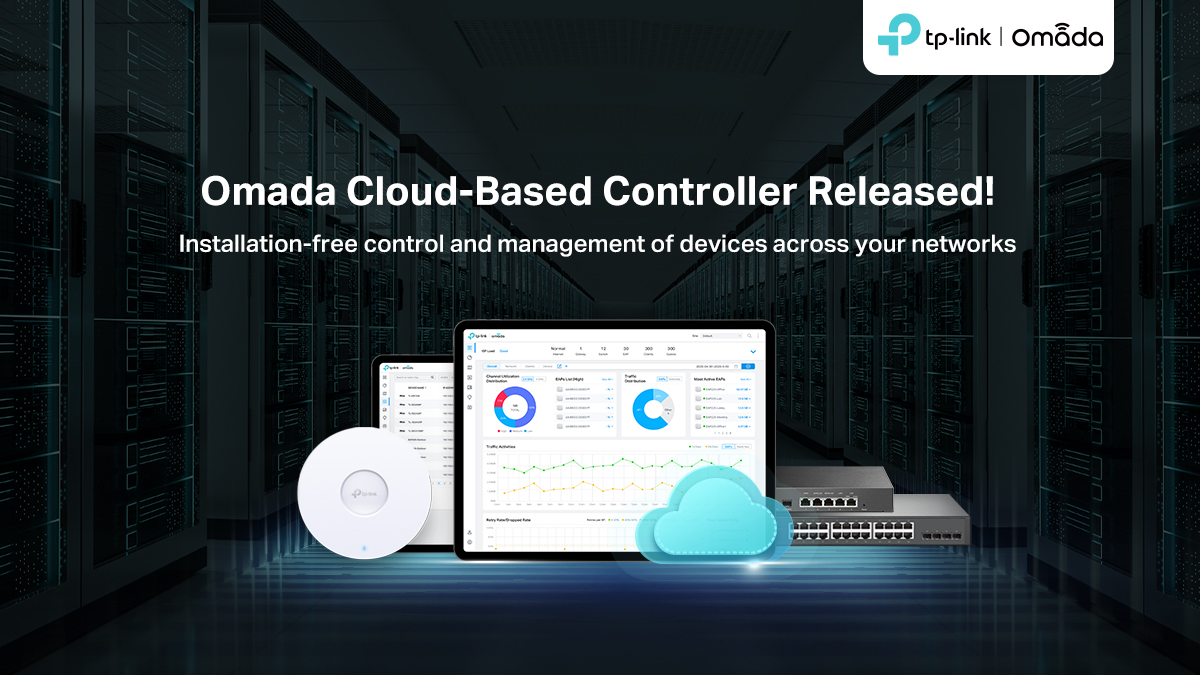 Managing Director of TP-Link Australia and New Zealand, Neville Wang, commented:
"We're proud to offer the Omada Cloud-Based Controller to both our legacy customers and new customers. As the need for more flexible and scalable networks grow, TP-Link offers a solution. This helps to save our customers precious time, and resources and assists them in lowering business outgoings now that on-premises maintenance and management across multiple locations is no longer required"
What Does Omada Cloud-Based Controller Bring?
The Omada Cloud-Based Controller provides 100% centralised cloud management of access points, switches, and routers—all controlled from a single interface.* There is no need to install anything on your premises or the premises of your customers. Manage all the devices and scale your network up or down with ease.**

The advanced functions of the Omada Cloud-Based Controller provide the basis for improved centralised management capability, higher efficiency for easier maintenance, higher security for better protection, and higher reliability for stable operation.
Zero-Touch Provisioning (ZTP): Removes the requirement to send an engineer for on-site configuration.
Auto Channel Selection and Power Adjustment: Enterprises appreciate powerful wireless performance while significantly reducing WiFi interference.
Higher Security: No user traffic passes through the cloud, ensuring better data privacy protection.
Higher Reliability: With 99.99% SLA availability, 24/7 automated fault detection, and geographically isolated backup servers, your operations will always continue.
There are now three types of Omada SDN Controllers available. Companies are free to enjoy maximum flexibility and control of the whole network from the cloud to manage business needs.
Type

Cloud Controller

On-Premises Controller (Hybrid Cloud)

Omada Cloud-Based Controller (v5.1)

Omada Hardware Controller

Omada Software Controller (v5.1)

Usage Method

Pay, log in, and use, with zero-touch provisioning

Connect to the intranet

Deploy to intranet servers or private clouds

Management Scale

Unlimited

OC200: ≤ 100 APs + 20 Switches + 10 Routers

OC300: ≤ 500 APs + 100 Switches + 100 Routers

≤1,500**

Network Type

Medium/Large multi-site networks

Small/Medium local networks

Medium/Large networks

Pricing Model

Device License Fee

Hardware Costs

Free

Cloud Access

√

√ (Free)

√ (Free)

Omada App

√

√

√

Automatic Channel Selection and Transmit Power Adjustment

√

√

-

Zero-Touch Provisioning

√

-

-

AI-Driven Technology (Intelligent Network Analysis, Warning, and Optimization)

√***

-

-

Advanced Functions

Multi-Site Management, Multi-User Privilege Assignment, Wi-Fi Heatmap Simulator, Network Summary Report, Abnormal Event Warnings and Notifications, Batch Configuration, Batch Firmware Upgrading, Captive Portal (Facebook Wi-Fi, Voucher, SMS, etc.)
What Models Does Omada Cloud-Based Controller Support?
The Omada Cloud-Based Controller can support the centralised management of Omada access points, JetStream switches, and Omada Routers. Go to https://www.tp-link.com/omada-cloud-based-controller/product-list/ to find all the supported devices. Please note all new Omada devices will have the ability to be managed via the Omada Cloud-Based Controller.
Omada Cloud Service Licensing
It is simple to apply for a license or multiple licenses for the Omada Cloud-Based Controller. Navigate to the License Introduction page to learn more details about the license.
Flexible Pricing Plans. Basic and Advanced licenses are provided to satisfy your network demands, with durations of one to five years available.
Backward Compatibility with Omada Devices. The license can be applied to any Omada-compatible device (Access Point, Switch, and Router)
Easy to Bind, Simple to Manage.
Free Trial Monthly license for up to 10 products
(Available to new users only)
For more details, go to the Omada Cloud-Based Controller product page.
About TP-Link
TP-Link is a global innovator and provider of consumer and SMB networking products and the world's No. 1 provider of WLAN and broadband CPE devices*** with products available in over 120 countries to hundreds of millions of customers. TP-Link provides award-winning networking products in wireless routers, cable/DSL gateways, powerline adapters, range extenders, cloud cameras, smart home devices, and accessories for global end-users. We remain committed to intensive R&D, efficient production, and strict quality management. TP-Linkendeavourss provides stable Business WiFi solutions for small and medium business customers and reliable enterprise switches and routers.
*Please check www.tp-link.com/omada-cloud-based-controller/product-list/ to confirm which models are compatible with the Omada Cloud-Based Controller.
**Actual management scale of the Omada Software Controller depends on the PC/server's hardware specifications.
*** According to IDC Worldwide Quarterly WLAN Tracker Report, Q3 2022 Release. Based on units shipped.
For more information about TP-Link, please visit us online at www.tp-link.com or follow us on:
- Facebook: facebook.com/tplinkau/
- Twitter: twitter.com/TPLINK_AU
- YouTube: youtube.com/TPLinkANZchannel
- LinkedIn: https://www.linkedin.com/company/tp-link
- TP-Link Community: community.tp-link.com
Media Contact: sean.fletcher@tp-link.com
All information and pricing provided are subject to change without notice. TP-Link is a registered trademark of TP-Link Corporation Limited. All trade names are the property of their respective owners.
From United States?
Get products, events and services for your region.