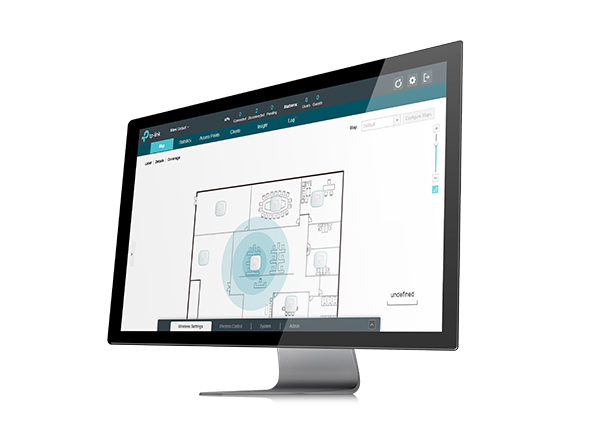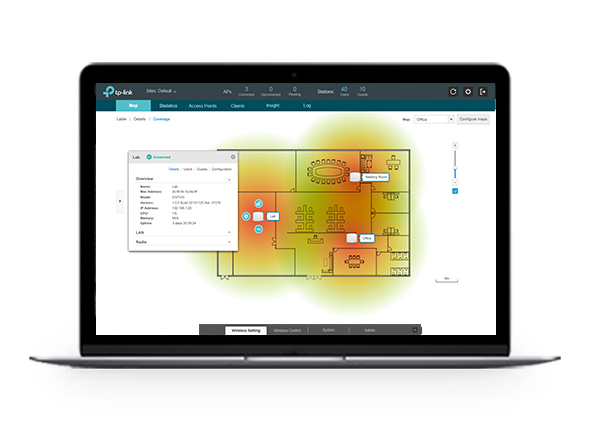 Omada Software Controller
Centralized Controller Software
Monitor and manage hundreds of EAPs in a single or multiple sites
Configure and automatically synchronize unified wireless settings to all EAPs in the network
Free to use, no license fee or extra cost required
Customizable Guest Authentication with Captive Portal
Rate Limit and Load Balance ensure the network stability and efficiency
Access Control and Rogue AP Detection protect the network from threats
Free EAP
Controller Software
Easily Create and Manage a
Scalable Business Wi-Fi Network
Free

No Additional Expense

Easy

No Special Training Required
TP-Link's free EAP Controller Software allows users to easily manage hundreds of TP-Link EAPs in multiple sites with the controller in a single location. The ability to control, adjust, and visualize the entire network from any connected PC makes centralized business Wi-Fi management more efficient and cost-effective than ever before. The EAP Controller Software integrates seamlessly with TP-Link's EAP series devices to create cost-effective business Wi-Fi solutions that offer ultimate performance.
EAP Controller Software
Centralized Management Platform
Monitor and manage hundreds of EAPs in a single or multiple sites
Configure and automatically synchronize unified wireless settings to all EAPs in the network
Upload floor plans to visualize and optimize network resource deployment
Make network administration more effective and efficient with batch firmware updates
Manage Multiple Sites with the Centralized Controller in a Single Location
TP-Link EAP controller enables the network administrator to monitor and manage hundreds of
EAPs of multiple sites from any connected PC within the network. This function allows for great
wireless scalability and remote network management, saving time and no extra IT staff fee,
ideal for multiple distributed deployments such as hotel chain, business with distributed offices.
Headquarters
Intuitive Real-Time Monitoring
Intuitive Real-Time Monitoring
data usage
Use built-in data visualizations to quickly analyze network traffic statistics for connected APs Monitor data from each EAP and track user activity to better understand traffic patterns and enhance network efficiency
Captive Portal - Customizable Guest Authentication
The powerful Guest Authentication functionality makes it easy to customize Guest Wi-Fi settings. Administrators will be able to control guest access by designing a unique authentication page and establishing a voucher system to limit the duration of use for each client. Guest Authentication also supports the creation of "Operator" accounts, which have permission to manage the guest network without having access to other EAP administrative features.
Rate Limit

Optimizes the wireless data rate for each SSID and provides efficient bandwidth allocation

Reboot Schedule

With Reboot Schedule enabled, the EAP can reboot itself automatically at specified time, ensuring optimal performance

Access Control

Access Control allows you to maintain a list of inaccessible IPs, avoiding exposing internal or private network data

Load Balance

Maximize the EAP's performance by limiting the maximum number of users per EAP or by excluding devices with weak signal reception

Remote Upgrade

Save time and resources with the ability to upgrade network EAPs in any location, at any time
Compatible With All TP-Link EAP Models
Model
Auranet EAP330
Auranet EAP320
Omada EAP245
Omada EAP225
Auranet EAP115
Auranet EAP110
Product Name
AC1900 Wireless Dual Band
Gigabit Access Point
AC1200 Wireless Dual Band
Gigabit Access Point
AC1750 Wireless Dual Band
Gigabit Access Point
AC1350 Wireless MU-MIMO Gigabit Access Point
300Mbps Wireless N
Access Point
300Mbps Wireless N
Access Point
Wireless Throughput
2.4GHz : 600Mbps
5GHz : 1300Mbps
2.4GHz : 300Mbps
5GHz : 867Mbps
2.4GHz : 450Mbps
5GHz : 1300Mbps
2.4GHz : 450Mbps
5GHz : 867Mbps
2.4GHz:300Mbps
2.4GHz:300Mbps
Ethernet Port
Gigabit Port*2
Gigabit Port*1
Gigabit Port*1
Gigabit Port*1
10/100Mbps Port*1
10/100Mbps Port*1
Internal Antennas
2.4GHz: 3*6dBi
5GHz: 3*7dBi
2.4GHz: 2*6dBi
5GHz: 2*7dBi
2.4GHz:3*4dBi
5GHz: 3*4dBi
2.4GHz:3*4dBi
5GHz: 2*5dBi
2.4GHz:2*3dBi
2.4GHz:2*3dBi
PoE Mode
IEEE 802.3at
IEEE 802.3at
IEEE 802.3at
IEEE 802.3af and Passive PoE
IEEE 802.3af
Passive PoE
Captive Portal
√
√
√
√
√
√
Airtime Fairness
√
√
-
√
-
-
Beamforming
√
√
-
√
-
-
Band Steering
√
√
√
√
-
-
Load Balance
√
√
√
√
√
√
Join TP-Link CommunityTP-Link takes your privacy seriously. For further details on TP-Link's privacy practices, see TP-Link's Privacy Policy.