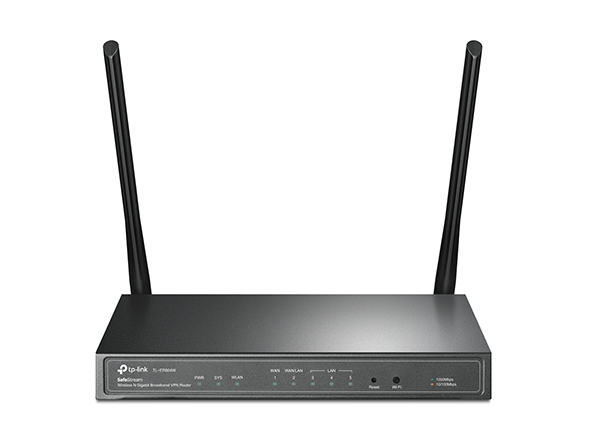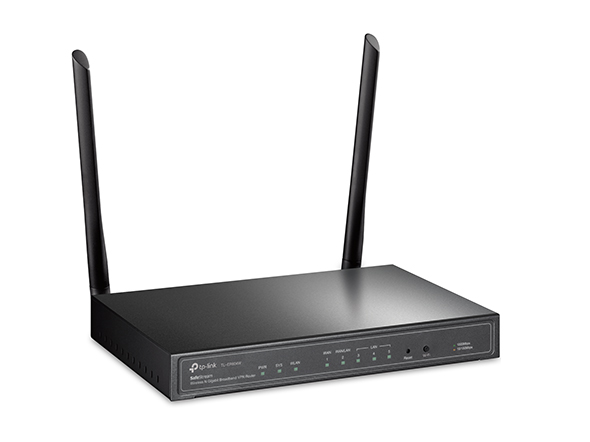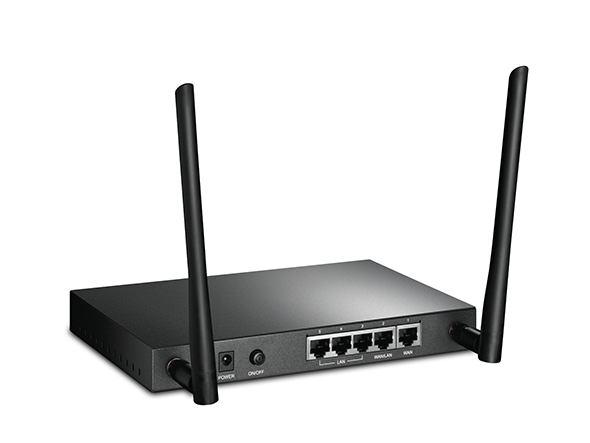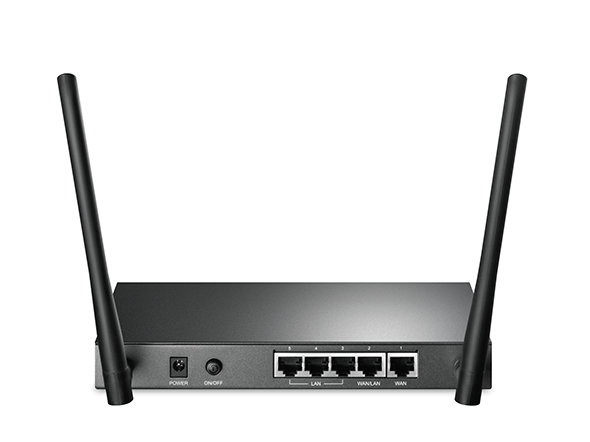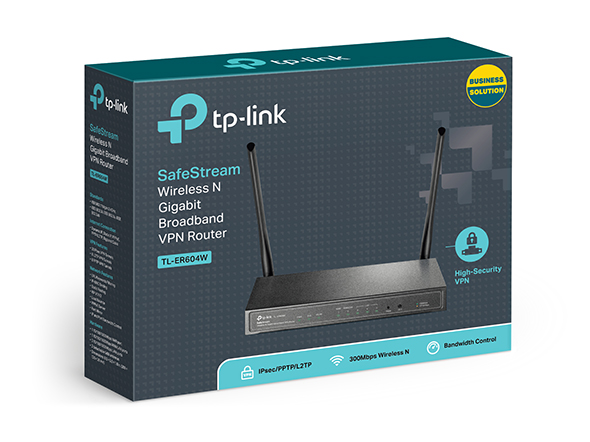 TL-ER604W
SafeStream-WLAN-Gigabit-Breitband-VPN-Router
1 Gigabit-WAN-Port, 1 Gigabit-WAN/LAN-Port, 3 Gigabit-LAN-Ports
Unterstützt VPN mit IPsec/PPTP/L2TP und bis zu 30 IPsec-, 8 PPTP- und 8 L2TP-Tunnel zugleich
Einfaches Blockieren von IM- und P2P-Applikationen
Performantes WLAN mit 300Mbit/s
Multi-SSID und Gastnetz stellen sicher, dass verschiedene User-Gruppen sicher voneinander getrennt arbeiten können
Professioneller 4kV-Blitzschutz
Produktfunktionalitäten
TP-LINKs SafeStream-WLAN-Gigabit-Breitband-VPN-Router TL-ER604W unterstützt Wireless-N sowie Gigabit-Ethernet. Er beherrscht mehrere VPN-Protokolle sowie hochsichere und hochperformante VPN-Funktionen, womit er zur ersten Wahl wird, wenn Sie ein Heimbüro oder eine Niederlassung kostengünstig mit der Zentrale verbinden möchten. Weiterhin stellt der TL-ER604W mit Hardware-WLAN-Schalter, Gastnetz, Applikationskontrolle und PPPoE-Server die ideale Lösung für Heim- und kleine Büronetze dar.
Hohe VPN-Performance
Der TL-ER604W unterstützt als Client die VPN-Protokolle IPsec, PPTP und L2TP und als Server und zusätzlich auch VPN-Passthrough. Er verfügt über eine hardwarebasierende VPN-Engine, mit der der Router in der Lage ist, bis zu 30 LAN-to-LAN- oder Client-to-LAN-IPsec-Verbindung zu verwalten. Erweiterte VPN-Funktionen wie DES/3DES/AES128/AES192/AES256-Verschlüsselung, MD5/SHA1-Authentifizierung, manuelle und IKE-Schlüsselverwaltung und Main- und Aggressive-Abstimmungsmodus bringt der TL-ER604W ebenso mit.
Hochgeschwindigkeitsverbindungen
Mit seiner 300MbIit/s-WLAN-Konnektivität und seinen 5 Gigbait-Ethernet-Ports ist der TL-ER604W die ideale Wahl für kleine Unternehmen, Hotels und Communities mit vielen Nutzern, die ein zuverlässiges, drahtloses 300Mbps-Netz und VPN-Funktionen benötigen.
Vielfältige Sicherheitsfeatures
Zur Abwehr von Gefahren aus dem Internet verfügt der TL-ER604W über einen Mechanismus, um DoS-Angriffe wie TCP/UDP/ICMP-Flooding, TCP-Scanning, Ping of Death usw. zu erkennen und abzublocken. Der Administrator kann bestimmte Webpräsenzen und bestimmte Applikationen sperren und den Internetzugriff beispielsweise auf FTP, HTTP und SMTP eingrenzen.
WLAN-Segmentierung
Der TL-ER604W unterstützt Multi-SSID und Gast-WLAN. Mit bis zu 8 SSIDs eröffnet der TL-ER604W mehrere WLANs für verschiedene Abteilungen oder Arbeitsgruppen. Das Gastnetz erlaubt getrennten Internetzugang für Gäste, sodass beispielsweise Besucher und Geschäftspartner über separate Netze surfen können und dabei keinen Zugriff auf das Firmennetz haben.
Der Überspannungsschutz schützt Ihre wertvollen Geräte
Der professionelle Blitzschutz lässt Spannungsspitzen nicht in Ihr Netz eindringen, sondern leitet sie in die Erdung ab. Der Router ist in der Lage, Blitzschläge von bis zu 4kV abzufangen. Damit ist Ihr Netz vor den Gewalten von Mutter Natur sicher.
Branch Location

TP-Link Omada offers enterprise-level VPN, real-time network monitoring, and quick network troubleshooting to meet the requirements of headquarters and branches.

VPN
Easy management
Network monitoring and troubleshooting
High security
HARDWARE-FUNKTIONEN
Standards und Protokolle
IEEE802.11b/g/n
IEEE802.3
IEEE802.3u
IEEE802.3ab
TCP/IP, DHCP, ICMP, NAT, PPPoE, SNTP, HTTP, DNS, IPsec, PPTP, L2TP
Schnittstelle
1 Gigabit-WAN-Port
3 Gigabit-LAN-Ports
1 Gigabit-WAN/LAN-Port
Kabel
10BASE-T: UTP-Kategorie 3 oder höher (max. 100m)
100BASE-TX: UTP-Kategorie 5 oder höher (max. 100m)
1000BASE-T: UTP-Kategorie 6 oder höher (max. 100m)
Anzahl Lüfter
0
Taste
Power
WiFi
Reset
Spannungsversorgung
Externer Spannungsadapter. Ausgang: Gleichspannung 12V/1A
Flash
8MB
DRAM
64MB (DDR2)
LED
PWR, SYS, WLAN, WAN, WAN/LAN, LAN
Abmessungen (B*T*H)
209mm*126mm*26mm
Antenne
2 abnehmbare 5dBi-Antennen
PERFORMANCE
Gleichzeitige Verbindungen
10000
NAT-Durchsatz
160 Mbit/s
IPsec-VPN-Durchsatz
38 Mbit/s
WLAN-FUNKTIONEN
Frequenz
2,4..2,4835GHz
Sendeleistung
max. 20dBm
WLAN-Funktionen
WLAN ein/aus
WDS-Bridge
WMM
WLAN-Statistiken
WLAN-Sicherheit
WEP
WPA/WPA2
WPA-PSK/WPA2-PSK
Gastnetz
Ja
Multi-SSID
Bis zu 8 SSIDs
GRUNDFUNKTIONEN
WAN-Verbindungstyp
Dynamische/Statische IP-Adresse
PPPoE
PPTP
L2TP
Dualzugriff
BigPond
Klonen der MAC-Adresse
WAN- und LAN-MAC-Adresse änderbar
DHCP
DHCP-Server/-Client
Adressreservierung
Switch-Einstellungen
Port-Mirroring
Datenratenkontrolle
Portkonfiguration
Port-VLAN
IPTV
IGMP-Proxy
IGMP-Snooping
ERWEITERTE FUNKTIONEN
Loadbalancing
Intelligentes Loadbalancing
Policy-Routing
Protokoll-Bindung
Link-Backup (Timing, Failover)
Online-Erkennung
NAT
One-to-One-NAT
Multi-nets-NAT
Virtueller Server
Port-Triggering
UPnP
FTP-/H.323-/SIP-/IPsec-/PPTP-ALG
Routing
Statisches Routing
Dynamisches Routing (RIP v1/v2)
Systemmodus
NAT
Non-NAT
Klassisches Routing
Traffickontrolle
IP-/portbasierende Datenratenkontrolle
Minimale und maximale Datenrate
Zeitbasierende Zugriffsregeln
IP-basierendes Sitzungslimit
VPN
IPsec-VPN
30 IPsec-VPN-Tunnel
LAN-to-LAN und Client-to-LAN-IPsec
Normale und aggressive Abstimmung
Verschlüsselung: DES, 3DES, AES128, AES192, AES256
Authentifizierung: MD5, SHA1
Keymanagement: Manuell, IKE
IPsec-NAT-Traversal (NAT-T)
Dead-Peer-Detection (DPD)
Perfect-Forward-Secrecy (PFS)
PPTP-VPN
8 PPTP-VPN-Tunnel
PPTP-VPN-Server/-Client
PPTP mit MPPE-Verschlüsselung
L2TP-VPN
8 L2TP-VPN-Tunnel
L2TP-VPN-Server/-Client
L2TP über IPsec
VPN-Passthrough
IPsec (ESP), PPTP, L2TP
SICHERHEIT
Anwendungsfilter
IM, P2P, Web-IM, Web-SNS, Web-Media-Protokoll/Proxyblockierung
Filterung
MAC-Adressfilterung
Filterung nach URL und Schlüsselwörtern
Web-Content-Filterung (Java, ActiveX, Cookies)
ARP-Inspektion
Senden von GARP-Paketen
ARP-Scanning auf WAN- und LAN-Seite
IP-MAC-Binding
Angriffsschutz
Abwehr von TCP/UDP/ICMP-Floods
Blockierung von TCP-Scans (Stealth FIN/Xmas/Null)
Pings von WAN-Seite blockierbar
VERWALTUNG
Dienst
PPPoE-Server
E-Bulletin
Dynamisches DNS (DynDNS, No-IP, Peanuthull, Comexe)
Wartung
Weboberfläche
Fernwartung
Konfigurationsim- und -export
NTP-Synchronisierung
Systemprotokoll
SONSTIGES
Zertifizierung
CE
FCC
RoHS
Verpackungsinhalt
SafeStream-Wireless-N-Gigabit-Breitband-VPN-Router TL-ER604W
Spannungsadapter
LAN-Kabel
Schnellinstallationsanleitung
CD
Systemanforderungen
Microsoft® Windows® 98SE, NT, 2000, XP, Vista™, 7, 8 oder 10
MacOS®
UNIX®
Linux
Umgebung
Betriebstemperatur: 0°C..40°C
Lagertemperatur: -40°C..70°C
Betriebsfeuchtigkeit: 10%..90%, nicht kondensierend
Lagerfeuchtigkeit: 5%..90%, nicht kondensierend
Von United States?
Erhalten Sie Produkte, Events und Leistungen speziell für Ihre Region