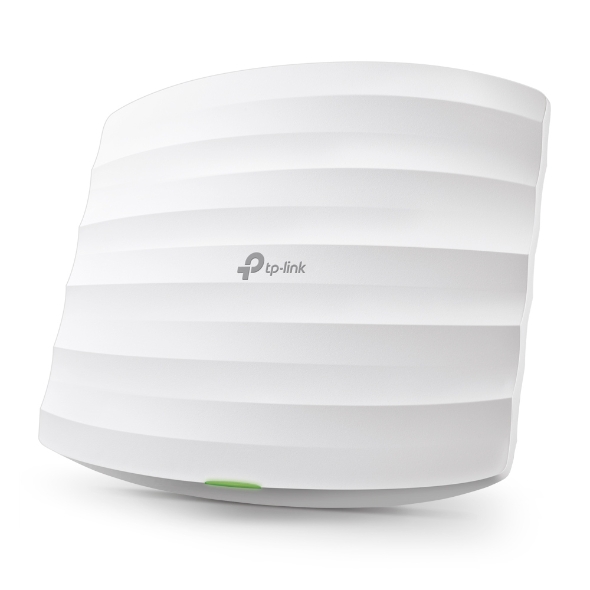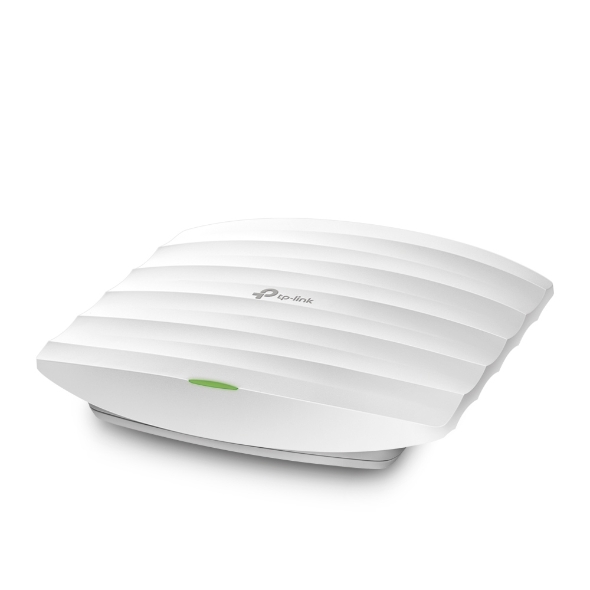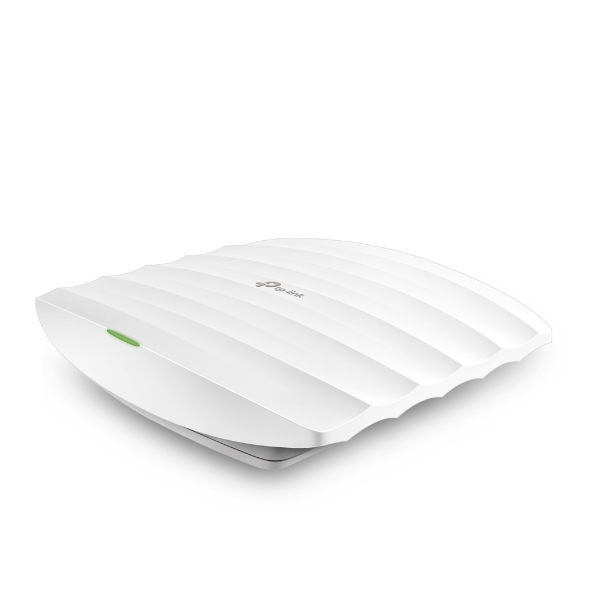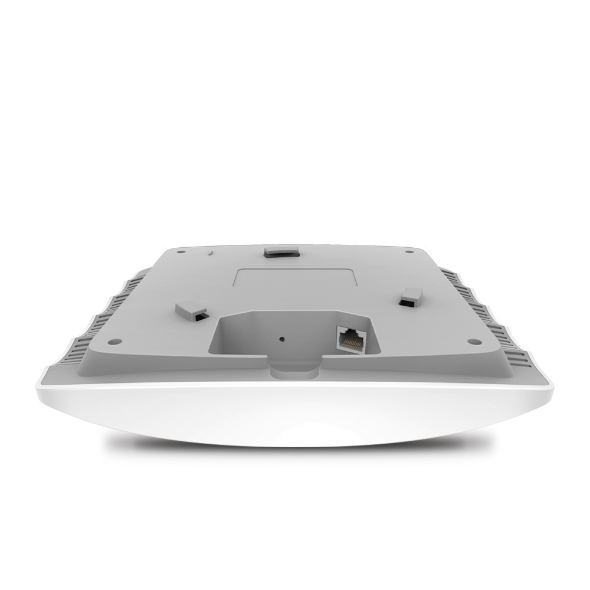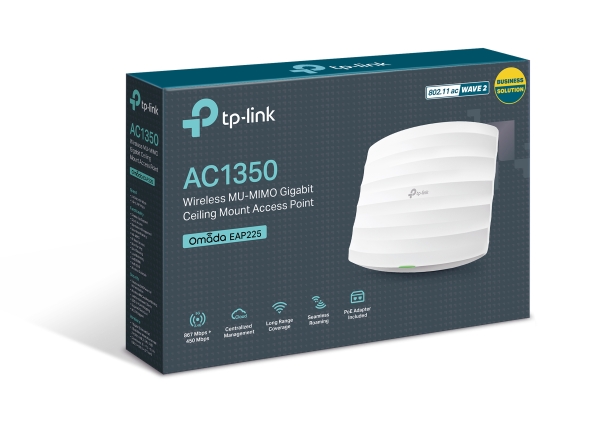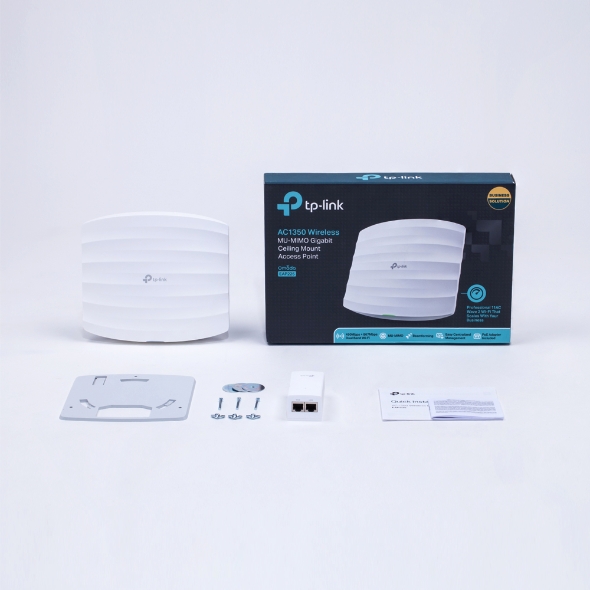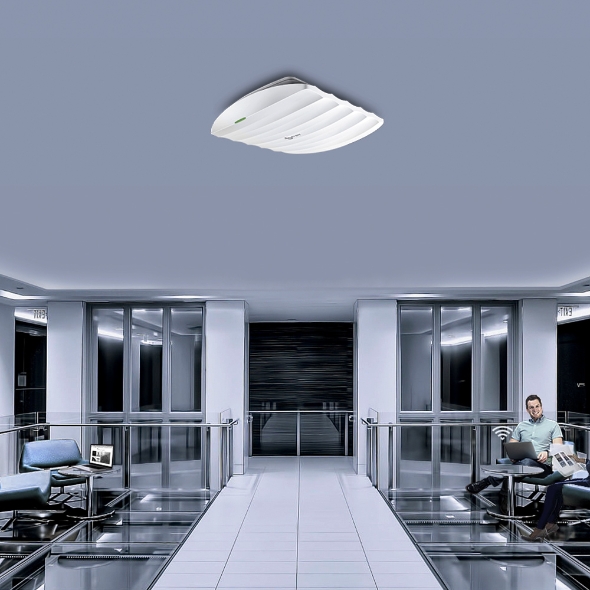 AC1350-Gigabit-WLAN-Accesspoint mit MU-MIMO zur Deckenmontage
Simultanes Dualband: Mit bis zu 450Mbit/s auf dem 2,4 und 867Mbit/s auf 5GHz-Band, die gesamte WLAN-Geschwindigkeit erreicht bis zu 1317 Mbit/s.
Einfaches zentralisiertes Management von mehr als hundert EAPs
Unterstützt PoE nach 802.3af für eine einfache, kostengünstige Installation ohne Verlegen neuer Kabel
Captive Portal für sichere Zugangskontrolle und einfache Gast-Authentifizierung
Band-Steering verlagert Dualband-Geräte automatisch in das weniger belegte Frequenzband
Dank MU-MIMO werden die Daten mit mehreren Geräten gleichzeitig ausgetauscht, was Wartezeiten verkürzt und somit die die Geschwindigkeit steigert
Beamforming bündelt die WLAN-Signale und sendet diese gezielt in die Richtung der verbundenen Endgeräte für eine bessere Reichweite und Stabilität
Legen Sie Zeitpläne fest, an denen die Accesspoints sich automatisch an- oder ausschalten
Preiswerte 802.11ac-Power der Businessklasse
802.11ac MU-MIMO WLAN-Solution

Ungeahnte AC-WLAN-Geschwindigkeiten mit MU-MIMO Technologie
Die neueste WLAN Generation 802.11ac, kombiniert mit 2*2-MU-MIMO, ermöglicht bisher unerreichte Geschwindigkeiten und Abdeckung auf 1317Mbit/s.
Traditionelles SU-MIMO
(Single-User-MIMO) AP

Datentransfer an lediglich ein Gerät zu einer Zeit
MU-MIMO

(Multi-User-MIMO) EAP

Datentransfer an mehrere Geräte gleichzeitig für eine höhere Geschwindigkeit
EAP-Controllersoftware
Einfaches zentralisiertes Management
Verwalten und überwachen Sie ganz leicht hunderte EAPs zentral an einem Punkt. TP-Links Omada-Controllersoftware verfügt über eine intuitive Benutzeroberfläche. Steuern Sie das gesamte Netz von jedem darin befindlichen PC aus. Business-WLAN-Management war noch nie so einfach.
Effiziente Authentifizierung von Gastnutzern per Facebook und SMS Support
Mit dem praktischen Captive Portal können die Gast-WLAN-Einstellungen einfach an spezifische Anforderungen angepasst werden. Dank SMS- und Facebook-Authentifizierung wird der Zugriff nach Belieben noch weiter vereinfacht.
Vielzahl an PoE Optionen für
eine einfache Installation
Der EAP225 unterstützt sowohl das 802.3af PoE- als auch die passive PoE-Energieversorgung. Er kann entweder über einen PoE-Switch oder den PoE-Adapter mit Strom versorgt werden, was die Installation einfach und flexibel macht.
Gigabit-Ethernet
Port 802.3af PoE/
24V Passive PoE
Einheitliches WLAN in einer
Business-Multi-User-Umgebung
Die Omada-Business-AC-WLAN-Lösung ist für den Einsatz in großen Netzen mit vielen Nutzern gedacht. Sie stellen die perfekte Wahl für Hotels, Salons, Supermärkte, Schulen und Restaurants dar.
Hotel
Café
Supermarkt
Schule
Model

Omada EAP330
Omada EAP320
Omada EAP245
Omada EAP225

Produktname

Auranet-AC1900-Dualband-Gigabit-WLAN-Accesspoint

Auranet-AC1200-Dualband-Gigabit-WLAN-Accesspoint

AC1750-Dualband-Gigabit-WLAN-Accesspoint

AC1350-Dualband-Gigabit-WLAN-Accesspoint mit MU-MIMO

WLAN-Durchsatz

2,4GHz: 600Mbit/s
5GHz: 1300Mbit/s
2,4GHz: 300Mbit/s
5GHz: 867Mbit/s
2,4GHz: 450Mbit/s
5GHz: 1300Mbit/s
2,4GHz: 450Mbit/s
5GHz: 867Mbit/s

LAN-Port

Gigabit Port*2

Gigabit Port*1

Gigabit Port*1

Gigabit Port*1

Interne Antennen

2,4GHz: 3*6dBi
5GHz: 3*7dBi
2,4GHz: 2*5dBi
5GHz: 2*6dBi
2,4GHz: 3*4dBi
5GHz: 3*4dBi
2,4GHz: 3*4dBi
5GHz: 2*5dBi

PoE

IEEE 802.3at

IEEE 802.3at

IEEE 802.3at

802.3af and Passive PoE

Captive Portal

√

√

√

√

Airtime-Fairness

√

√

-

√

Beamforming

√

√

-

√

Band-Steering

√

√

√

√

Loadbalancing

√

√

√

√
Hospitality

TP-Link Omada allows hotels to build reliable WiFi networks. Hotel WiFi network solutions including network topology, design, features, installation, and products are introduced.

Full WiFi coverage and wired connections
Flexible guest control
Seamless roaming
Easy Management

Education

Due to its reliable, scalable, and secure network solution, TP-Link has been widely acknowledged by global customers in the Education market ranging from infant schools with a few APs up to colleges and universities with hundreds of APs.

Easy management
High-density WiFi
Full WiFi coverage and wired connections
VPN and security

Retail

A good wireless network cannot only serve the network office system of the mall, but also bring a more comfortable shopping experience to customers. The TP-Link Omada SDN Solution empowers store owners to create a modern and compelling in-store experience for every customer.

Boost online business
Full WiFi coverage
Seamless roaming
High-concurrent clients
Easy management
HARDWARE-FUNKTIONEN
Schnittstelle
1 Gigabit-Ethernet-Port (RJ45) mit PoE nach IEEE802.3af
Physischer Diebstahlschutz
Kensington-Slot
Taste
Reset
Spannungsversorgung
PoE oder externe 12V/1,5A-Gleichspannung
Energieverbrauch
10,15W
Dimensions
7.1 × 7.1 × 1.9 in. (180 × 180 × 47.5 mm)
Antennentyp
Interne Rundstrahlantennen
2,4GHz: 2*4dBi
5GHz: 2*4dBi
Montage
Decken- oder Wandmontage (Montagesatz im Lieferumfang)
Watchdog
Ja
WLAN-FUNKTIONEN
WLAN-Standards
IEEE802.11ac
IEEE802.11n
IEEE802.11g
IEEE802.11b
IEEE802.11a
Frequenz
2,4GHz
5GHz
Signalrate
5GHz: Bis zu 867Mbit/s
2,4GHz: Bis zu 450Mbit/s
WLAN-Funktionen
Multi-SSID (bis zu 16 SSIDs, 8 pro Band)
WLAN ein/aus
Automatische Kanalwahl
Automatische Sendeleistungsregelung
QoS (WMM)
Band-Steering
Loadbalancing
Datenratenbegrenzung
Zeitgesteuerter Neustart
WLAN-Zeitplan
WLAN-Statistiken, basierend auf SSID/AP/Client
WLAN-Sicherheit
Portal zur Nutzerauthentifizierung
Zugriffskontrolle
MAC-Adressfilterung
WLAN-Isolierung
SSID-to-VLAN-Mapping
Erkennung fehlerhaft konfigurierter Accesspoints
802.1X
WEP mit 64, 128 und 152Bit / WPA / WPA2-Enterprise / WPA-PSK / WPA2-PSK
Sendeleistung
CE:
max. 20dBm (2,4GHz)
max. 23dBm (5GHz)

FCC:
max. 27dBm (2,4GHz und 5GHz)
VERWALTUNG
Omada Cloud Access
Yes
Omada App
Yes
Omada Cloud Controller
Yes
Omada Controller Software
Yes
EAP-Controller-Software
Ja
Benachrichtigung per E-Mail
Ja
LED abschaltbar
Ja
Managementzugriff MAC-Adress-basiert filterbar
Ja
SNMP
v1, v2c
Lokales/Remote-Systemprotokoll
Lokales und Remote-Systemprotokoll
Telnet
Ja
SSH
Yes
Weboberfläche
HTTP/HTTPS
Layer3-Management
Ja
Multi-Site-Management
Ja
Management VLAN
Yes
SONSTIGES
Zertifizierung
CE
FCC
RoHS
Verpackungsinhalt
AC1350-Dualband-Gigabit-WLAN-Accesspoint zur Deckenmontage EAP225

Spannungsadapter

Montagekit

Installationsanleitung
Systemanforderungen
Microsoft Windows XP/Vista/2008/7/8/2013/10 (für die Controller-Software)
Umgebung
Betriebstemperatur: 0°C..60°C
Lagertemperatur: -40°C..70°C
Betriebsfeuchtigkeit: 10%..90%, nicht kondensierend
Lagerfeuchtigkeit: 5%..90%, nicht kondensierend
Subscription Für TP-Link ist Datenschutz sehr wichtig. Weitere Informationen zu unseren Datenschutzbedingungen finden Sie in der Datenschutzerklärung von TP-Link.
Von United States?
Erhalten Sie Produkte, Events und Leistungen speziell für Ihre Region