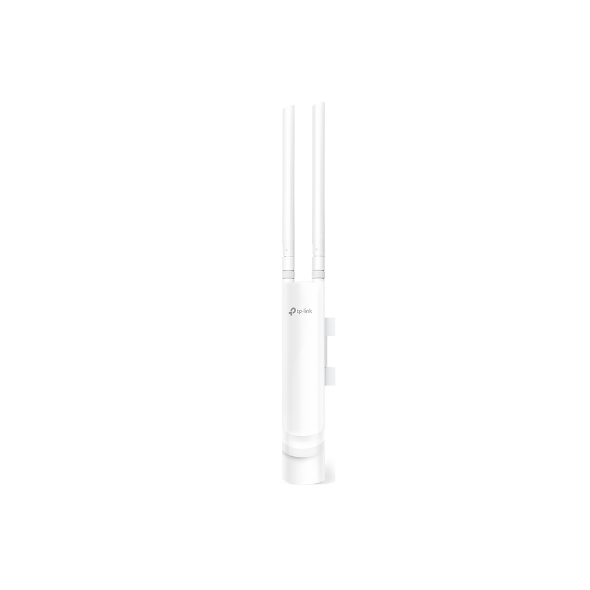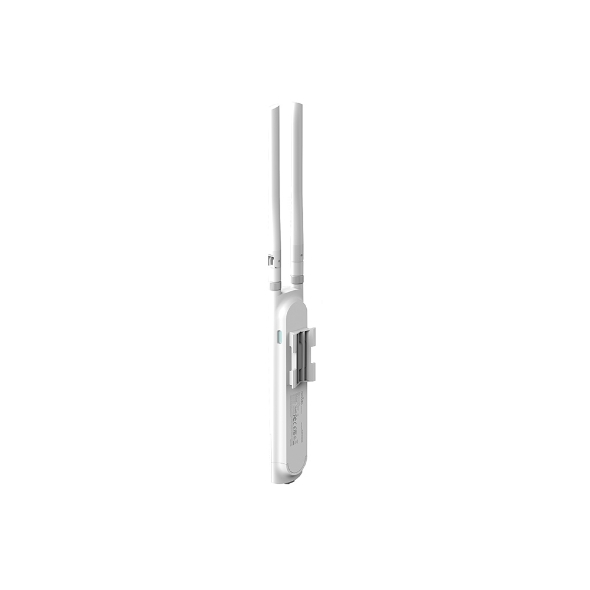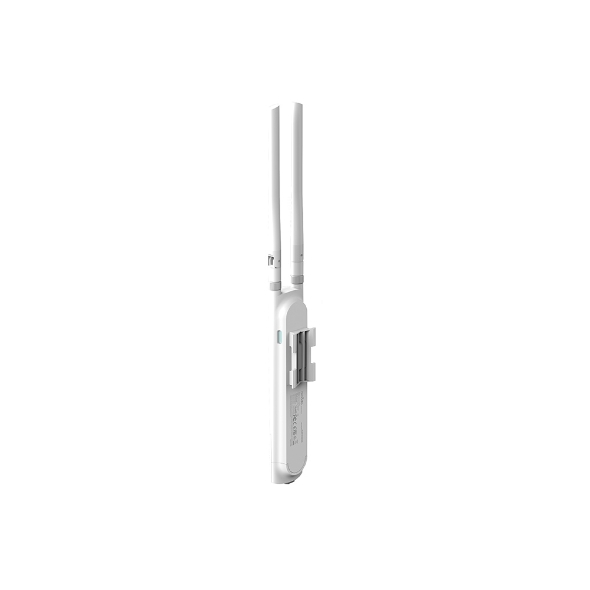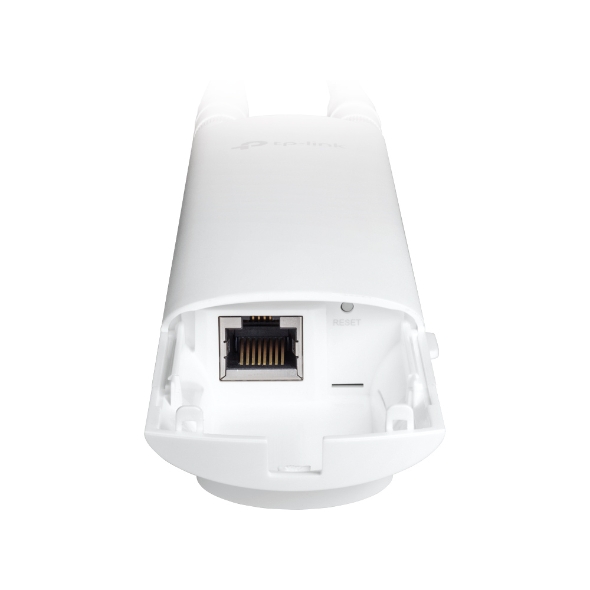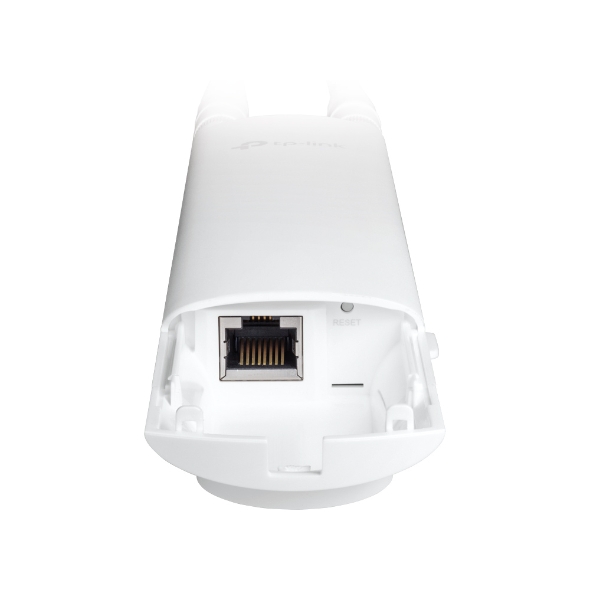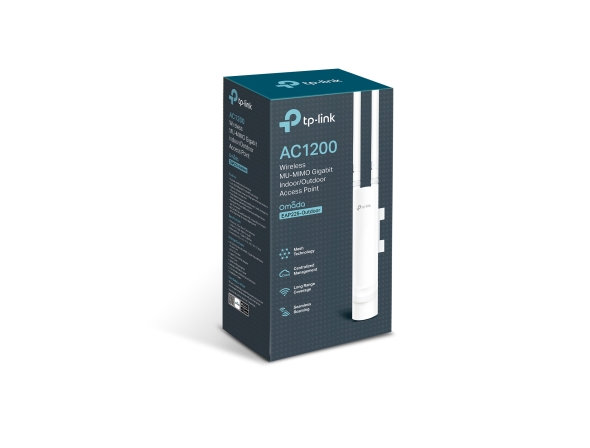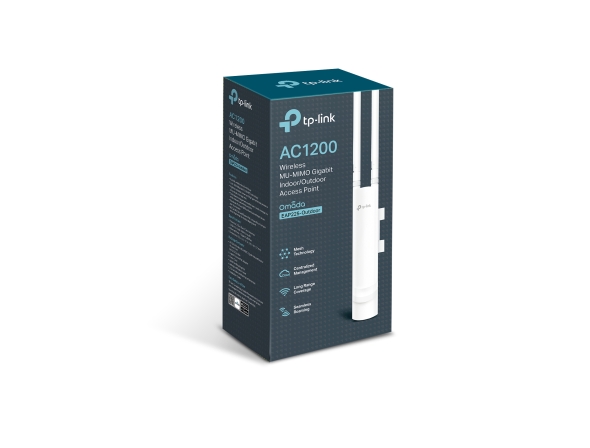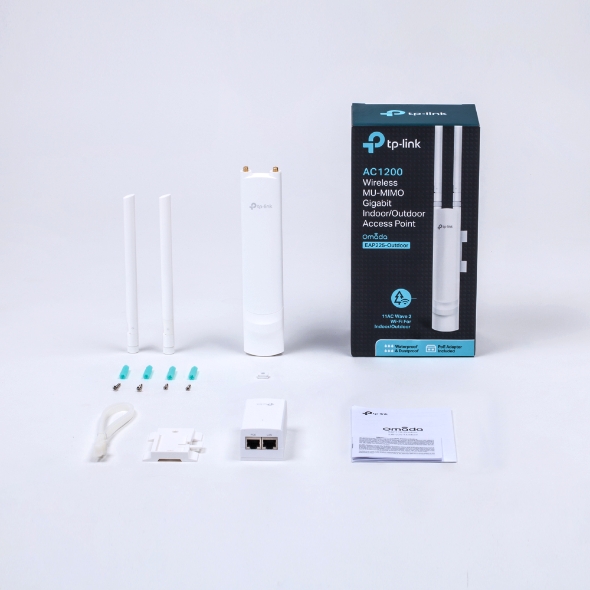 EAP225-Outdoor
Punto de Acceso AC1200 Wireless MU-MIMO de exterior/interior
Cubierta duradera y resistente a inclemencias meteorológicas para aplicaciones Wi-Fi de exterior
Hasta 1200Mbps con tecnología 2×2 MIMO
Alta potencia de transmisión y antenas de alta ganacia proporcionan una gran cobertura de área
Controlador Gratuito Software Omada habilita a los administradores que gestionen fácilmente cientos de EAPs
Portal Cautivo proporciona un método conveniente de autenticación de invitados
Autenticación inalámbrica vía Facebook Wi-Fi y SMS ayuda a aumentar su negocio
802.3af/PoE Pasivo (Adaptador PoE incluido) compatible y con diseño simple de montaje permite un despliegue flexible y una instalación conveniente
11AC Wave 2 Hace al Wi-Fi Ir Más Lejos
Omada
EAP225-Outdoor
Velocidades Wi-Fi Gigabit con Tecnología M
U-MIMO
EAP225-Outdoor de doble banda soporta velocidades hasta 1200Mbps. Equipado con la tecnología MU-MIMO 802.11ac Wave 2, EAP225-Outdoor puede comunicarse con múltiples clientes al mismo tiempo siendo ideal para ambientes de alta densidad.
EAP225-Outdoor
con MU-MIMO
Diseño Hardware Excelente
Con antenas especialmetne diseñadas, aspecto, opciones de potencia y método de instalación, el EAP225-Outdoor es la opción perfecta para diferentes escenarios tanto de interior como exterior.
Antenas Desmontables
EAP225-Outdoor está diseñado con 2 antenas desmontables Omni Direccionales, lo que implica que otras antenas pueden usarse según las necesidades específicas.
Antenas Omni MIMO
Aspecto Delicado Para Aplicaciones de Interior
El EAP225-Outdoor es muy similar a un teléfono inteligente, con dimensiones de: 215 × 46 × 27mm (8.5 × 1.8 × 1.1in).
215mm
138mm
Múltiples Opciones PoE para Instalaciones Fáciles
El EAP225-Outdoor soportan tanto PoE 802.3af como PoE Pasivo, lo que implica que puede ser alimentado por un Switch PoE o por el adaptador PoE suministrado.
Puerto Gigabit Ethernet 802.3af PoE/24V PoE Pasivo
Despliegue Flexible
El EAP225-Outdoor puede ser fácilmente instalado en una pared o un mástil gracias al kit de montaje suministrado.
Wi-Fi Con Alta Distancia
Las antenas de alta potencia de transmisión y antenas direccionales de alta ganancia, el EAP225-Outdoor proporciona coberturas inalámbricas con distancia de hasta 200m+* en 2.4GHz y 300m+* en 5GHz con ajustes para enterior.
*En base a pruebas de campo. La distancia de transmisión real puede variar, dependiendo del ambiente, recepción del dispositivo cliente, etc.
Carcasa Impermeable Especialmente Diseñada Para Escenarios al Aire Libre
Certificado con IP55 en los tests de Protección de Entrada, la carcasa resistente a la intemperie protege al punto de acceso contra las duras condiciones exteriores.
Protección contra Rayos de 6KV y Protección ESDE 15KV
Gestión de Red Centralizada Eficiente
Con el Controlador Software Omada, pequeños y medianos negocios pueden controlar a cientos de puntos de acceso, tanto de interior como de exterior desde una localización. La gestión de red como debe ser - eficiente e intuitiva.
Controlador Software Omada
Hospitality

TP-Link Omada SDN allows hotels to build the reliable, cost-effective wireless networks that drive progress and keep guests happy and coming back for another stay.

Full WiFi coverage and wired connections
Flexible guest control
Seamless roaming
Easy Management

Education

Due to its reliable, scalable, and secure network solution, TP-Link has been widely acknowledged by global customers in the Education market ranging from infant schools with a few APs up to colleges and universities with hundreds of APs.

Easy management
High-density WiFi
Full WiFi coverage and wired connections
VPN and security

WiFi Marketing

Here you will have the opportunity to show them your products, services, offers, promotions or simply information related to your business. With TP-Link captive portal functions, boost your online business through guest Wi-Fi with Facebook Login, Voucher, and other flexible authentication options.

Boost Business with a Customized Page
Facebook WiFi
Secure Guest Network
Easy Configuration
Supported by all Omada APs
CARACTERÍSTICAS DE HARDWARE
Interface
Puerto Gigabit Ethernet (RJ-45)*1(Soporta PoE 802.3af y PoE Pasivo)

Botón
Reset
Fuente de Alimentación
802.3af PoE and 24 Passive PoE(PoE Adapter Included)
Consumo de Energía
10.5W
Dimensiones (W X D X H)
215 × 46 × 27 mm (8.5 × 1.8 × 1.1in.)
Antena
2.4GHz: 2 * 3dBi, 5GHz: 2 * 4dBi
Resistencia a la Intemperie
IP65
Montaje
Montaje en Mástil/Pared (Kits incluidos)

Watch Dog por Hardware
Sí
CARACTERÍSTICAS INALÁMBRICAS
Estándares Inalámbricos
IEEE 802.11a/b/g/n/ac
Frecuencia
2.4GHz, 5GHz
Tasa de Señal
802.11ac: 5G:6.5 Mbps a 867Mbps(MCS0-MCS9,NSS = 1 a 2 VHT20/40/80) 2.4G:78Mbps a 300Mbps (MCS8-MCS9 VHT20/40, NSS=1 a 3)
802.11n: 6.5 Mbps to 300 Mbps (MCS0-MCS15, VHT 20/40)
802.11g: 6, 9, 12, 18, 24, 36, 48, 54 Mbps
802.11b: 1, 5.5, 11Mbps
802.11a: 6, 9, 12, 18, 24, 36, 48, 54 Mbps
Funciones Inalámbricas
Múltiples SSIDs(Hasta 16 SSIDs, 8 por banda)
On/Off Radio Inalámbrica
Asignación Automática de Canal
Control de Potencia de Transmisión(Ajust en dBm)
QoS(WMM)
MU-MIMO
Airtime Fairness
Beamforming
Band Steering
Balanceo de Carga
Límite de Velocidad
Reboot Agendado
Wireless Agendado
Estadísticas Inalámbricas en base a SSID/AP/Cliente
Seguridad Inalámbrica
Autenticación Portal Cautivo
Control de Acceso
Filtrado Dirección MAC Inalámbrica
Aislamiento Inalámbrico Entre Clientes
Mapeado VLAN a SSID
Detección AP No Autorizado
Soporte 802.1X
Potencia de Transmisión
CE:<20dBm(2.4GHz,EIRP),<23dBm(5GHz,EIRP)FCC:<30dBm(2.4GHz, EIRP),<30dBm(5GHz, EIRP)
ADMINISTRACIÓN
Omada App
Yes
Omada Cloud Controller
Yes
Centralized Management
• Omada Cloud-Based Controller• Omada Hardware Controller (OC300)• Omada Hardware Controller (OC200)• Omada Software Controller
Omada Controller Software
Sí
Cloud Access
Yes
Alertas de Correo Electrónico
Sí
Management MAC Access Control
Sí
SNMP
v1, v2c
System Logging Local/Remote Syslog
Sí
SSH
Yes
Web-based Management
Sí
L3 Management
Sí
Multi-site Management
Sí
Management VLAN
Sí
Otros
Certificacion
CE、FCC、RoHS
Contenidos del Paquete
Punto de Acceso Inalámbrico AC1200 MU-MIMO de Interior/Exterior
EAP225-Outdoor
Adaptador de Energía
Kit de Montaje
Guía de Instalación
Ambiente
Temperatura de Funcionamiento: 0℃~40℃ (32℉~104℉)
Temperatura de Almacenamiento: -40℃~70℃ (-40℉~158℉)
Humedad de Funcionamiento: 10%~90% sin condensación
Humedad de Almacenamiento: 5%~90% sin condensación

SuscripciónTP-Link toma en serio su privacidad. Para obtener más detalles sobre las prácticas de privacidad de TP-Link, consulte la Política de privacidad de TP-Link.
From United States (English)?
Check products and services for your region.