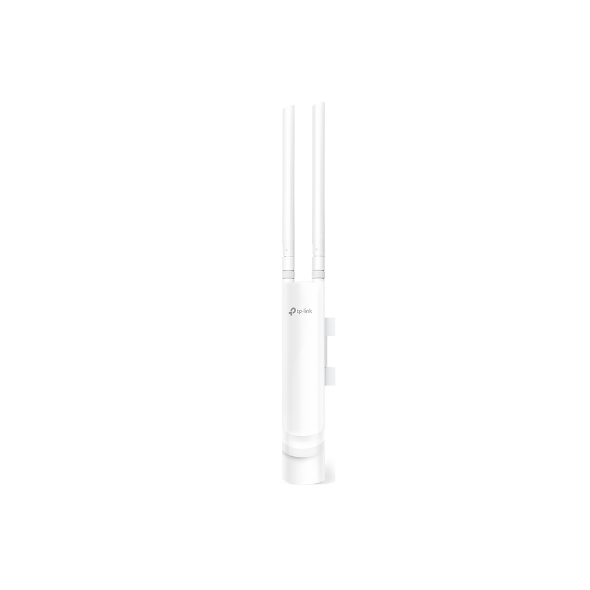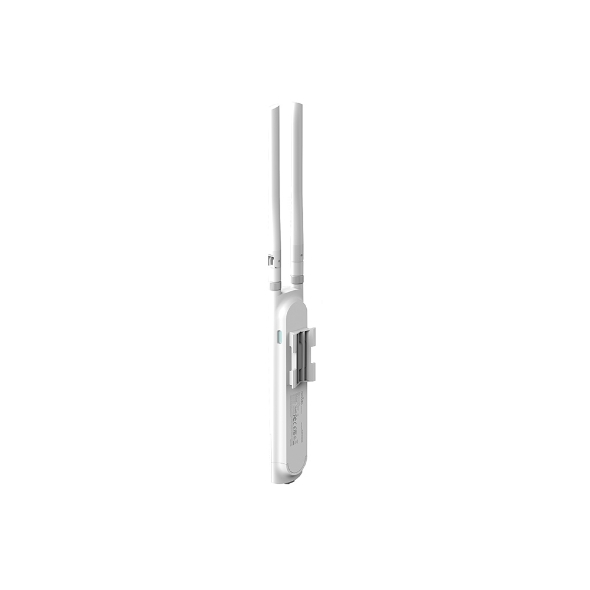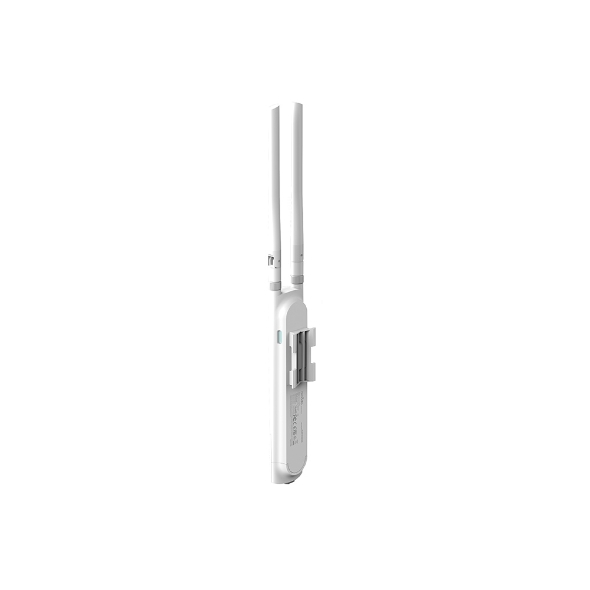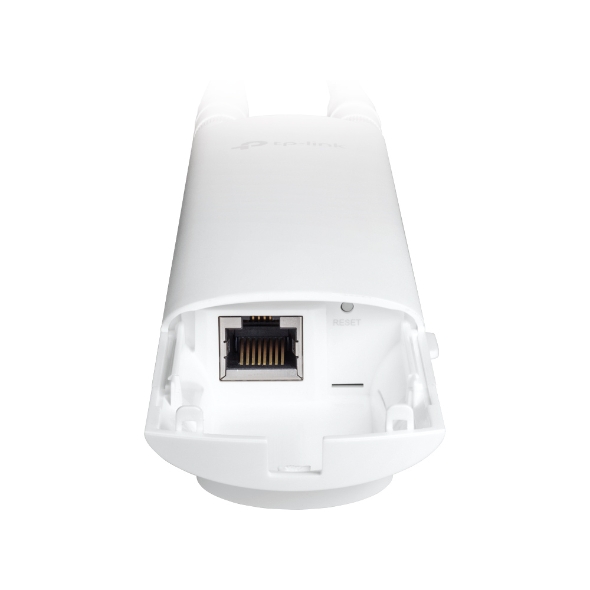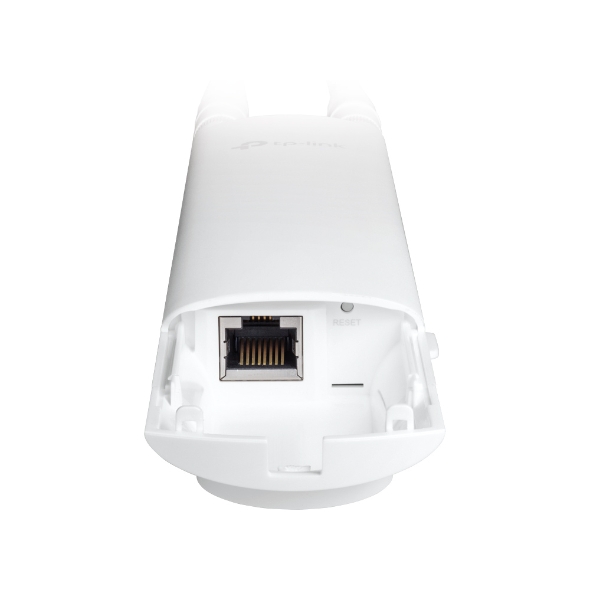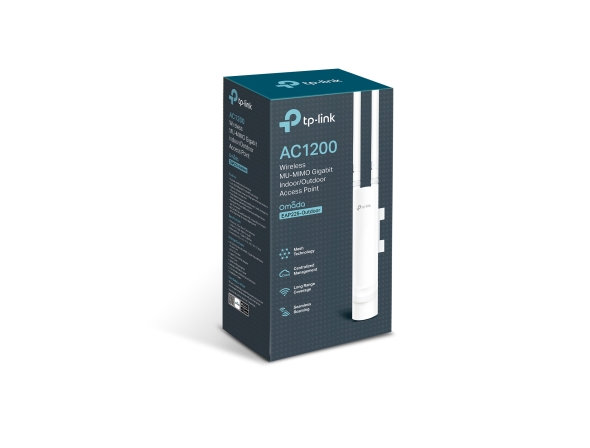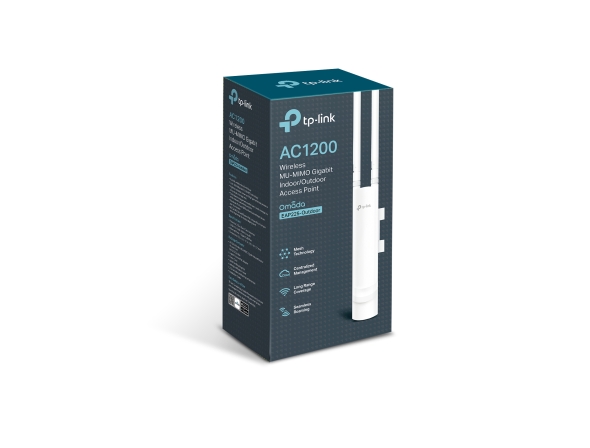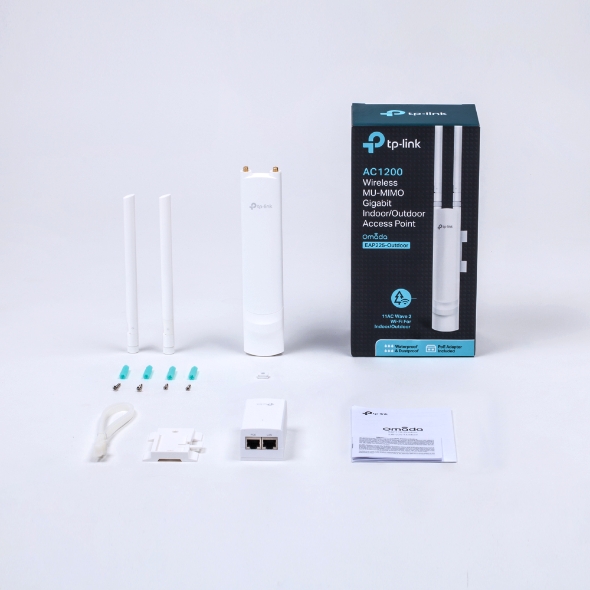 EAP225-Outdoor
Punto de Acceso AC1200 Wireless MU-MIMO de exterior/interior
Ideal para entornos al aire libre: carcasa resistente a la intemperie IP65 para aplicaciones Wi-Fi en exteriores.
Wi-Fi rápido de doble banda: 300 Mbps simultáneos en 2.4 GHz y 867 Mbps en 5 GHz totalizan velocidades de Wi-Fi de 1167 Mbps. †
Cobertura de largo alcance: amplificador de alta potencia dedicado y antenas profesionales junto con la tecnología 802.11ac Wave 2 MU-MIMO de última generación.
Integrado en Omada SDN: Zero-Touch Provisioning (ZTP) ‡, Administración centralizada de la nube y monitorización inteligente.
Gestión centralizada: acceso a la nube y aplicación Omada para una mayor comodidad y fácil gestión.
Tecnología Omada Mesh: permite la conectividad inalámbrica entre AP para un rango extendido, lo que hace que las implementaciones inalámbricas sean más flexibles y convenientes.
Roaming sin interrupciones: incluso las transmisiones de video y las llamadas de voz no se ven afectadas a medida que los usuarios se mueven entre ubicaciones.
Soporte PoE: admite tanto el estándar 802.3af / at como el PoE pasivo (adaptador PoE incluido) para instalaciones flexibles.
AC1200 Wave 2 con tecnología Mesh para Wi-Fi empresarial ilimitado
Omada EAP225-Outdoor
Tecnología Omada Mesh
Autoorganización inteligente

Omada EAP con tecnología Mesh, elige automáticamente la mejor ruta para extender tu Wi-Fi aún más y de manera más flexible.

Auto curación

Si un enlace tiene un problema, el sistema redirigirá automáticamente los datos a través de los otros dispositivos Omada para asegurarse de que permanezca en línea.
Rendimiento Wi-Fi superior y cobertura de largo alcanceuperior Wi-Fi Performance and Long-Range Coverage
Amplificador de alta potencia dedicado y antenas profesionales junto con la tecnología 802.11ac Wave 2 MU-MIMO de última generación, aseguran un rendimiento superior de Wi-Fi y una cobertura de largo alcance sobre bandas inalámbricas de 2.4GHz y 5GHz.†
MU-MIMO

Beamforming

Band Steering

Airtime Fairness
2.4GHz:200m+*
5GHz:300m+*
*Basado en pruebas de campo. El rango de transmisión real puede variar según el entorno, el dispositivo receptor, etc.
Roaming rápido para una movilidad perfecta
El roaming rápido 802.11k y 802.11v cambia automáticamente a los clientes al punto de acceso con la señal óptima con una transición perfecta cuando se mueve.§ Esto permite que aplicaciones sensibles como VoIP y videoconferencias no se interrumpan.
Con fast roaming
Cambio automático para una señal óptima
Recinto resistente a la intemperie especialmente diseñado para
Ambiente al aire libre
Calificado como IP65 durante las pruebas de protección contra el ingreso, un gabinete resistente a la intemperie protege los puntos de acceso contra las duras condiciones exteriores.△
Protección contra rayos de 6KV y protección ESD de 15KV
Excelente diseño de hardware
Con un diseño especial de su antena, apariencia, opciones de energía y métodos de instalación, EAP225-Outdoor puede adaptarse perfectamente a diferentes escenarios tanto en interiores como en exteriores.
Antenas desmontables
EAP225-Outdoor está diseñado con 2 antenas desmontables omnidireccionales, lo que significa que también se pueden conectar otras antenas para sus demandas específicas.
Antenas MIMO Omni
Apariencia delicada aún mejor para aplicaciones en interiores
EAP225-Outdoor es similar a un teléfono celular, con dimensión: 8.5 × 1.8 × 1.1 in (215 × 46 × 27 mm)
215 mm
138 mm
Múltiples opciones de PoE para una fácil instalación
EAP225-Outdoor admite la fuente de alimentación 802.3af PoE y pasiva PoE, puede alimentarse mediante un interruptor PoE o el adaptador PoE proporcionado.
Puerto Ggabit Ethernet 802.3af PoE/24V PoE Pasivo
Despliegue Flexible
EAP225-Outdoor se puede instalar fácilmente en una pared o en un poste con los kits de montaje provistos.
Omada SDN: solución de nube más inteligente para redes comerciales
La plataforma de redes definidas por software (SDN) de Omada integra dispositivos de red que incluyen puntos de acceso, conmutadores y puertas de enlace, garantizando una poderosa red comercial con mayor eficiencia, mayor seguridad y mayor fiabilidad.
PA Wi-Fi 6 para ambientes de alta densidad
PA montaje en techo
PA pared
PA exterior
EAP225-Outdoor
Switches PoE JetStream
Router Seguridad SafeStream Security
Acceso Nube
Omada
Controlador en la Nube
Gestión de la nube centralizada sin problemas:
Gestión de la nube 100% centralizada de toda la red desde diferentes sitios, todo controlado desde una única interfaz en cualquier lugar y en cualquier momento.
Administración fácil con la aplicación Omada
Siga las instrucciones de configuración en la aplicación gratuita Omada para configurarlo en minutos. Omada le permite configurar ajustes, monitorear el estado de la red y administrar clientes, todo desde la comodidad de un teléfono inteligente o tableta.
Hospitality

TP-Link Omada allows hotels to build reliable WiFi networks. Hotel WiFi network solutions including network topology, design, features, installation, and products are introduced.

Full WiFi coverage and wired connections
Flexible guest control
Seamless roaming
Easy Management

Education

Due to its reliable, scalable, and secure network solution, TP-Link has been widely acknowledged by global customers in the Education market ranging from infant schools with a few APs up to colleges and universities with hundreds of APs.

Easy management
High-density WiFi
Full WiFi coverage and wired connections
VPN and security

Outdoor WiFi

TP-Link Omada outdoor access points offer smooth WiFi experience even in harsh outdoor environments, ideal for the use in garden, yard, outdoor swimming pool, outdoor café, outdoor barns and shed, connecting outdoor IP cameras, outdoor speakers, and more devices.

Long-Range WiFi Coverage
Ideal for Garden WiFi, Outdoor Swimming Pool WiFi, and Outdoor Café WiFi.
Weatherproof Enclosure with IP65 Certification
Arion Hotel

La solución de red adecuada de TP-Link ha mejorado la experiencia de conexión general en Arion Hotel

Arion Hotel

La solución de red adecuada de TP-Link ha mejorado la experiencia de conexión general en Arion Hotel

"Sabíamos que nuestras instalaciones tenían problemas de cableado. Habíamos probado otras soluciones de redes sin éxito. Apreciamos mucho el hecho de que cuando nos acercamos a TP-Link y su socio (Go Group), no solo intentaron vendernos materiales, sino que también hicieron una encuesta basada en las necesidades y una encuesta del sitio. Fue crucial que el diseño, instalación y operación sugeridos, no se basara en la mejor solución disponible sino en la solución más adecuada, para nuestro caso, como dijo el Project Manager de TP-Link. El resultado fue mucho más de lo esperado. y contribuye a una experiencia de cliente notable, junto con una operación de hospitalidad fluida ". —- Gerente Comercial de Arion Hotel
CARACTERÍSTICAS DE HARDWARE
Interface
Puerto Gigabit Ethernet (RJ-45)*1(Soporta PoE 802.3af y PoE Pasivo)

Botón
Reset
Fuente de Alimentación
802.3af PoE
PoE Pasivo 24V (+4,5pins; -7,8pins. Adaptador PoE incluido)
Consumo de Energía
10.5W
Dimensiones (W X D X H)
215 × 46 × 27 mm (8.5 × 1.8 × 1.1in.)
Antena
2.4GHz: 2 * 3dBi, 5GHz: 2 * 4dBi
Resistencia a la Intemperie
IP65
Montaje
Montaje en Mástil/Pared (Kits incluidos)

Watch Dog por Hardware
Yes
CARACTERÍSTICAS INALÁMBRICAS
Estándares Inalámbricos
IEEE 802.11a/b/g/n/ac
Frecuencia
2.4GHz, 5GHz
Tasa de Señal
802.11ac: 5G:6.5 Mbps a 867Mbps(MCS0-MCS9,NSS = 1 a 2 VHT20/40/80) 2.4G:78Mbps a 300Mbps (MCS8-MCS9 VHT20/40, NSS=1 a 3)
802.11n: 6.5 Mbps to 300 Mbps (MCS0-MCS15, VHT 20/40)
802.11g: 6, 9, 12, 18, 24, 36, 48, 54 Mbps
802.11b: 1, 5.5, 11Mbps
802.11a: 6, 9, 12, 18, 24, 36, 48, 54 Mbps
Funciones Inalámbricas
Múltiples SSIDs(Hasta 16 SSIDs, 8 por banda)
On/Off Radio Inalámbrica
Asignación Automática de Canal
Control de Potencia de Transmisión(Ajust en dBm)
QoS(WMM)
MU-MIMO
Airtime Fairness
Beamforming
Band Steering
Balanceo de Carga
Límite de Velocidad
Reboot Agendado
Wireless Agendado
Estadísticas Inalámbricas en base a SSID/AP/Cliente
Seguridad Inalámbrica
Autenticación Portal Cautivo
Control de Acceso
Filtrado Dirección MAC Inalámbrica
Aislamiento Inalámbrico Entre Clientes
Mapeado VLAN a SSID
Detección AP No Autorizado
Soporte 802.1X
Potencia de Transmisión
• CE: <20 dBm (2.4 GHz, EIRP), <27 dBm(5 GHz, EIRP)• FCC: <23 dBm (2.4 GHz), <22 dBm(5 GHz)
ADMINISTRACIÓN
Omada App
Sí
Omada Cloud Controller
Yes
Centralized Management
• Controlador basado en la nube Omada
• Controlador de hardware Omada (OC300)
• Controlador de hardware Omada (OC200)
• Controlador de software Omada
Omada Controller Software
Yes
Cloud Access
Sí
Alertas de Correo Electrónico
Sí
Management MAC Access Control
Sí
SNMP
v1, v2c
System Logging Local/Remote Syslog
Sí
SSH
Sí
Web-based Management
Sí
L3 Management
Sí
Multi-site Management
Sí
Management VLAN
Sí
Otros
Certificacion
CE、FCC、RoHS
Contenidos del Paquete
Punto de Acceso Inalámbrico EAP225-Outdoor
Adaptador PoE Pasivo
Cable de Energía
Kit de Montaje
Guía de Instalación
Goma a prueba de agua
Antena a prueba de agua
Ambiente
Temperatura de Funcionamiento: -30℃~70℃ (-22℉~158℉)
Temperatura de Almacenamiento: -40℃~70℃ (-40℉~158℉)
Humedad de Funcionamiento: 10%~90% sin condensación
Humedad de Almacenamiento: 5%~90% sin condensación

† Las velocidades máximas de señal inalámbrica son las velocidades físicas derivadas de las especificaciones IEEE Standard 802.11. El rendimiento real de datos inalámbricos y la cobertura inalámbrica no están garantizados y variarán como resultado de 1) factores ambientales, incluidos materiales de construcción, objetos físicos y obstáculos, 2) condiciones de red, incluidas interferencias locales, volumen y densidad de tráfico, ubicación del producto, complejidad de la red y sobrecarga de la red, y 3) limitaciones del cliente, incluido el rendimiento, la ubicación, la conexión, la calidad y la condición del cliente.
‡ El aprovisionamiento Zero-Touch requiere el uso del controlador basado en la nube de Omada.
§ El roaming transparente requiere que los clientes necesiten soportar 802.11k / v y puede requerir una configuración adicional. El rendimiento puede variar según el dispositivo del cliente.
△ La protección contra rayos y descargas electrostáticas se puede lograr mediante la configuración adecuada del producto, la conexión a tierra y el blindaje del cable. Consulte el manual de instrucciones y consulte a un profesional de TI para que lo ayude a configurar este producto.
SuscripciónTP-Link toma en serio su privacidad. Para obtener más detalles sobre las prácticas de privacidad de TP-Link, consulte la Política de privacidad de TP-Link.
From United States?
Check products and services for your region.