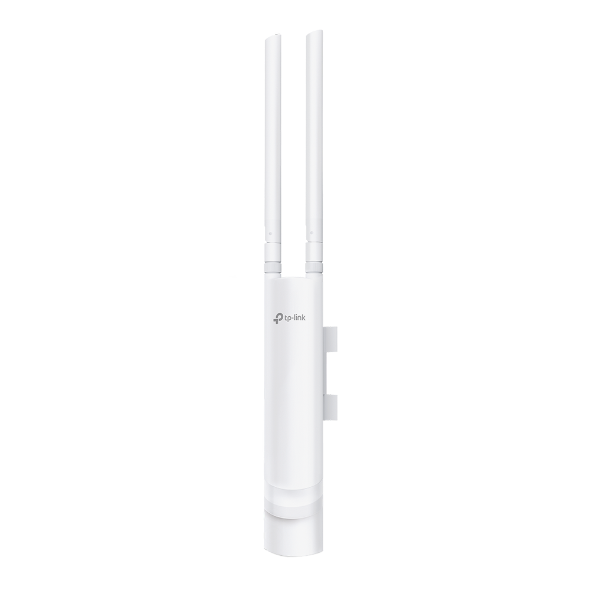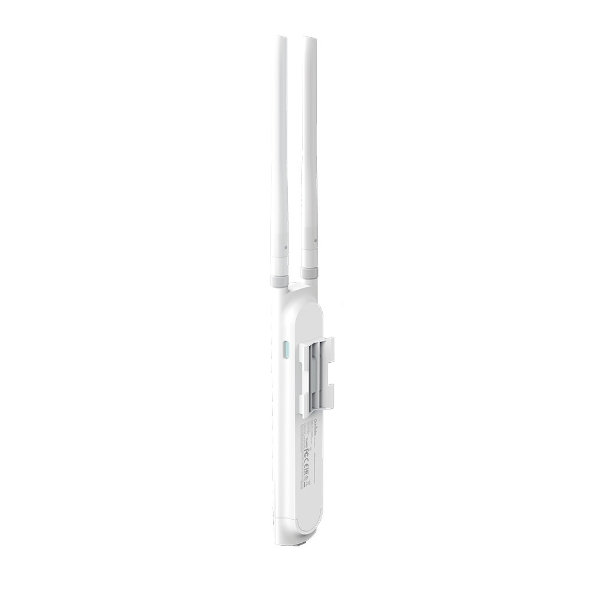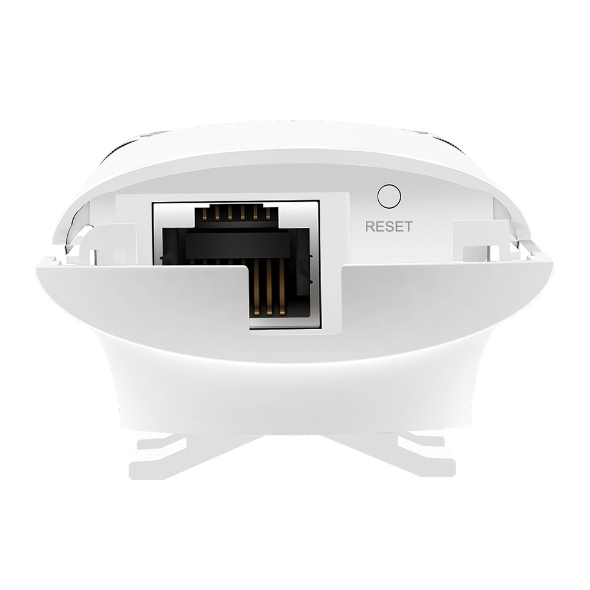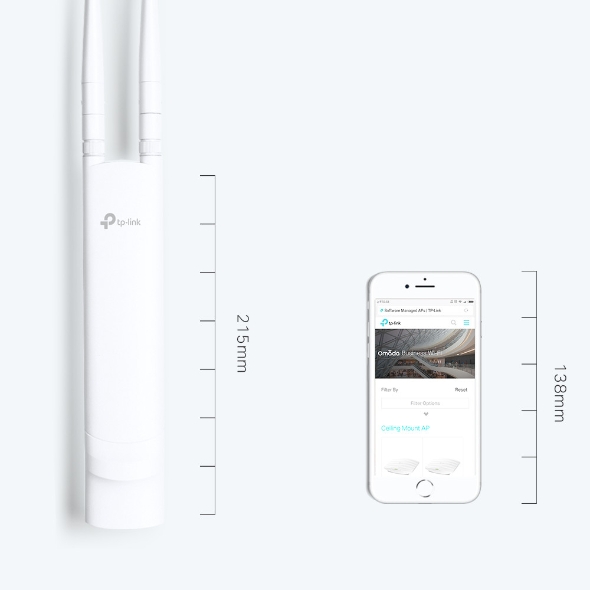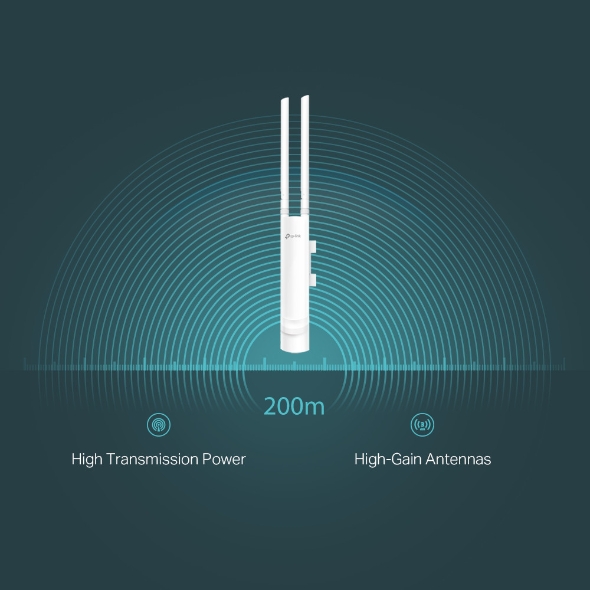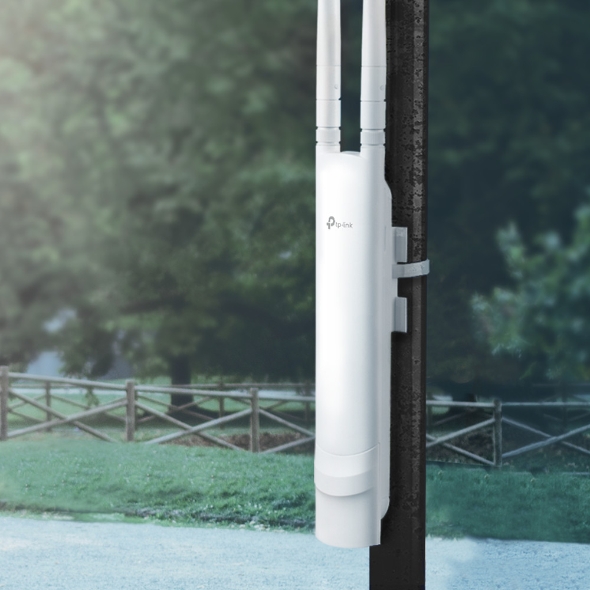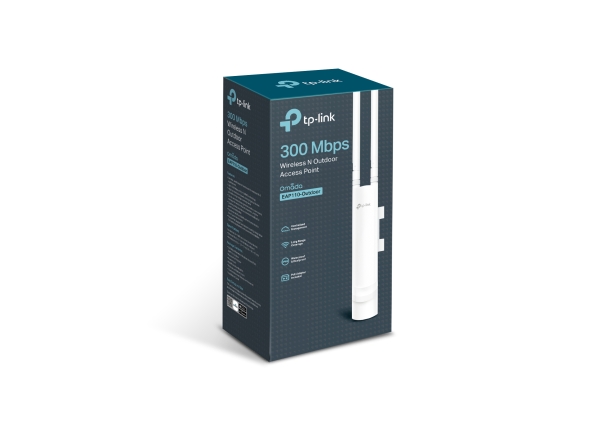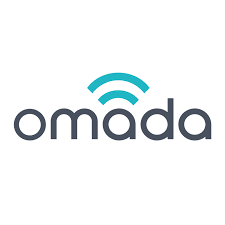 EAP110-Outdoor
Punto de acceso exterior inalámbrico N de 300 Mbps
Creado para aplicaciones de Wi-Fi en exteriores
Wi-Fi de hasta 300Mbps con tecnología MIMO 2x2
La alta potencia de transmisión y las antenas de alta ganancia proporcionan un área de cobertura de largo alcance
Gabinete duradero y resistente a la intemperie para resistir el mal tiempo
El soporte pasivo de PoE (Power over Ethernet) y el diseño de montaje simple permiten una implementación flexible y una instalación conveniente
Administración centralizada en la nube gratuita y aplicación Omada para mayor comodidad y fácil administración
Red segura de invitados junto con múltiples opciones de autenticación (SMS / Facebook Wi-Fi / Vale, etc.) y abundantes tecnologías de seguridad inalámbrica
Admite vlan de administración para una administración de red mejorada
¡ Finalmente disfruta de Wi-Fi afuera !
Omada
EAP110-Outdoor
Excelentes diseños de hardware
Con un diseño especial de su antena, apariencia, opciones de energía y métodos de instalación, EAP110-Outdoor puede adaptarse perfectamente a diferentes escenarios tanto en interiores como en exteriores.
Antenas Desmontables
EAP110-Outdoor está diseñado con 2 antenas desmontables omnidireccionales, lo que significa que también se pueden conectar otras antenas para sus demandas específicas.
Apariencia delicada aún mejor para aplicaciones en interiores
EAP110-Outdoor es similar a un teléfono celular, con dimensiones: 8.5 × 1.8 × 1.1in. (215 × 46 × 27 mm)
215mm
138mm
Admite PoE pasivo para una fácil configuración al aire libre
Elimina los adaptadores de alimentación de CC y los cable con alimentación pasiva por Ethernet (PoE), lo que hace que la implementación en exteriores sea simple y rápida.
10/100Mbps Ethernet Port 24V Passive PoE
Despliegue Flexible
EAP110-Outdoor se puede instalar fácilmente en un poste o en una pared con los kits de montaje provistos.
Wi-Fi que recorre la distancia
Con alta potencia de transmisión y dos antenas omnidireccionales de alta ganancia, EAP110-Outdoor ofrece cobertura inalámbrica estable en un rango de hasta 200 metros * en entornos exteriores.
.
Alta potencia de transmisión
Antenas de alta ganancia
* Basado en pruebas de campo. El rango de transmisión real puede variar según el entorno, el dispositivo receptor, etc.
Equipo resistente a la intemperie, especialmente diseñado para ambiente al aire libre
Calificado como IP65 durante las pruebas de protección de ingreso, un gabinete resistente a la intemperie protege los puntos de acceso contra las duras condiciones exteriores.
Protección contra rayos y protección ESD
Cloud Centralized Management
- Anytime, Anywhere
Omada Hardware Controller OC200 and Omada Software Controller make it easy to manage and monitor the whole Omada network in real-time, while cloud service enables remote and secure access no matter where you find yourself.
Administración fácil con la aplicación Omada
Sigue las instrucciones de configuración en la aplicación gratuita Omada para configurarlo en minutos. Omada le permite configurar, monitorear el estado de la red y administrar clientes, todo desde la comodidad de un teléfono inteligente o tableta.
Meet Our New Hero Product!
The OC200 Omada Hardware Controller is dedicated to providing centralized management for the whole Omada network.
Omada Hardware Controller
OC200
Más >
Soluciones Relacionadas
Hoteleria

TP-Link Omada allows hotels to build reliable WiFi networks. Hotel WiFi network solutions including network topology, design, features, installation, and products are introduced.

Full WiFi coverage and wired connections
Flexible guest control
Seamless roaming
Easy Management

Educacion

Due to its reliable, scalable, and secure network solution, TP-Link has been widely acknowledged by global customers in the Education market ranging from infant schools with a few APs up to colleges and universities with hundreds of APs.

Easy management
High-density WiFi
Full WiFi coverage and wired connections
VPN and security

WiFi de exterior

TP-Link Omada outdoor WiFi access points offer smooth outdoor WiFi experience for outdoor events, WiFi outside home, or in the garden, yard, outdoor swimming pool, outdoor café, outdoor barns and shed. With Omada outdoor WiFi extenders, the outdoor wifi system is ideal for wirelessly connecting outdoor camera and outdoor speakers.

Long Outdoor WiFi Range
Outdoor WiFi for Camera and Outdoor Events, and WiFi Outside Home
Ideal for Outdoor WiFi in Garden, Outdoor Swimming Pool, and Outdoor Café.
Outdoor WiFi Extender with IP67 or IP65 Weatherproof Enclosure
CARACTERÍSTICAS DE HARDWARE
Interface
Fast Ethernet (RJ-45) Port *1(Support Passive PoE)
Botón
Reset
Fuente de alimentación
24V Passive PoE (+4,5pins; -7,8pins. PoE Adapter Included)
Consumo de Poder
3.12 W
Dimensiones (An x Pr x Al)
8.5 × 1.8 × 1.1 in. (216 × 46 × 27 mm)
Tipo de Antena
2*3dBi External Omni waterproof
Recinto resistente a la intemperie
IP65
Montaje
Pole / Wall Mounting (Kits included)
CARACTERÍSTICAS INALÁMBRICAS
Wireless Client Capacity
100+**
Estándares inalámbricos
IEEE 802.11n/g/b
Frecuencia
2.4GHz
Tasa de señal
11n: Up to 300Mbps(dynamic)11g: Up to 54Mbps(dynamic)11b: Up to 11Mbps(dynamic)
Potencia de Transmision
CE:≤20dBm (EIRP)FCC:≤22dBm
Funciones inalámbricas
Multiple SSIDs(Up to 8 SSIDs)Enable/Disable Wireless RadioAutomatic Channel AssignmentTransmit Power Control (Adjust Transmit Power on dBm)QoS(WMM)Load BalanceRate LimitReboot ScheduleWireless ScheduleWireless Statistics based on SSID/AP/Client
Seguridad inalámbrica
Captive Portal AuthenticationAccess ControlWireless Mac Address FilteringWireless Isolation Between ClientsSSID to VLAN MappingRogue AP Detection802.1X Support64/128/152-bit WEP / WPA / WPA2-Enterprise,WPA-PSK / WPA2-PSK
ADMINISTRACIÓN
Acceso a la nube de Omada
Yes
Aplicación Omada
Yes
Controlador de nube Omada
Yes
Gestión centralizada
• Omada Hardware Controller (OC300)• Omada Hardware Controller (OC200)• Omada Software Controller
Software del controlador Omada
Yes
Acceso a la nube
Yes. Requiring the use of OC300, OC200, or Omada Software Controller.
Alertas de correo electrónico
Yes
Control de LED ENCENDIDO / APAGADO
Yes
Gestión de control de acceso MAC
Yes
SNMP
Yes
Registro del sistema Local / Remote Syslog
Local/Remote Syslog
SSH
Yes
Gestión basada en web
HTTP/HTTPS
Gestión L3
Yes
Gestión de múltiples sitios
Yes
VLAN de administración
Yes
OTROS
Certificación
CE, FCC, RoHS
contenidos del paquete
300Mbps Wireless N Outdoor Access Point, EAP110-OutdoorPassive PoE AdapterPower CordMounting KitsWaterproof Rubber InsertWaterproof AntennasInstallation Guide
Requisitos del sistema
Microsoft Windows XP, Vista, Windows 7, Windows 8, Windows10
Ambiente
Operating Temperature: -30℃~65℃ (-22℉~149℉)Storage Temperature: -40℃~70℃ (-40℉~158℉)Operating Humidity: 10%~90% non-condensingStorage Humidity: 5%~90% non-condensing
* Las velocidades máximas de señal inalámbrica son las velocidades físicas derivadas de las especificaciones IEEE Standard 802.11. El rendimiento real de datos inalámbricos y la cobertura inalámbrica no están garantizados y variarán como resultado de 1) factores ambientales, incluidos materiales de construcción, objetos físicos y obstáculos, 2) condiciones de red, incluidas interferencias locales, volumen y densidad de tráfico, ubicación del producto, complejidad de la red y sobrecarga de la red, y 3) limitaciones del cliente, incluido el rendimiento, la ubicación, la conexión, la calidad y la condición del cliente.
* La protección contra rayos y descargas electrostáticas se puede lograr mediante la configuración adecuada del producto, la conexión a tierra y el blindaje del cable. Consulte el manual de instrucciones y consulte a un profesional de TI para que lo ayude a configurar este producto.
Desde United States?
Obtenga productos, eventos y servicios para su región.