How to remove IFTTT from a TP-Link ID for Deco?
If you want to remove the IFTTT service from your TP-Link ID, you can follow these steps.
Disconnect IFTTT service via IFTTT website.
Step 1.
Visit IFTTT official website and sign in with your IFTTT account.
Note: You can also open IFTTT app and follow similar steps to remove IFTTT from your TP-Link ID.
Step 2.
Click your account at the right top corner and then click "Services"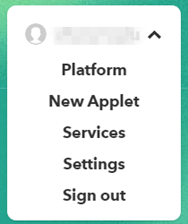 Step 3.
Click "TP-Link Router "and then click "Settings" at the upper right corner of the service page. On the settings page, click "Disconnect TP-Link Router".

Now the IFTTT service has been removed from your TP-Link ID. If you want to reconnect to it, click here for details.
O artigo aplica-se a:
Deco M5 Plus , Deco M5
Este guia foi útil?
A sua resposta ajuda-nos a melhorar o nosso site.
When You Set Up | Updated 07-31-2017 01:29:41 AM