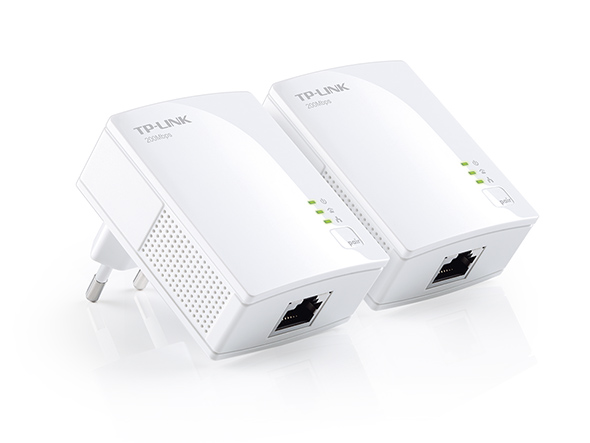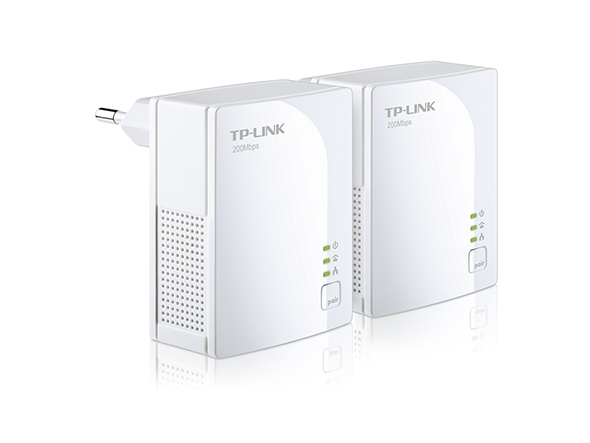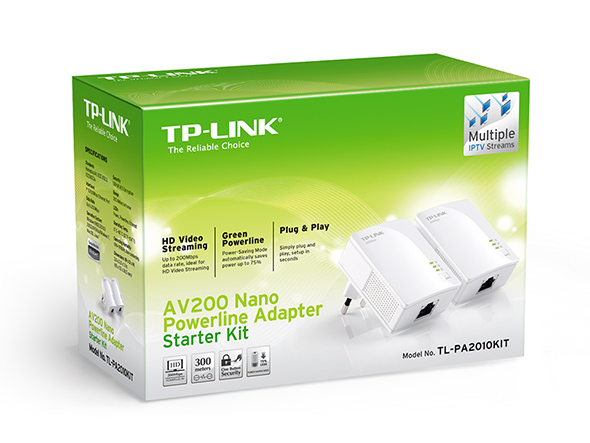 Starter Kit Nano Powerline AV200 TL-PA2010KIT
Compatibile con lo standard HomePlug AV, alta velocità di trasferimento fino a 200Mbps
Starter Kit pensato per costruire una rete powerline di base
Nuovo design estremamente compatto, si integra in modo discreto con ogni presa elettrica
Nessun cavo, Plug & Play senza bisogno di configurazione
Sistema a risparmio energetico brevettato che riduce il consumo di energia fino al 75%*
Descrizione
L'adattatore TP-LINK Powerline Ethernet TL-PA2010KIT utilizza i cavi elettrici esistenti nell'abitazione per il trasferirimento dati. Non sono richiesti cavi addizionali: è sufficiente collegare TL-PA2010KIT ad una presa a muro per trasformare l'impianto elettrico in una rete. Il design miniaturizzato offre una piena interazione con la presa elettrica, a livello pratico e visuale.
Ideale per Streaming Video HD
Con la tecnologia avanzata HomePlug AV, TL-PA2010KIT offre velocità di trasferimento dati stabili fino a 200Mbps su una lunghezza di linea fino a 300 metri. Un'ottima soluzione per connettere tutti i dispositivi di casa alla rete LAN: computer, console di gioco, set-top box per IPTV, stampanti di rete e dischi fissi NAS.
Design miniaturizzato
Grazie al nuovo design estremamente miniaturizzato TL-PA2010KIT ha uno spessore di appena 28.5mm ed offre eleganza e praticità.
Tasto di sincronizzazione per una semplice configurazione della crittografia della rete
L'utente può configurare in pochi minuti una rete Powerline con crittografia AES a 128 bit per la sicurezza e la protezione dei dati, semplicemente premendo il tasto di sincronizzazione sugli adattatori. E' tutto molto semplice. 1. Collegare l'adattatore alla presa 2. Collegare il dispositivo all'adattatore mediante il cavo Ethernet 3. Premere il tasto di attivazione della crittografia ed è fatta!
Riduzione del consumo di energia sino al 75%
L'adattatore Powerline di nuova generazione TL-PA2010KIT, dal pratico design, è dotato di un sofisticato sistema di risparmio energetico e consuma meno energia rispetto ai preesistenti adattatori Powerline. In assenza di trasmissione o ricezione passa automaticamente alla modalità a risparmio energetico che riduce il suo assorbimento di energia fino al 75%*.
The theoretical maximum channel data transfer rate is derived from HomePlug AV specifications. Actual data transfer rate will vary from network environment including: distance, network traffic, noise on electrical wires, building material and construction, quality of electrical installation and other adverse conditions.
Actual data will vary because of the network conditions and environment factors.
CARATTERISTICHE HARDWARE
Tipo di connettore
EU
Standard e protocolli
HomePlug AV, IEEE802.3, IEEE802.3u
Interfaccia
1*10/100Mbps Ethernet Port
Tasto
Pair Button
Consumo energetico
< 2.0 W
Indicatore LED
PWR, PLC, ETH
Dimensioni ( L x P x A )
2.6 x 2.0 x 1.1 in.(65×52×28.5mm)
Copertura
300M in house
ALTRO
Certificazione
CE, FCC, RoHS
Contenuto della confezione
2 * TL-PA2010 Powerline Ethernet Adapters
Ethernet cable (RJ45)
Resource CD,
Quick Installation Guide
Requisiti di sistema
Windows 2000/XP/2003/Vista, Windows 7, Mac, Linux
Ambiente
Operating Temperature: 0℃~40℃ (32℉~104℉)
Storage Temperature: -40℃~70℃ (-40℉~158℉)
Operating Humidity: 10%~90% non-condensing
Storage Humidity: 5%~90% non-condensing
Premi

4 Stars on 5

TL-PA2010KIT got 4 stars on 5 in the test of 01net.com in France

2012, France