How to reset TP-Link products with WPS/RESET button to factory defaults
Notice:
1.
A hard reset will restore your device to factory default settings. You should reconfigure the device from scratch or you can load the configuration file you have backed up before the reset.
2.
For these models, we could see
WPS/RESET
button on the rear panel/the Front Panel. To use WPS function, please push the button for less than 5 seconds, and then the WPS LED will flash; to reset the router, please push the button for at least 10 seconds.
There are two methods to reset to the Router's factory defaults:
Method 1 :Hard reset/By pressing the RESET button
With the Router powered on, press and hold the WPS/RESET button (more than 10 seconds) until the SYS LED becomes quick-flash from slow-flash. Then release the button and wait the Router to reboot to its factory default settings.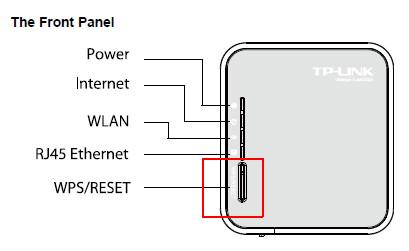 Method 2 :By Router's Web-based Utility (management page)
If you are on the management page, you could use the Factory Defaults function.
Please go to System Tools -> Factory Defaults" page, then click on the restore button and wait the Router to reboot to its factory default settings.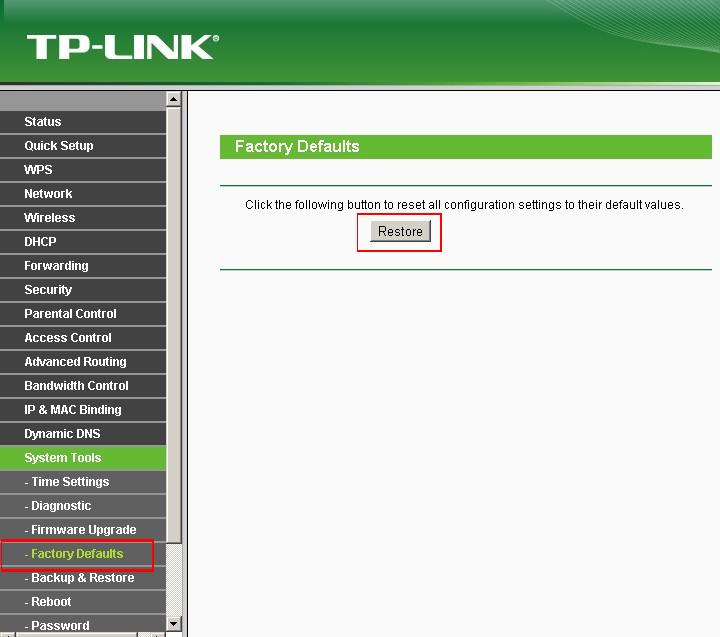 Note:
1. Make certain that the router is powered on before it restarts completely.
2. The default IP address is 192.168.1.1/192.168.0.1/192.168.0.254, and the default login username and password both are admin (all lower case).
3. Ensure that the IP address of your computer is in the same subnet with the device. It means that your computer has an IP address 192.168.1.X /192.168.0.X(X is in range of 2~253), and the subnet mask is 255.255.255.0.
This Article Applies to:
TL-WR54KIT , TL-WR841N , TL-WDR3500
Is this faq useful?
Your feedback helps improve this site.
User Application Requirement | Updated 01-16-2015 01:23:12 AM