Why my TP-Link Router gets a WAN IP from the modem but no internet access?
Make sure Internet is working by connecting the computer directly to the modem and, bypassing the TP-Link router.
Problem Description:
No internet access after setup, even though the router has been given a valid IP address.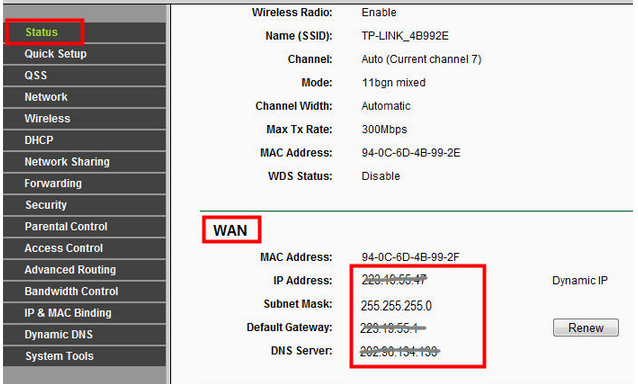 Note: If you are not sure how to log into the router's web interface to check the WAN IP Address, please click here.
Solution 1:Set up manual DNS Servers for the router.
Click on DHCP -> DHCP settings, then put 8.8.8.8 into the Primary DNS field, click Save.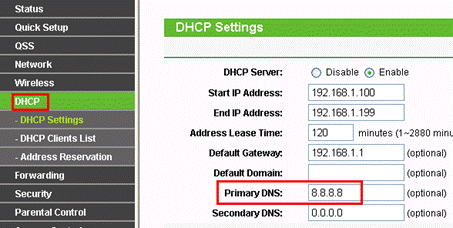 8.8.8.8 is a free and safe public DNS server provided by Google.
Reboot the router to finish the settings.
Go to System Tools -> Reboot, click on "Reboot" button to finish the settings.
Solution 2: Power Cycle the modem and the TP-Link router.
Power off your modem and TP-Link router, leave them off for 1 minute
Power on your Cable modem first, wait about 2 minutes until it get a solid cable or Internet light
Power back your TP-Link router.
Wait another 1 or 2 minutes and check the Internet access.
Solution 3: Reset the router and reconfigure it manually.
Hold the Reset button for more than 10 seconds to reset the router.
Reconfigure the router manually through Quick Setup.

Solution 4: Upgrade firmware version of the router.
Please refer to this link to update the firmware: Here.
This Article Applies to:
TL-WR841N , TL-WDR3500 , TL-WR743ND
Is this faq useful?
Your feedback helps improve this site.
User Application Requirement | Updated 03-16-2017 01:31:33 AM